The Socialist 11 July 2018
Act now to get the Tories out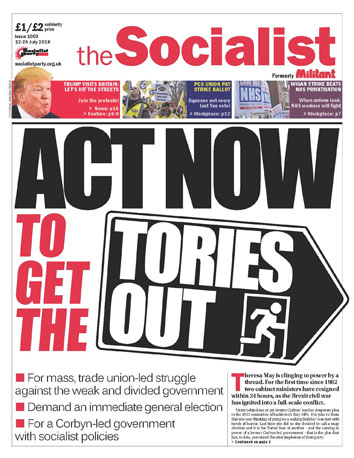 ---
Tories in crisis - Act now to get them out!
---
600 more retail jobs on the line: workers must not pay for the bosses' high street crunch!
Britain bakes as water pipelines leak
Minister's benefits lie: sack the Tories - and scrap universal credit
---
Hit the streets against Trump and capitalism
US: "We've had to build a huge culture of resistance"
---
NSSN conference 2018: Mood for fighting action and coordination
---
Big victory for Wigan NHS strike against privatisation
Campaign in full flow to squeeze out every last Yes vote in pay ballot
Hackney traffic wardens strike for better pay and protection at work
Summer of discontent on the cards in Huddersfield bin workers' dispute
Tyneside shopfitting plant lays off 61 workers
Unite conference sees union go in a fighting, socialist direction
Pressure building on councillors to stop fire service cuts
Tram workers strike against 'derisory' pay offer
---
Women's Lives Matter launched in Leeds to fight domestic violence service cuts
Service users and families protest learning disability service cuts
NHS Leeds: Campaigners halt outsourcing... for now
Tories fractured... election possibility... give us the resources!
Issue 1000 drive shows sales potential
PO Box 1398, Enfield EN1 9GT
020 8988 8777
editors@socialistparty.org.uk