The Socialist 3 October 2018
Zombie Tory government: general election now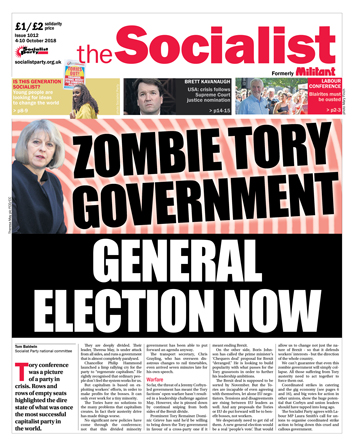 ---
Labour conference shows: Blairites must be ousted
Socialist Party campaigns against the Blairites at Labour conference
---
'Tories must go' demonstration in Birmingham
Anti-fracking protesters jailed
Save Wirral NHS walk-in centres
More party than protest, but great response to socialist ideas at Leicester Pride
---
Zombie Tory government: general election now
Shocking new data on declining life expectancy
NHS pay discrimination - militant union action can achieve fair pay for all
Maximus profitus: disabillity profiteering scandal
---
Catering and courier workers strike together
Coordinated catering and courier strikes
York NHS workers strike against privatisation
1,000 head teachers march on parliament
Camden - Unison members in pay fight
---
---
USA: crisis follows Supreme Court justice nomination
Indonesia tsunami - a disaster compounded by capitalism
---
Enthusiasm for Socialist ideas at the freshers fairs
---
The Ragged-Trousered Philanthropists: one-man show's new take on lively socialist classic
PO Box 1398, Enfield EN1 9GT
020 8988 8777
editors@socialistparty.org.uk

Link to this page: http://www.socialistparty.org.uk/issue/1012/28023
Home | The Socialist 3 October 2018 | Join the Socialist Party
Subscribe | Donate | Audio | PDF | ebook
1,000 head teachers march on parliament to demand better funding for schools
Glenn Kelly, Socialist Party industrial department
A thousand head teachers marched on Downing Street on 28 September demanding the Tory government give them the money they need to stop the onslaught on jobs, pay and funding that is destroying our children's education.
Despite this, many of the head teachers felt, that the demo was "not political" - a line they had clearly been given in advance by the organisers. This was no doubt in the vain hope they can plead to the 'better nature' of the Tories. In some areas Tory councillors themselves are demanding more funding for schools.
The reality is that teachers are not allowed to take time off in the school term unless they are granted 'special leave'. This was effectively unofficial strike action sanctioned by the governing bodies.
The make-up of the demonstration was unusual. As one journalist said to me: "It isn't your usual crowd, is it?" It's true this was certainly no dress-down Friday. There were more suits on show than a Savile Row shopfront window. As it turns out, the heads were told to dress 'respectfully'.
The union presence at the demo was very low-key, mainly because their union, the National Association of Head Teachers, had only tail-ended this upsurge from below. The protest was called by the grassroots campaign 'WorthLess' that started in Tory areas such as West Sussex on the basis that the inner cities were getting more funding per child than their areas.
But this has now evolved into a wider call for decent funding for all. The campaign is demanding an 8% increase in schools funding.
Despite all the talk of it being 'non-political', the fact that 1,000 head teachers took this action shows the level of anger and desperation that exists in the schools.
If, as is rumoured, that the largest teaching union - the National Education Union - calls a national consultative strike ballot over school funding, and not just the pay claim, then they should also put the call out to the head teachers' unions and all the support staff unions to join with them.
Head teachers are starting to take up the methods of struggle of the workers' movement. Marches like this could be demanding the end of the Tory government in the future. As one head whispered to me as she marched past me holding the Socialist newspaper: "I am really glad you're here".
---
In this issue
---
Labour Party conference

Labour conference shows: Blairites must be ousted

Socialist Party campaigns against the Blairites at Labour conference
---
Socialist Party reports and campaigns

'Tories must go' demonstration in Birmingham

Anti-fracking protesters jailed

Save Wirral NHS walk-in centres

More party than protest, but great response to socialist ideas at Leicester Pride
---
Socialist Party news and analysis

Zombie Tory government: general election now

Blood transfusion scandal

Shocking new data on declining life expectancy

NHS pay discrimination - militant union action can achieve fair pay for all

Maximus profitus: disabillity profiteering scandal

Tory Brexit Blues festival
---
Workplace news and analysis

Catering and courier workers strike together

Coordinated catering and courier strikes

York NHS workers strike against privatisation

Tube workers walk out

1,000 head teachers march on parliament

Camden - Unison members in pay fight
---
Socialist Party feature

Is this generation socialist?
---
International socialist news and analysis

USA: crisis follows Supreme Court justice nomination

Indonesia tsunami - a disaster compounded by capitalism
---
Socialist Students

Enthusiasm for Socialist ideas at the freshers fairs
---
Opinion

The Ragged-Trousered Philanthropists: one-man show's new take on lively socialist classic

The Socialist Inbox
---
Home | The Socialist 3 October 2018 | Join the Socialist Party