The Socialist 3 October 2018
Zombie Tory government: general election now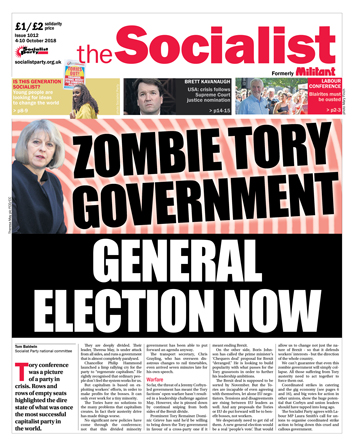 ---
Labour conference shows: Blairites must be ousted
Socialist Party campaigns against the Blairites at Labour conference
---
'Tories must go' demonstration in Birmingham
Anti-fracking protesters jailed
Save Wirral NHS walk-in centres
More party than protest, but great response to socialist ideas at Leicester Pride
---
Zombie Tory government: general election now
Shocking new data on declining life expectancy
NHS pay discrimination - militant union action can achieve fair pay for all
Maximus profitus: disabillity profiteering scandal
---
Catering and courier workers strike together
Coordinated catering and courier strikes
York NHS workers strike against privatisation
1,000 head teachers march on parliament
Camden - Unison members in pay fight
---
---
USA: crisis follows Supreme Court justice nomination
Indonesia tsunami - a disaster compounded by capitalism
---
Enthusiasm for Socialist ideas at the freshers fairs
---
The Ragged-Trousered Philanthropists: one-man show's new take on lively socialist classic
PO Box 1398, Enfield EN1 9GT
020 8988 8777
editors@socialistparty.org.uk

Link to this page: http://www.socialistparty.org.uk/issue/1012/28026
Home | The Socialist 3 October 2018 | Join the Socialist Party
Subscribe | Donate | Audio | PDF | ebook
'Tories must go' demonstration in Birmingham
Sana Ulfat, Birmingham Socialist Party
On the eve of the Tory party conference in Birmingham, people gathered in Victoria Square to protest Tory and Blairite austerity, say enough is enough, and demand an urgent snap election.
It is no secret that this Tory government is no friend of the working class. They have done nothing but focus on the interests of the ruling class, recklessly implementing austerity measures at the expense of working class people. Today, a sad consequence is workers such as nurses have to resort to using food banks.
A defiant rally included Birmingham home care striker and Unison public sector union member Mandy Buckley, secretary of the West Midlands Fire Brigades Union Andrew Scattergood, and a statement on behalf of Jeremy Corbyn.
Frustration was evident. It is about time that the Tories are held to account for their actions alongside the Blairite councillors who impose cuts on their behalf.
Birmingham home care workers are on strike against a Blairite Birmingham City Council which is attacking their working conditions. They led the successful, lengthy and noisy demonstration on the streets of Birmingham. The general public were met with chants of "when they say cut back, we say fight back" and "students and workers, unite and fight".
Response
Socialist Party members worked tirelessly so we could get the best possible response to our ideas. We pushed for an end to public sector cuts and the need for a snap election, stressing the importance of coordinated and organised mass action to force the already unstable and divided Tories from power.
We sold over 100 copies of the Socialist, raised over £50 for the fighting fund and met people who wanted to join the Socialist Party throughout the day. Well done to all involved! This is just the start of the fightback, not the end.
---
In this issue
---
Labour Party conference

Labour conference shows: Blairites must be ousted

Socialist Party campaigns against the Blairites at Labour conference
---
Socialist Party reports and campaigns

'Tories must go' demonstration in Birmingham

Anti-fracking protesters jailed

Save Wirral NHS walk-in centres

More party than protest, but great response to socialist ideas at Leicester Pride
---
Socialist Party news and analysis

Zombie Tory government: general election now

Blood transfusion scandal

Shocking new data on declining life expectancy

NHS pay discrimination - militant union action can achieve fair pay for all

Maximus profitus: disabillity profiteering scandal

Tory Brexit Blues festival
---
Workplace news and analysis

Catering and courier workers strike together

Coordinated catering and courier strikes

York NHS workers strike against privatisation

Tube workers walk out

1,000 head teachers march on parliament

Camden - Unison members in pay fight
---
Socialist Party feature

Is this generation socialist?
---
International socialist news and analysis

USA: crisis follows Supreme Court justice nomination

Indonesia tsunami - a disaster compounded by capitalism
---
Socialist Students

Enthusiasm for Socialist ideas at the freshers fairs
---
Opinion

The Ragged-Trousered Philanthropists: one-man show's new take on lively socialist classic

The Socialist Inbox
---
Home | The Socialist 3 October 2018 | Join the Socialist Party