The Socialist 3 October 2018
Zombie Tory government: general election now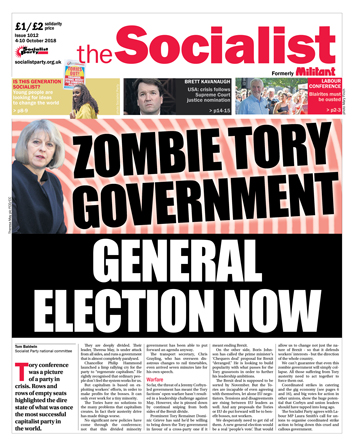 ---
Labour conference shows: Blairites must be ousted
Socialist Party campaigns against the Blairites at Labour conference
---
'Tories must go' demonstration in Birmingham
Anti-fracking protesters jailed
Save Wirral NHS walk-in centres
More party than protest, but great response to socialist ideas at Leicester Pride
---
Zombie Tory government: general election now
Shocking new data on declining life expectancy
NHS pay discrimination - militant union action can achieve fair pay for all
Maximus profitus: disabillity profiteering scandal
---
Catering and courier workers strike together
Coordinated catering and courier strikes
York NHS workers strike against privatisation
1,000 head teachers march on parliament
Camden - Unison members in pay fight
---
---
USA: crisis follows Supreme Court justice nomination
Indonesia tsunami - a disaster compounded by capitalism
---
Enthusiasm for Socialist ideas at the freshers fairs
---
The Ragged-Trousered Philanthropists: one-man show's new take on lively socialist classic
PO Box 1398, Enfield EN1 9GT
020 8988 8777
editors@socialistparty.org.uk

Link to this page: http://www.socialistparty.org.uk/issue/1012/28038
Home | The Socialist 3 October 2018 | Join the Socialist Party
Subscribe | Donate | Audio | PDF | ebook
Shocking new data on declining life expectancy: paying the price of austerity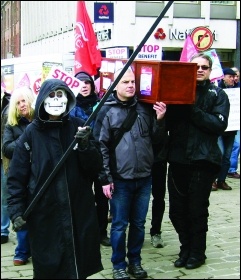 Trade unionists on a benefit cuts 'die in'. Cuts to services, wages, housing, and so on, are killing people early, photo Elaine Evans (Click to enlarge)
Lynda McEwan, Socialist Party Scotland
Life expectancy has stalled in England. However, for the first time in 35 years, babies born in Scotland and Wales will live shorter lives.
New data released by the National Records of Scotland and the Office for National Statistics this month show the savage effects of austerity - especially cuts to health and social care - on life expectancy for people living in Britain.
In Scotland, males born in 2015-2017 can expect to live until 77.02 years compared to 77.07 years in 2014-16. For females, it fell from 81.15 to 81.09 years.
The figures are the worst in the UK. The last time a fall occurred was 1983, when Thatcher was in power.
It's no coincidence that the Tories have governed over this fall in life expectancy, but the Scottish National Party (SNP) must share part of the blame for passing on Tory budget cuts.
Brutal cuts
Ten years after the capitalist global financial crash and the bailing out of the banks and the super-rich with public money, austerity inflicted on the majority has meant that the brutal attacks on the welfare system, the worst in history, are impacting the health of some of the most vulnerable members of society.
The bedroom tax, severe benefit sanctions and flawed fit for work assessments, the discriminatory 'two-child' benefits policy, and the disastrous introduction of universal credit, among other welfare cutbacks, have combined to produce a population struggling to cope and paying the price.
In West Dunbartonshire, where women die five years younger than their counterparts in more affluent East Dunbartonshire, the SNP-led administration is destroying the area with the removal of the local hospital's breast screening service, the social work department, the One Stop Shop (a frontline service used mostly by the elderly) and the proposed closure of some of the much used community centres.
In a country as wealthy as the UK, and with all the recent advances in technology and medicine, these statistics prove what a disaster austerity has been.
Cuts to services, wages, housing, and so on, are literally killing us off early. Only a socialist transformation of society can secure the social and economic conditions necessary for all working class people to enjoy longer and healthier life spans.
---
In this issue
---
Labour Party conference

Labour conference shows: Blairites must be ousted

Socialist Party campaigns against the Blairites at Labour conference
---
Socialist Party reports and campaigns

'Tories must go' demonstration in Birmingham

Anti-fracking protesters jailed

Save Wirral NHS walk-in centres

More party than protest, but great response to socialist ideas at Leicester Pride
---
Socialist Party news and analysis

Zombie Tory government: general election now

Blood transfusion scandal

Shocking new data on declining life expectancy

NHS pay discrimination - militant union action can achieve fair pay for all

Maximus profitus: disabillity profiteering scandal

Tory Brexit Blues festival
---
Workplace news and analysis

Catering and courier workers strike together

Coordinated catering and courier strikes

York NHS workers strike against privatisation

Tube workers walk out

1,000 head teachers march on parliament

Camden - Unison members in pay fight
---
Socialist Party feature

Is this generation socialist?
---
International socialist news and analysis

USA: crisis follows Supreme Court justice nomination

Indonesia tsunami - a disaster compounded by capitalism
---
Socialist Students

Enthusiasm for Socialist ideas at the freshers fairs
---
Opinion

The Ragged-Trousered Philanthropists: one-man show's new take on lively socialist classic

The Socialist Inbox
---
Home | The Socialist 3 October 2018 | Join the Socialist Party