The Socialist 6 February 2019
Tory Brexit farce, Corbyn and unions: Call mass action now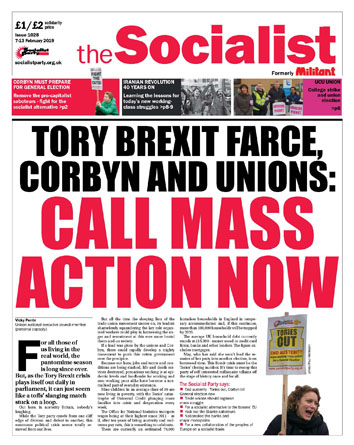 ---
Corbyn must prepare for a general election: Remove the pro-capitalist saboteurs - fight for the socialist alternative
---
College lecturers strike for a pay rise
University and College Union elections
PCS: Campaign for Chris Baugh for AGS
Traffic wardens' strike is just the ticket
Unison: Democracy and the right to speak out are under threat
Historic strike of nurses in Ireland
Backing for the Birmingham homecarers
---
Tory Brexit farce, Corbyn and unions: Call mass action now
Cash-starved health service ripped off by big pharma - fund our NHS now!
Struggling unis account for bulk of unconditional offers - end education marketisation!
Billionaires avoid paying and even talking about tax! Take the wealth off the 1%
---
40 years since the Iranian revolution: Learning the lessons for today's new working-class struggles
---
Haringey 'Corbyn council' must fight borough regeneration
Victory! Campaign reverses Wallasey fire cuts
Sheffield tree campaigners' legal win
Worcestershire: save the libraries, reverse all the cuts
'Stansted 15' deportation protesters could face jail
North West Socialist Party conference
---
United States: LA teachers' strike defeats privatisers
France gilets jaunes' backed by mass strike action
Sweden: dock strikes test new government
United States: strike ends federal shutdown
---
Film: Vice - Dick Cheney - a cold and calculating opportunist
Theatre: Ballad of Johnny Longstaff
PO Box 24697, London, E11 1YD
020 8988 8777
editors@socialistparty.org.uk

Link to this page: http://www.socialistparty.org.uk/issue/1028/28638
Home | The Socialist 6 February 2019 | Join the Socialist Party
Subscribe | Donate | Audio | PDF | ebook
The Socialist inbox
Do you have something to say?
Send your news, views and criticism in not more than 150 words to Socialist Postbox, PO Box 24697, London E11 1YD, phone 020 8988 8771 or email editors@socialistparty.org.uk.
We reserve the right to shorten and edit letters. Don't forget to give your name, address and phone number. Confidentiality will be respected if requested.
Views of letter writers do not necessarily match those of the Socialist Party.
---
>
Featured letter: Computer failures and crumbling buildings: a day in the life of a probation worker
There has been a massive computer failure in the Ministry of Justice. This comes as no surprise to those that work for the organisation.
The failure has affected the operation of the courts, causing trials to be stopped or postponed because barristers and solicitors have not been able to access vital emails and other important information.
However, the problem is much more widespread. I work for the National Probation Service and our computers have been going down for several days at a time, meaning that important information about offenders that can affect their welfare, staff health and safety, and the protection of the public, has not been shared.
The problems began in spring 2018 when a new computer system was installed. From the very beginning it was clear that not enough capacity had been built into the network. Access was difficult to impossible during the day but easier during a nightshift. Recently, we have been without computers for several days at a time.
There has been a 40% cut in the funding of the justice system and outsourcing and privatisation of the provision of IT services, and building maintenance. No doubt cost-cutting has led to the current crisis. Staff are already struggling to deal with everyday maintenance problems that rely on private contractors often travelling over 100 miles to fix sometimes minor problems.
Residents in my hostel are down to sharing one shower as the others have been out of order for months, including one that was leaking into electric appliances in the kitchen below! Toilets remain blocked for days. Staff pagers connected to their personal alarms only work intermittently... I could go on.
Parts of the probation service have been privatised. We should demand that a future Labour government fully funds the criminal justice system and brings back into the public sector all aspects of the service.
In that way, the buildings and fabric of the service could be maintained properly and the whole of the service could be planned to properly serve the needs of all those involved so that public protection is not compromised.
Unison member in the National Probation Service
---
>
Venezuela - a weapon for the Tories
The Venezuelan catastrophe is being weaponised by the usual anti-Corbyn cabal who falsely describe it as another failed socialist experiment.
It is not socialism that has failed. Had socialism been carried through in Venezuela at the height of the mass movement following the failed coup against Chávez in 2002, the outcome could have been different.
Chávez defeated the coup and received support from the mass of Venezuelans and implemented reforms in their interests. But his failure to nationalise the banks, and other key sectors meant the capitalists could sabotage Chávez's programme.
In addition, democratic control and participation of the working class in running society were absent. Chávez developed a personality cult with himself as the supreme policy maker.
Current president Maduro is a grotesque imitation of Chávez and, despite his pompous declarations about 'socialism' and 'revolution', his policy consists of using the state and ruling party apparatus to manage capitalism.
But it's Venezuelans who should hold him to account, not Jeremy Hunt (the butcher of the NHS), Trump, or Brazil's Bolsonaro - who rushed to recognise the unelected Guaidó as 'interim president'.
With breath-taking hypocrisy, they condemn the Maduro government while selling arms to the most bloodthirsty dictators on the planet. This, while unleashing another outrageous smear against Jeremy Corbyn.
The labour movement needs to mobilise to defend Corbyn, demand a general election in Britain, and emphatically reject the charge that the crisis in Venezuela is a consequence of socialism.
Tony Mulhearn, Liverpool
---
In this issue
---
What we think

Corbyn must prepare for a general election: Remove the pro-capitalist saboteurs - fight for the socialist alternative
---
Workplace news

College lecturers strike for a pay rise

University and College Union elections

PCS: Campaign for Chris Baugh for AGS

Traffic wardens' strike is just the ticket

Unison: Democracy and the right to speak out are under threat

Historic strike of nurses in Ireland

Backing for the Birmingham homecarers
---
News

Tory Brexit farce, Corbyn and unions: Call mass action now

Cash-starved health service ripped off by big pharma - fund our NHS now!

Struggling unis account for bulk of unconditional offers - end education marketisation!

Billionaires avoid paying and even talking about tax! Take the wealth off the 1%

Them & Us
---
Iranian revolution

40 years since the Iranian revolution: Learning the lessons for today's new working-class struggles
---
Socialist Party reports and campaigns

Haringey 'Corbyn council' must fight borough regeneration

Victory! Campaign reverses Wallasey fire cuts

Sheffield tree campaigners' legal win

Southampton by-election

Worcestershire: save the libraries, reverse all the cuts

'Stansted 15' deportation protesters could face jail

North West Socialist Party conference
---
International socialist news and analysis

United States: LA teachers' strike defeats privatisers

France gilets jaunes' backed by mass strike action

Sweden: dock strikes test new government

United States: strike ends federal shutdown
---
Opinion

Film: Vice - Dick Cheney - a cold and calculating opportunist

Theatre: Ballad of Johnny Longstaff

The Socialist inbox
---
Home | The Socialist 6 February 2019 | Join the Socialist Party