The Socialist 6 February 2019
Tory Brexit farce, Corbyn and unions: Call mass action now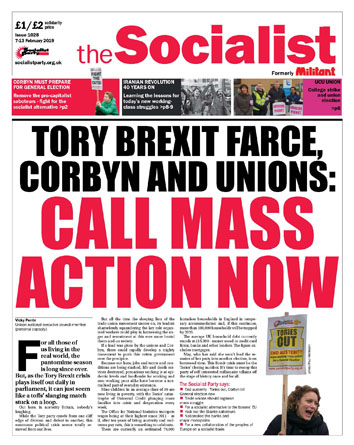 ---
Corbyn must prepare for a general election: Remove the pro-capitalist saboteurs - fight for the socialist alternative
---
College lecturers strike for a pay rise
University and College Union elections
PCS: Campaign for Chris Baugh for AGS
Traffic wardens' strike is just the ticket
Unison: Democracy and the right to speak out are under threat
Historic strike of nurses in Ireland
Backing for the Birmingham homecarers
---
Tory Brexit farce, Corbyn and unions: Call mass action now
Cash-starved health service ripped off by big pharma - fund our NHS now!
Struggling unis account for bulk of unconditional offers - end education marketisation!
Billionaires avoid paying and even talking about tax! Take the wealth off the 1%
---
40 years since the Iranian revolution: Learning the lessons for today's new working-class struggles
---
Haringey 'Corbyn council' must fight borough regeneration
Victory! Campaign reverses Wallasey fire cuts
Sheffield tree campaigners' legal win
Worcestershire: save the libraries, reverse all the cuts
'Stansted 15' deportation protesters could face jail
North West Socialist Party conference
---
United States: LA teachers' strike defeats privatisers
France gilets jaunes' backed by mass strike action
Sweden: dock strikes test new government
United States: strike ends federal shutdown
---
Film: Vice - Dick Cheney - a cold and calculating opportunist
Theatre: Ballad of Johnny Longstaff
PO Box 24697, London, E11 1YD
020 8988 8777
editors@socialistparty.org.uk

Link to this page: http://www.socialistparty.org.uk/issue/1028/28639
Home | The Socialist 6 February 2019 | Join the Socialist Party
Subscribe | Donate | Audio | PDF | ebook
Cash-starved health service ripped off by big pharma - fund our NHS now!
Andrew Bromhall, NHS Nurse and Swansea and West Wales Socialist Party
The NHS has been priced out of buying a life-saving drug by pharmaceutical company Vertex. The cystic fibrosis drug, which can extend the life of children, costs £105,000 a year - a price which the NHS says is "unaffordable".
At present, despite requests from the NHS, the big pharma company has refused to make it available at a lower price.
The company made a whopping £2.5 billion from sales of the drug in 2017. But they didn't even pay for the research to develop it. It was discovered in the first place thanks to money donated through a cystic fibrosis charity.
Campaigners have called on the government to use a legal provision called 'crown use' under which the state can override a patent in the national interest. This was used in the 1960s in Britain in order to provide cheaper 'generic' versions of antibiotics. It is thought that if this was carried out the cost of the drug could be reduced to about £5,000 per patient a year.
Such a move would of course be welcome. But this case exposes the parasitic role of the big pharmaceutical companies - determined to profit out of illness. We call for the nationalisation of these companies - with democratic workers' control of management. That way we could ensure patients' needs are put first - not the demands of profit.
As well as the necessary drugs the NHS also isn't providing the basics. The doctors' union the BMA has found that two out of five NHS trusts and health boards do not give out sanitary products to patients who need them. Or only in an emergency.
The BMA has said that tampons and pads are a basic need and should be available to patients. It appears that in some hospitals razors and shaving foam are given out for free but sanitary products were not.
The BMA asked 223 NHS providers about their policy of supplying sanitary products. Of those who responded, 104 said they did supply them. 25 said they did not supply them at all and 54 stated that they only supplied them in emergencies or in small amounts. Some hospitals do not even sell sanitary products!
The NHS is failing to deliver the care and provision that patients need because of a lack of cash while at the same time being underfunded by the government and ripped off by pharmaceutical and other private companies.
A mass struggle with health workers and their unions in the lead is urgently needed to defend the NHS.
We need a properly funded and resourced NHS under democratic workers' control, free for all users. Nationalise big pharma, kick out all private contractors and end all NHS cuts and underfunding!
---
In this issue
---
What we think

Corbyn must prepare for a general election: Remove the pro-capitalist saboteurs - fight for the socialist alternative
---
Workplace news

College lecturers strike for a pay rise

University and College Union elections

PCS: Campaign for Chris Baugh for AGS

Traffic wardens' strike is just the ticket

Unison: Democracy and the right to speak out are under threat

Historic strike of nurses in Ireland

Backing for the Birmingham homecarers
---
News

Tory Brexit farce, Corbyn and unions: Call mass action now

Cash-starved health service ripped off by big pharma - fund our NHS now!

Struggling unis account for bulk of unconditional offers - end education marketisation!

Billionaires avoid paying and even talking about tax! Take the wealth off the 1%

Them & Us
---
Iranian revolution

40 years since the Iranian revolution: Learning the lessons for today's new working-class struggles
---
Socialist Party reports and campaigns

Haringey 'Corbyn council' must fight borough regeneration

Victory! Campaign reverses Wallasey fire cuts

Sheffield tree campaigners' legal win

Southampton by-election

Worcestershire: save the libraries, reverse all the cuts

'Stansted 15' deportation protesters could face jail

North West Socialist Party conference
---
International socialist news and analysis

United States: LA teachers' strike defeats privatisers

France gilets jaunes' backed by mass strike action

Sweden: dock strikes test new government

United States: strike ends federal shutdown
---
Opinion

Film: Vice - Dick Cheney - a cold and calculating opportunist

Theatre: Ballad of Johnny Longstaff

The Socialist inbox
---
Home | The Socialist 6 February 2019 | Join the Socialist Party