The Socialist 6 February 2019
Tory Brexit farce, Corbyn and unions: Call mass action now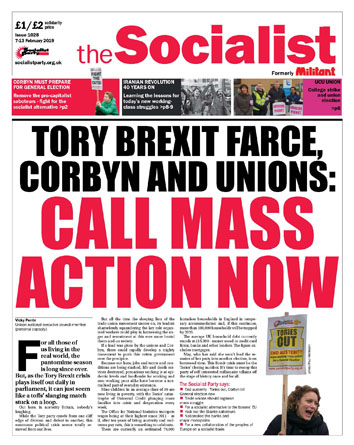 ---
Corbyn must prepare for a general election: Remove the pro-capitalist saboteurs - fight for the socialist alternative
---
College lecturers strike for a pay rise
University and College Union elections
PCS: Campaign for Chris Baugh for AGS
Traffic wardens' strike is just the ticket
Unison: Democracy and the right to speak out are under threat
Historic strike of nurses in Ireland
Backing for the Birmingham homecarers
---
Tory Brexit farce, Corbyn and unions: Call mass action now
Cash-starved health service ripped off by big pharma - fund our NHS now!
Struggling unis account for bulk of unconditional offers - end education marketisation!
Billionaires avoid paying and even talking about tax! Take the wealth off the 1%
---
40 years since the Iranian revolution: Learning the lessons for today's new working-class struggles
---
Haringey 'Corbyn council' must fight borough regeneration
Victory! Campaign reverses Wallasey fire cuts
Sheffield tree campaigners' legal win
Worcestershire: save the libraries, reverse all the cuts
'Stansted 15' deportation protesters could face jail
North West Socialist Party conference
---
United States: LA teachers' strike defeats privatisers
France gilets jaunes' backed by mass strike action
Sweden: dock strikes test new government
United States: strike ends federal shutdown
---
Film: Vice - Dick Cheney - a cold and calculating opportunist
Theatre: Ballad of Johnny Longstaff
PO Box 24697, London, E11 1YD
020 8988 8777
editors@socialistparty.org.uk

Link to this page: http://www.socialistparty.org.uk/issue/1028/28648
Home | The Socialist 6 February 2019 | Join the Socialist Party
Subscribe | Donate | Audio | PDF | ebook
University and College Union elections - fight for a left leadership
Sam Morecroft, Yorkshire and Humber UCU executive (personal capacity)
16 further education colleges just took strike action over pay and conditions. In higher education, we are fighting to beat the Tories' anti-union laws in the equality and pay ballot.
So the University and College Union (UCU) national executive committee (NEC) elections that opened on 1 February come at a crucial time in our union's history.
The fantastic #ussStrikes over pensions, and subsequent disruption at our democratic Congress last year have led to a 'democracy commission'. That is developing proposals to give members the power to recall elected representatives and empowering our membership to hold leaders accountable.
It has become clear that the bureaucratic Independent Broad Left (IBL), who have controlled our union throughout its short history, are more interested in 'partnership' with the employers than fighting to defend our sector. Such is their weakness now, it is possible that we can overturn the IBL majority on the NEC and secure a fighting left leadership.
Socialist Party members in UCU strongly recommend support for the UCU Left slate.
The IBL clique organised around the general secretary must no longer ride rough shod over the democratic will members or sabotage ballots and campaigns.
UCU Left vice-presidential (VP) candidate Jo McNeill only narrowly lost against incumbent Sally Hunt in the 2017 general secretary election.
There are three candidates for VP - Jo, for UCU Left, Vicky Blake, an independent left, and Adam Ozanne for IBL. It is unfortunate that the left have not agreed on one candidate to stand against Ozanne for the membership to unite behind. This is a Single Transferable Vote election, the danger of splitting the vote and allowing the IBL candidate to win is reduced.
While not part of the organised left in the union, Vicky Blake has a good record of leading strike action, and the Socialist Party encourages support for her as well, perhaps in the form of a second preference vote.
We must fight for a left leadership in our union. This fight must be linked to the struggle for a democratic fighting UCU that can smash the Tory ballot thresholds and defend post-16 education.
For the full UCU Left slate go to 'UCU Elections 2019' at uculeft.org
Search 'UCU' at socialistparty.org.uk for more on the 2018 pension strikes, disruption of democracy at the union's conference, and the elections
---
In this issue
---
What we think

Corbyn must prepare for a general election: Remove the pro-capitalist saboteurs - fight for the socialist alternative
---
Workplace news

College lecturers strike for a pay rise

University and College Union elections

PCS: Campaign for Chris Baugh for AGS

Traffic wardens' strike is just the ticket

Unison: Democracy and the right to speak out are under threat

Historic strike of nurses in Ireland

Backing for the Birmingham homecarers
---
News

Tory Brexit farce, Corbyn and unions: Call mass action now

Cash-starved health service ripped off by big pharma - fund our NHS now!

Struggling unis account for bulk of unconditional offers - end education marketisation!

Billionaires avoid paying and even talking about tax! Take the wealth off the 1%

Them & Us
---
Iranian revolution

40 years since the Iranian revolution: Learning the lessons for today's new working-class struggles
---
Socialist Party reports and campaigns

Haringey 'Corbyn council' must fight borough regeneration

Victory! Campaign reverses Wallasey fire cuts

Sheffield tree campaigners' legal win

Southampton by-election

Worcestershire: save the libraries, reverse all the cuts

'Stansted 15' deportation protesters could face jail

North West Socialist Party conference
---
International socialist news and analysis

United States: LA teachers' strike defeats privatisers

France gilets jaunes' backed by mass strike action

Sweden: dock strikes test new government

United States: strike ends federal shutdown
---
Opinion

Film: Vice - Dick Cheney - a cold and calculating opportunist

Theatre: Ballad of Johnny Longstaff

The Socialist inbox
---
Home | The Socialist 6 February 2019 | Join the Socialist Party