The Socialist 26 April 2007
Blair's legacy: war, cuts and privatisation
Blair's legacy... war, cuts & privatisation
Civil servants' union May Day strike
---
Join the campaign to defeat fees
No victimisation - support Deeside college lecturers
Campaign to Defeat Fees National Meeting
---
New Labour - lowest poll ratings since 1983
Come to the Campaign for a New Workers' Party conference
Campaign for a New Workers' Party conference
Support for Labour falling in Scotland
Campaigning for socialist ideas in South Wales
Huddersfield: Fighting against NHS cuts and closures
Coventry socialists fight Post Office closure
Southampton: Save our Services!
Merseyside: Tweedledee, Tweedledum, Bootle has a real socialist alternative
Manchester Wythenshawe: NHS cuts threaten lives
Donate to fund a socialist alternative
Socialist solidarity on May Day
---
Socialist wins court battle in Kazakhstan
France: Record turnout sees Royal and Sarkozy go through to second round
Yeltsin's real record - 'wild capitalism' in Russia
Nigerian elections - a dangerous farce
---
UNISON Delegates demand action
PO Box 24697, London, E11 1YD
020 8988 8777
editors@socialistparty.org.uk

Link to this page: http://www.socialistparty.org.uk/issue/484/2346
Home | The Socialist 26 April 2007 | Join the Socialist Party
Huddersfield Socialist Party has been involved in a number of local battles against cuts and privatisation, and is now helping to develop the various campaigns further through fighting for anti-cuts candidates in the 3 May local elections. In this special page feature, local party members describe some of the struggles taking place.
Fighting against NHS cuts and closures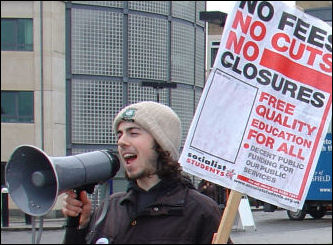 Ian Slattery, Huddersfield Save our NHS candidate
ALMOST 4,000 people have participated in protest marches at proposed cuts in Huddersfield health services. Well over 50,000 have signed protest petitions. Anti-cuts, socialist councillor Jackie Grunsell has been elected onto the local Kirklees council for Huddersfield Save our NHS.
Ian Slattery
Yet the attacks continue, despite the magnificent fight by Huddersfield folk. This government is clearly determined to carry out these disgraceful cuts, but our campaign is even more determined to keep fighting.
St Luke's Hospital, which specialises in mental health, has seen X-ray, pathology and elderly medical wards cut. Shutting wards and cutting staff has meant patients with entirely different problems are put on the same ward. Most patients have no idea where they will be moved once the hospital is shut altogether.
Some staff at St Luke's and other hospitals face redundancy. Many health workers are already thoroughly overworked - district nurses, one of the most widely needed positions in the health sector, have been cut by a fifth!
I am standing for Huddersfield Save our NHS in May's elections to get involved in this fight. Jackie Grunsell has shown what a difference a councillor can make to local struggles. Trust in local politics is at an all-time low, and for good reasons. When was the last time your local council passed a budget which didn't include cuts or closures?
An increasing number of people see our campaign as the means by which a fightback can be generated, while many are utterly disgusted by the mainstream parties and the role they play.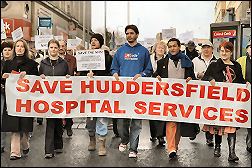 Huddersfield Save Our NHS campaign
Having campaign stalls in the ward is extremely important, as we can get into conversations with people. Our campaigning has included meeting people outside the local mosques, where many agree with our anger at mainstream politics.
Disillusionment at mainstream politics can only be effectively channelled when there is an alternative to choose. Otherwise, voters mainly decide not to vote at all. However, in some areas, parties masquerading as an alternative will win support.
The BNP are trying to do this, by falsely blaming minority groups for the problems created by the main parties, and by claiming to support the working class. However, last year the Crossland Moor and Netherton ward, where Jackie was elected, had one of the highest voter turnouts and one of the lowest BNP votes.
Jackie's election was a shot in the arm to NHS campaigns around the country - and a blast in the face of Huddersfield's divisive and pro-cuts parties.
At last year's vote count, when Jackie's election was announced, she told the other parties that "unless you start to listen to what people are saying, there will be more like me up here." They haven't heeded the warning, so the fight is on to elect another alternative councillor.
---
>
"These academies don't want our kids"
KIRKLEES COUNCIL is chasing government money to refurbish many of its schools through a Building Schools for the Future (BSF) scheme that involves contracting schools out to the private sector. The BSF's cutting edge is the establishment of academies and the first Huddersfield school in the firing line is Fartown High School.
Mike Forster, Kirklees UNISON Chief Steward
After some horrific and expensive attempts to implement the council's policy, staff don't want to be part of an academy and are starting to apply for other jobs.
Parents are checking out other schools because of Fartown's uncertain future, so pupil admission numbers are still quite low. The school caretaker, a UNISON steward and ex-miner said, "If we're not careful this school will shut itself, just like British Coal did with the pits."
It is no surprise that Labour is backing the academy programme, described by the Tory leader of the council group as "the best Labour policy on education I have ever seen". But the opposition is mobilising.
UNISON and NUT unions have jointly launched Kirklees Against Academies (KAA). A local public meeting has brought together parents to fight against the proposals. Local working-class mothers are the backbone of the campaign, but a staff group from the school has been set up to link up with the parents.
The council is still in the early stages of its consultation procedure. After the local elections, they will put forward their preferred option. KAA expects this option to be Fartown academy. The campaign will then go into full swing to fight them off.
Fartown is in Ashbrow Ward where Mel Mills's election campaign is giving local voters a chance to tell the council what they think of both nursery closures and academies. At Mel's launch meeting, one angry parent rightly concluded, "These academies don't want our kids; they will be strangers in their own community."
The 3 May election will give local residents a chance to send a clear message. But elections are only the beginning of a determined campaign to kick academies out of Huddersfield. The fight-back has begun and we are ready!
---
>
Unique care workers battle on
THE FIGHT continues for the women care workers who were sacked for standing up to their brutal employer Unique Care on 8 January. Unique put their own bank balance before the rights of both their employees and the vulnerable elderly people they are contracted to look after.
These care workers have been forced to stand up for their rights. Gloria Mattheson, the UNISON steward who led this brave group of workers in their fightback, announced in January: "we are not slaves and we will not take this treatment lying down." She has proved true to her word.
The Socialist Party in Huddersfield supports them and helps get the dispute as much publicity as possible. The women remain strong, confident and united and are still fighting for justice.
Vicky Perrin
---
>
"I'll be a voice for ordinary people"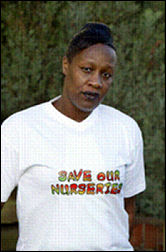 Mel Mills Huddersfield Save our Services candidate
MEL MILLS, a local parent of two children who attend one of Huddersfield's threatened nurseries, is running as an independent in May's local elections in Ashbrow ward. She has helped to lead 'Save Our Services' (SOS), the huge campaign of opposition to the closures.
Mel is highlighting the terrible cuts and closures being imposed on her neighbourhood. She is angry that the council feels it can take away vital services like nursery day care without considering the consequences. Mel told the socialist:
"I am a single working parent. My two children love the day care the council provides. When they said they were going to close them, I knew we had to fight. We have a great parent's group. When we say we are going to do something, we do it. We support each other.
"We want the best possible day care for our children and we'll fight for it. We all work for a living. We have houses to keep and mouths to feed. Losing our day care will force us out of work and back into the home and low income. We will not tolerate this. We see only hypocrisy from politicians who talk about helping working parents but come into our areas and shut down nurseries.
"We went to the Town Hall to lobby the council. They used long fancy words but they behaved just like little children. Their arrogance made me decide I should stand for election so that the voice of ordinary people is heard in the council chamber, along with Jackie who has been a marvellous help to us from the beginning.
"What do these councillors know about ordinary people's lives? For me, life is about paying one bill, and the rest having to wait for another day because I have my children to feed. Do any of these politicians understand how we have to live? I doubt it.
"I will be a voice for ordinary people. It is time for working-class people to make a stand. In our area, they want to close the local school, they sacked the Unique care women and want to shut our nursery. We have no local youth amenities and they wonder why young people get bored and start getting into bother. It is as if our area just doesn't exist. Just what is going to be left?
"I'm not in this race to come second. Mel Mills is a name they had better get used to. I'm not going away!"
Huddersfield Socialist Party has helped to bring all the local struggles together and is proud to be associated with this vital struggle of Mel and her group to give Labour a bloody nose.
---
In this issue

Blair's legacy... war, cuts & privatisation

Civil servants' union May Day strike

Free Arrested activists now
---
Socialist Students

Join the campaign to defeat fees

No victimisation - support Deeside college lecturers

Campaign to Defeat Fees National Meeting
---
Socialist Party election analysis

New Labour - lowest poll ratings since 1983

Come to the Campaign for a New Workers' Party conference

Campaign for a New Workers' Party conference

Support for Labour falling in Scotland

Campaigning for socialist ideas in South Wales

Huddersfield: Fighting against NHS cuts and closures

Coventry socialists fight Post Office closure

Southampton: Save our Services!

Brighton: Stop privatisation

Merseyside: Tweedledee, Tweedledum, Bootle has a real socialist alternative

Manchester Wythenshawe: NHS cuts threaten lives

Donate to fund a socialist alternative

Socialist solidarity on May Day
---
International socialist news and analysis

Socialist wins court battle in Kazakhstan

France: Record turnout sees Royal and Sarkozy go through to second round

Yeltsin's real record - 'wild capitalism' in Russia

US mass shooting horror

Nigerian elections - a dangerous farce
---
Socialist Party workplace news

Support the Sunvic strikers

UNISON Delegates demand action
---
Home | The Socialist 26 April 2007 | Join the Socialist Party