The Socialist 23 September 2008
Their failure, their system: make the capitalists pay
Their failure, their system: make capitalists pay
---
Education a 'them and us' system
---
New Labour flounders in face of economic crisis
---
Merseyside CNWP calls for socialist policies
---
Protesting against Bush and Brown's wars
Jamie's school dinner staff threatened with privatisation
Fighting the racist BNP in Stoke
We won't take the RAP on pollution
Health Trust concessions on Swansea casualty unit
Salford councillors play blame game
---
Civil service strike ballot begins
Workers vow to fight Ford's closure plans
---
Revolution and counter-revolution in Bolivia
---
The Dark Knight: Batman's latest crime-buster
McMafia: Crime Without Borders
PO Box 24697, London, E11 1YD
020 8988 8777
editors@socialistparty.org.uk

Link to this page: http://www.socialistparty.org.uk/issue/549/6425
Home | The Socialist 23 September 2008 | Join the Socialist Party
Protesting against Bush and Brown's wars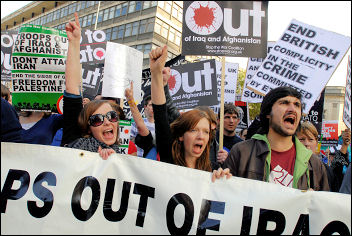 Manchester STWC anti-war demonstration outside Labour Party conference, photo Paul Mattsson
AROUND 3,000 demonstrators joined the Stop the War Coalition (STWC) march in Manchester on 20 September. Marching from All Saints to Castlefields, we paused outside the G-Mex, where Labour's conference was taking place, to denounce the wars in Iraq and Afghanistan.
Paul Gerrard, Socialist Party Manchester
It was a spirited demonstration though the turnout was a lot lower than in 2006 when 30,000 marched, and there were few trade union banners. But Gordon Brown and his allies should not conclude that they have gained in popularity, far from it.
The turn-out reflects the fact that the major concerns for working-class people are food and fuel prices, mortgages and job security. As one Socialist Party member pointed out, if it had been a Brown Out demo there would have been 30,000 and more!
The Socialist Party made a good impact with 150 papers sold and over 40 cards collected from people wanting more information or wishing to join us.
---
>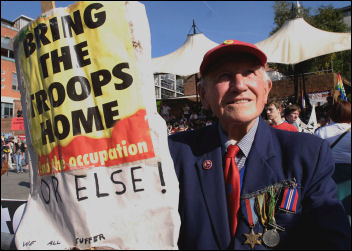 Manchester STWC anti-war demonstration outside Labour Party conference, photo Paul Mattsson
TRAVELLING INTO central Manchester for the STWC demonstration, I hear on the radio that the writer J.K.Rowling has donated £1 million to the Labour Party, for what she thinks the government has done for child poverty. Well, this is Manchester and too many children still live in poverty here! Perhaps Harry Potter will get a knighthood now - or maybe join the Labour Party, as nobody else wants to.
Dave Beale, Socialist Party, Manchester
A police helicopter buzzes overhead. No expense is spared to ensure security for the Labour Party's annual conference - even though a quick change of foreign policy might do the trick. With cast iron security barriers blocking off parts of the road, we march past the centre itself, and there is some tension on the march as anger intensifies.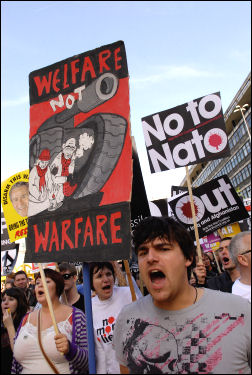 Manchester STWC anti-war demonstration outside Labour Party conference, photo Paul Mattsson
Later, a well-attended Campaign for a New Workers' Party meeting heard Mohammed from Lebanon outline the difficulties but also the opportunities for building a non-sectarian socialist movement in that country, addressing the common sufferings of the working class across the religious divide. This moving contribution made an excellent end to the day.
---
>
High cost of war (and capitalism)
THE AMERICAN economy is already experiencing a record $500 billion budget deficit, as well as being saddled with the cost of the Iraq and Afghanistan wars. The Federal Reserve (central bank) bailout for finance capitalism could be as much as $2 trillion (£1.09 trillion). This will hit hard the living standards of US workers and workers elsewhere.
On top of that, the true economic cost to the world economy of Bush/Blair/Brown's Middle East wars is conservatively estimated by former Clinton advisor Joseph Stiglitz and Linda Bilmes as $3 trillion.
---
In this issue

Their failure, their system: make capitalists pay
---
Socialist Students

Scrap tuition fees!

Students seek out socialists!

Education a 'them and us' system
---
Socialist Party editorial

New Labour flounders in face of economic crisis
---
Socialist Party feature

Make the super-rich pay!

Merseyside CNWP calls for socialist policies
---
Socialist Party campaigns

Protesting against Bush and Brown's wars

LibDems aping the Tories

Them & us

Jamie's school dinner staff threatened with privatisation

Fighting the racist BNP in Stoke

We won't take the RAP on pollution

Health Trust concessions on Swansea casualty unit

Salford councillors play blame game
---
Socialist Party workplace news

Civil service strike ballot begins

Workers vow to fight Ford's closure plans

North Staffs NSSN launched
---
International socialist news and analysis

Revolution and counter-revolution in Bolivia
---
Socialist Party review

The Dark Knight: Batman's latest crime-buster

McMafia: Crime Without Borders
---
Home | The Socialist 23 September 2008 | Join the Socialist Party