The Socialist 26 November 2008
Spend, spend, spend on the banks but cuts, cuts, cuts for the NHS
---
Darling's prescription... It's spend, spend, spend on the banks... but cuts, cuts, cuts for the NHS
Top-up payments for private health care another step towards two-tier National Health
---
Socialist 'deal' for environment needed
Campaign Against Climate Change march
---
Alistair Darling's pre Budget Report: Pain now, pay later
---
Activists discuss how to reclaim Unison
Meeting pledges to fight witch-hunt
Unison leadership takeover Newham branch
---
Manchester: No redundancies at IMI!
Strike saves jobs at Fiddlers Ferry
---
BNP membership list: A weak divided party exposed
New Labour hypocrisy on racism
---
Campaigning to save post offices
Rover's ex-workers wage cut scandal
---
China's food contamination crisis deepens
---
---
---
Somalia piracy - a consequence of western powers' intervention
France: Education strikes on the agenda
PO Box 24697, London, E11 1YD
020 8988 8777
editors@socialistparty.org.uk

Link to this page: http://www.socialistparty.org.uk/issue/558/6667
Home | The Socialist 26 November 2008 | Join the Socialist Party
Meeting pledges to fight witch-hunt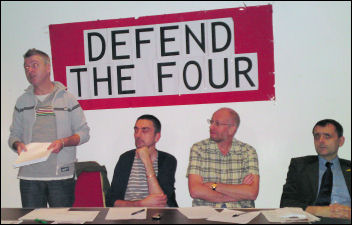 Hackeny Defend the Four meeting addressed by Glenn Kelly, photo Hackney Socialist Party
Democracy not bureaucracy - No witch-hunt in Unison". This was the title and theme of a meeting called by Hackney trades council in support of Hackney Unison chair Brian Debus, one of the "famous four" Socialist Party members facing disciplinary procedures from their own union.
A Hackney Socialist Party member
Unison national executive member Glenn Kelly (another of the witch-hunted four) opened the discussion by putting the events in their current political context, in the week when council workers received their year's pay rise.
Thanks to the shambolic lead given by Unison, when workers lost two days pay on strike only for the bureaucracy to accept the original offer, this works out as an average of just £5-7 extra a week.
The government found hundreds of billions of pounds to bail out the banks, but £1 billion would have been more than enough to cover a cost of living pay rise for every public sector worker in the country. Rather than fighting for the rights of their members, unelected full time officials are prioritising looking after the Labour government and attacking any genuine fighters who they see as a threat.
A member from Southwark Unison spoke about members' shock and confusion of the original claims of racism in relation to the leaflet given out at Unison's 2007 conference. Once members looked into the charges it was clear what the real accusation is - challenging the standing orders committee. The bureaucracy is showing its intention to stifle any debate inside Unison, particularly around the Labour link which is holding back struggle at every opportunity.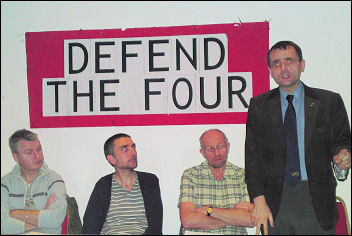 Hackeny Defend the Four meeting addressed by John Leach, President RMT, photo Hackney Socialist Party
John Leach, President of the rail union RMT, made the point that occasionally unions do find themselves in the unfortunate position of having to discipline members who have gone against the rulebook, but that was clearly not the case here.
Action has been taken against the four in order to silence dissent and to limit any opportunity for rank and file members to involve themselves in the running of their union. John mentioned the fact that while the economic crisis has lead to the mainstream press announcing that "Marx is back", there has been little talk of the class struggle that is the realisation of Marx's writings.
The notable exceptions to this have been the comrades now being witch-hunted, and others like them, who have dedicated themselves to fighting for the working class at every opportunity over decades.
Brian Debus closed the meeting by showing the inconsistencies of the union leadership, whose original charge of racism is now one of attacking the standing orders committee.
Motions that were ruled out at the 2007 conference for being "incompetent" were ruled out in 2008 on completely different grounds (one was "in conflict with the rules" and one "could bring the union into legal jeopardy").
As Brian explained, Unison has a leadership that is either incapable or unwilling to lead their members in struggle, and who then attack those that can and do fight.
It was announced at the meeting that the union disciplinary hearings, originally planned for 24-28 November, have now been postponed.
---
In this issue
---
Socialist Party NHS campaign

Darling's prescription... It's spend, spend, spend on the banks... but cuts, cuts, cuts for the NHS

Top-up payments for private health care another step towards two-tier National Health
---
Environment and socialism

Socialist 'deal' for environment needed

Campaign Against Climate Change march
---
Socialist Party editorial

Alistair Darling's pre Budget Report: Pain now, pay later
---
Unison witchhunt

Activists discuss how to reclaim Unison

Meeting pledges to fight witch-hunt

Unison leadership takeover Newham branch
---
Socialist Party workplace news

Manchester: No redundancies at IMI!

Strike saves jobs at Fiddlers Ferry

Organise to save jobs
---
Anti-racism

BNP membership list: A weak divided party exposed

New Labour hypocrisy on racism

Youth Against Racism gig
---
Socialist Party campaigns

Campaigning to save post offices

Rover's ex-workers wage cut scandal
---
Socialist Party feature

China's food contamination crisis deepens
---
Socialist Party women

Defend abortion rights
---
Comment

Art and revolution
---
International socialist news and analysis

Somalia piracy - a consequence of western powers' intervention

France: Education strikes on the agenda
---
Home | The Socialist 26 November 2008 | Join the Socialist Party