The Socialist 7 July 2009
Action now to defend public sector
Action now to defend public sector
---
---
Postal workers need a national fightback
---
National Express goes off the rails
Demanding justice for Shrewsbury 24
---
Why women don't have real equality
---
Police trigger ethnic clashes in Xinjiang
Honduras coup - a warning to workers in Latin America
Sri Lanka: Protest over DfID role
---
Stalin's Nemesis: The Exile and Murder of Leon Trotsky
Arundhati Roy - politics and literature
---
Higher fees in higher education
Drama students enter the stage of struggle
First strike against Trust schools
---
RMT Annual General Meeting: "If provoked - Will strike"
Save jobs at Vestas wind turbine plant
Private companies caught in jobcentre scam
South West Wales Media: Fight for jobs, defend conditions
Oilc - fighting for decent working conditions in the North Sea
PO Box 1398, Enfield EN1 9GT
020 8988 8777
editors@socialistparty.org.uk

Link to this page: http://www.socialistparty.org.uk/issue/587/7511
Home | The Socialist 7 July 2009 | Join the Socialist Party
Action now to defend public sector
We won't pay for the capitalist crisis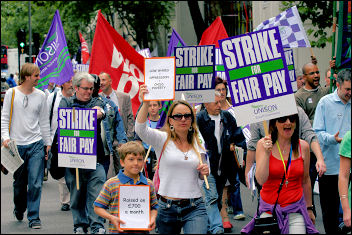 Unison Local Government strike 16-17 July in London, photo Paul Mattsson
THE BATTLE lines are being drawn in the public sector. Chancellor Alistair Darling has warned of a 'tight squeeze' on the pay of six million public sector workers and a further 'efficiency drive' this summer.
Steve Bundred, chief executive of the government's Audit Commission, wrote in The Observer that he hoped £5 billion or more would be saved by reducing public sector workers' pay. Job cuts and a pay freeze are the government's plans for the future of public services. NANCY TAAFFE, a trade union activist in Waltham Forest, says it is time to fight back.
"PAY CUTS and job losses are not just statistics for us. In Waltham Forest borough in east London, the council's cuts could total over £50 million. That's not yet an official figure, but such cuts would threaten an Armageddon of job losses and pay cuts at a time of rising unemployment.
It's no longer a question of fighting piecemeal against a silent erosion as we have done over the last ten years. Now, we could face a full-on assault on services. The government is trying to turn public opinion against public-sector workers, saying we have got to pay.
The government ignores the fact that during the boom years in the City of London, many public-sector workers completely missed out. Most of us never saw huge pay increases or dramatic improvements in our conditions. Last year, for instance, when the inflation rate stood at 4%, public-sector workers got a 2.5% rise.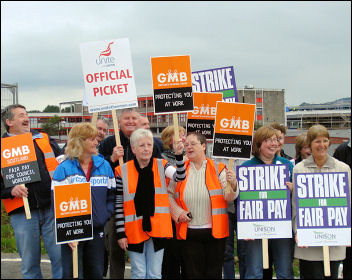 Scotland council workers strike, photo International Socialists
It is astonishing that public-sector workers are now being asked to pay, in effect, for last autumn's bailouts of the banking system.
Even in the so-called good years, staff worked on skeleton staffing levels, going from one emergency to another with no chance of planning their work. These new threats would make things far worse.
Now we need to see a big initiative from the public-sector trade unions, as has happened in France and Ireland, for instance. There, the unions called on the general public to defend the services that give ordinary workers the essentials that they could not afford to pay for privately. Trade union activists nationwide are demanding such a fighting policy, which is definitely needed.
The government is also talking about a public-sector strike ban. That's outrageous. Defending the public sector is vital to protect the living standards of the vast majority of people.
If we cannot defend ourselves by strike action against these attacks on vital services, the whole working class loses. Anti-strike laws are a deliberate attempt to stop us preserving all the gains made by the working class and will meet massive opposition.
In Waltham Forest there have been initiatives to unite community activists and public sector workers. Now the threat of cuts means there is even more need for unity.
Public-sector workers need to be in the forefront, but we need to draw in other people behind us. Public sector alliances were set up in many areas in the early 1990s. Such bodies will have to come back into existence to stop the wholesale destruction of vital services.
And we should fight all government attempts to split private and public-sector workers. Private sector workers should support their public services while public-sector workers need to support private sector workers in battles for jobs, pay and conditions.
The urgent need is to build united action against all the attacks on workers' jobs, wages and all our services."
---
In this issue

Action now to defend public sector
---
Youth fight for jobs

Jobs not dole
---
Socialist Party editorial

Brown's dead duck government

Postal workers need a national fightback
---
Socialist Party news and analysis

National Express goes off the rails

First Bus - no to pay freeze

Demanding justice for Shrewsbury 24

News in brief
---
Socialist Party women

Why women don't have real equality
---
International socialist news and analysis

Police trigger ethnic clashes in Xinjiang

Honduras coup - a warning to workers in Latin America

Sri Lanka: Protest over DfID role
---
Socialist Party reviews

Stalin's Nemesis: The Exile and Murder of Leon Trotsky

Arundhati Roy - politics and literature
---
Education

Higher fees in higher education

Drama students enter the stage of struggle

Teachers' MOTs

First strike against Trust schools

Strike against BSF proposals
---
Socialist Party workplace news

RMT Annual General Meeting: "If provoked - Will strike"

Save jobs at Vestas wind turbine plant

Private companies caught in jobcentre scam

South West Wales Media: Fight for jobs, defend conditions

Oilc - fighting for decent working conditions in the North Sea
---
Home | The Socialist 7 July 2009 | Join the Socialist Party