The Socialist 8 December 2010
Movement to defeat tuition fees and cuts: This is just the start!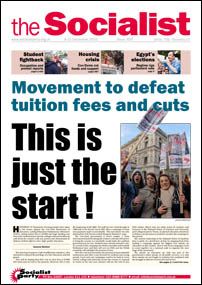 ---
The fight goes on against fees and cuts
---
Youth Fight for Education launch
Youth Fight for Jobs conference report
30 November: student day of action on cuts and fees
Con-Dems can be defeated: Welsh Assembly backs down on EMA and fees
---
Tories' secret job cuts plan exposed
'We need fighting unions to halt cuts'
Nottingham march against billionaire tax dodgers
---
All-Britain Anti-Cuts Campaign to be launched
Building the anti-cuts movement
Scotland: Unison votes for fighting cuts strategy
TUSC calls election campaign conference
---
---
Housing under attack: Ripping off the roof over our heads
---
Medirest health workers need help to fight multinational
Campaign stops health bosses' closure plan
Don't let profit become the bottom line in care
---
---
Protesters demand halt to opencast coal mining in Bangladesh
Egypt's regime perpetrates a massive election fraud
Warmonger Rajapaksa forced to abandon his Oxford Union speech
Kazakhstan - a repressive and corrupt state
PDFs for this issue

Page1 pdf

Page2 pdf

Page3 pdf

Page4 pdf

Page5 pdf

Centre pages pdf

Page8 pdf

Page9 pdf

Page10 pdf

Page11 pdf

Page12 pdf
PO Box 24697, London, E11 1YD
020 8988 8777
editors@socialistparty.org.uk

Link to this page: http://www.socialistparty.org.uk/issue/650/10766
Home | The Socialist 8 December 2010 | Join the Socialist Party
Tories' secret job cuts plan exposed
ON 1 December the Daily Mirror published an article revealing secret plans by the Tory dominated Local Government Employers (LGE) group on how to sack workers using stealth tactics and to prepare for a bitter battle with unions.
Tim Cutter, acting deputy branch secretary, Hampshire Unison
As well as advising councils to sack thousands of low paid workers it also suggests this should be attempted without union involvement. The plans include replacing full-time staff in libraries, museums and sport centres with volunteers.
Council chiefs are urging a hard line with the unions in negotiations. These tactics expose the true anti-union nature of LGE and show that they are prepared to use any means possible to make working-class people pay the price for the crisis in their system.
Many local authorities are already applying an 'over the top' attitude to sickness absence and capability procedures in order to get rid of workers without the need to pay redundancy payments.
The trade union movement needs to expose these anti-union and anti-working class plans and organise resistance both to the cuts and the methods used to implement them.
The leaked document shows that the ruling class and their hatchet men and woman in local government are prepared to co-ordinate on a national scale to attack the jobs and pay and conditions of public sector workers. Only a similarly determined approach from the unions on a national scale will be effective in stopping this onslaught.
The bosses have always been prepared to use illegal methods such as blacklists or intimidation to get rid of trade union activists. Even where they have been shown by the courts or employment tribunals to have broken the law, employers have regarded any cost awarded against them as being a price worth paying.
The LGE plan is just another example of how the drive to make cuts in local government has lead to a total disregard for the rights of workers and their unions. Hampshire County Council for instance has attempted to carry out cuts bit by bit as they restructure each department in turn. Often they have only given a short period of notice to the unions of their plans and attempted to present us with a fait accompli.
However, Hampshire Unison has not been prepared to accept each cut in isolation and is campaigning amongst members to resist the whole cuts package. As trade unionists we need to be prepared to do whatever it takes to fight back.
---
In this issue
---
Fighting cuts and fees

This is just the start!

The fight goes on against fees and cuts

Resisting police intimidation
---
Youth Fight for Education

Youth Fight for Education launch

Youth Fight for Jobs conference report

Socialist Students conference

30 November: student day of action on cuts and fees

Con-Dems can be defeated: Welsh Assembly backs down on EMA and fees

Organising a college walkout
---
Anti-cuts campaign

Cuts cost lives

Tories' secret job cuts plan exposed

'We need fighting unions to halt cuts'

Nottingham march against billionaire tax dodgers
---
National Shop Stewards Network

All-Britain Anti-Cuts Campaign to be launched

Building the anti-cuts movement

Scotland: Unison votes for fighting cuts strategy

TUSC calls election campaign conference
---
Keep the post public campaign

Keep the Post Public campaign
---
Trade Unionist and Socialist Coalition

Housing under attack: Ripping off the roof over our heads
---
Socialist Party NHS campaign

Medirest health workers need help to fight multinational

Campaign stops health bosses' closure plan

Don't let profit become the bottom line in care
---
Anti-racism

Battle for Barking

Hull: racist BNP demo stopped
---
International socialist news and analysis

Protesters demand halt to opencast coal mining in Bangladesh

Egypt's regime perpetrates a massive election fraud

Warmonger Rajapaksa forced to abandon his Oxford Union speech

Kazakhstan - a repressive and corrupt state
---
Home | The Socialist 8 December 2010 | Join the Socialist Party