The Socialist 15 June 2011
Strike 30 June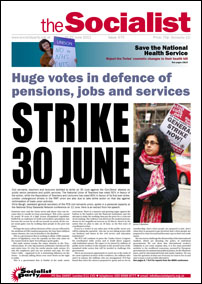 ---
Workers turn up the heat in Southampton
Customs & Revenue staff strike against attendance management policy
No cuts to English language classes!
Carmarthenshire council day club closure lobby
---
Tories make token changes - save the NHS
Con-Dem health plans ignore patients and staff
NHS "listening events" - Flip chart 'democracy'
---
NSSN conference - serious and inspiring preparation for battles to come
---
Fighting anti-cuts meeting in Scotland hears socialist alternative
Child poverty increasing under the Con-Dems
Say no to government's slave labour programme
Winterbourne View - fight privatisation, end abuses
London 'Slutwalk' protest: Fight sexism, discrimination and cuts
To hell with for-profit education
---
---
Tube drivers prepare to strike
Sheffield university strikers more determined
Unison conference - No to pension attacks
Unison NEC elections - left retakes lost ground
---
PDFs for this issue

Page1 pdf

Page2 pdf

Page3 pdf

Page4 pdf

Page5 pdf

Centre pages pdf

Page8 pdf

Page9 pdf

Page10 pdf

Page11 pdf

Page12 pdf
PO Box 24697, London, E11 1YD
020 8988 8777
editors@socialistparty.org.uk

Link to this page: http://www.socialistparty.org.uk/issue/675/12224
Home | The Socialist 15 June 2011 | Join the Socialist Party
Tube drivers prepare to strike
RMT tube drivers on London Underground (LU) will be striking on 19-20, 27-28 June and 30 June - 1 July. This is in defence of victimised tube driver Arwyn Thomas.
Arwyn and fellow driver Eamonn Lynch spoke at the National Shop Stewards Network conference on 11 June. The RMT have won reinstatement for Eamonn but LU management has refused so far to reinstate Arwyn.
Arwyn told the NSSN conference: "I was one of four RMT members who were summarily dismissed during the last RMT/TSSA strike in defence of 800 jobs and the subsequent downgrading of safety.
We've had local strikes in defence of myself and Eamonn Lynch. We had two days of strike action at my depot Morden on the Northern line and two days of strike action on the Bakerloo where Eamonn worked.
My depot was solid and the Bakerloo line was shut down completely for those two days.
On the Bakerloo line we have a minority of drivers, 60% are in Aslef. But the vast majority of Aslef drivers did not cross picket lines. That shows that you can take solidarity action if you are determined enough.
The two strikes were very successful but they weren't going to move management. So the RMT took the brave decision to ballot every train driver on the underground for two people. The vote was 2:1 in favour of striking.
The management signed a deal which meant the re-engagement of Eamonn, which is a terrific victory for the RMT.
Management reneged on the second part of the deal which was my reinstatement. Instead they tried to offer me money but I told them to stuff it."
Eamonn added: "For nine months LU have tried to claim my dismissal was nothing to do with trade union activities. Spending £250,000 of taxpayers' money to victimise two union reps...
We'll go on strike as long as necessary to get Arwyn's job back."
---
In this issue
---
Fighting the cuts

Strike 30 June

Workers turn up the heat in Southampton

Customs & Revenue staff strike against attendance management policy

No cuts to English language classes!

Hands off our pensions!

Carmarthenshire council day club closure lobby
---
NHS news & campaigning

Tories make token changes - save the NHS

Con-Dem health plans ignore patients and staff

NHS "listening events" - Flip chart 'democracy'
---
National Shop Stewards Network

NSSN conference - serious and inspiring preparation for battles to come
---
Socialist Party news and analysis

Fighting anti-cuts meeting in Scotland hears socialist alternative

Child poverty increasing under the Con-Dems

Say no to government's slave labour programme

Winterbourne View - fight privatisation, end abuses

London 'Slutwalk' protest: Fight sexism, discrimination and cuts

News in brief

Dewsbury rejects racist EDL

To hell with for-profit education
---
Socialist Party feature

The growing housing scandal
---
Socialist Party workplace news

Tube drivers prepare to strike

Sheffield university strikers more determined

Unison conference - No to pension attacks

Unison NEC elections - left retakes lost ground
---
International socialist news and analysis

Austerity and anger in Greece
---
Home | The Socialist 15 June 2011 | Join the Socialist Party