The Socialist 15 March 2012
Resist Cameron's cold cruelty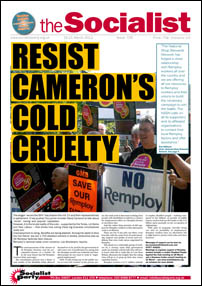 ---
Fight the cuts - for a workers' alternative
Fight back against attacks on pensions
---
---
Widespread fraud alleged as Putin wins presidential poll
Kazakhstan: Oilworkers' lawyer freed from prison
---
National demo needed to save our NHS
Liberals' 'democratic' conference
Fighting Con-Dem attacks on education
14 March - Socialist Students get a response
Library cash goes to supermarket bosses
Coventry: Fight for a socialist alternative
---
Socialist Party Congress 10-12 March 2012
World developments show - capitalism is crisis
Britain: working class begins to 'rise like lions'
Building the Socialist Party: 'year of the branch'
Young, socialist and proud to be!
---
'Westenders' - omnibus edition
The best of 'literary fiction'
PO Box 24697, London, E11 1YD
020 8988 8777
editors@socialistparty.org.uk

Link to this page: http://www.socialistparty.org.uk/issue/709/14146
Home | The Socialist 15 March 2012 | Join the Socialist Party
Those fracking Tories
There have been protest meetings across West Sussex against the danger of Hydraulic Fracturing ("Fracking"). The practice has been banned in France and Bulgaria after mass protests.
The water companies are already talking about hosepipe bans across the south-east. The public are being lectured about saving water. So it would take a madman to deliberately pollute thousands of gallons of the stuff.
The fracking process involves taking thousands of gallons of water out of the water supply and mixing it with various things you'd rather not find in your glass.
They include benzene which is pleasantly carcinogenic with a dash of toluene, a central nervous system depressant. The delightful cocktail is rounded off with xylene which is regarded as a neurotoxin.
Sussex Conservative MP Francis Maude (the pensioners' friend!) is very relaxed about fracking although he's selling off one of his many homes in Sussex. He is equally relaxed about appointing his chum Lord Browne, a director of Cuadrilla, the fracking firm involved, as 'lead non-executive' to the Cabinet Office.
No wonder people round here feel the Tories can frack off.
Socialist Party reporter
---
In this issue
---
Socialist Party news and analysis

Resist Cameron's cold cruelty

Fight the cuts - for a workers' alternative

Fight back against attacks on pensions

Those fracking Tories

Them & Us
---
Socialist Party workplace news

Construction workers fight on

Workplace news in brief
---
International socialist news and analysis

Widespread fraud alleged as Putin wins presidential poll

Kazakhstan: Oilworkers' lawyer freed from prison
---
Socialist Party reports and campaigns

National demo needed to save our NHS

Liberals' 'democratic' conference

Fighting Con-Dem attacks on education

14 March - Socialist Students get a response

Housing crisis in London

Library cash goes to supermarket bosses

Coventry: Fight for a socialist alternative

May Day greetings
---
Socialist Party congress

Socialist Party Congress 10-12 March 2012

World developments show - capitalism is crisis

Trade unions and workplaces

Britain: working class begins to 'rise like lions'

Building the Socialist Party: 'year of the branch'

Young, socialist and proud to be!
---
Reviews & readers' comments

'Westenders' - omnibus edition

The best of 'literary fiction'
---
Home | The Socialist 15 March 2012 | Join the Socialist Party
Related links:

England facing water shortage due to underinvestment

Cape Town drought

Movement growing against fracking giant Ineos

We're freezing: reverse cuts to boiler replacement schemes!

Hurricane Harvey: A tragedy made far worse by capitalism

Chesterfield May Day: march turnout great

Derbyshire says: No fracking way!

Court maintains injunction against fracking protesters

Anti-fracking campaigners' legal fight

Them & us

Stop the Tory NHS wreckers

Walk-out against Trump & Tories

Housing victory for Sussex students

Socialist Students: setting out our stall...