The Socialist 23 January 2013
Action can stop cuts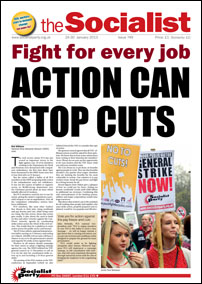 ---
London copter crash 'accident waiting to happen'
Changes to ESA: more attacks on disabled people
---
Book review: Planning for the Planet
---
USA - Workers start to demand change
---
Ystrad Mynach: Give us back our A&E!
'You won't see an investment banker with a hose'
Southampton: Give youth a future!
Building an anti-cuts voice in council elections
East London school rejects 'academisation'
Manchester: fightback needed in city of extreme poverty
Bristol mayor says 'out with the new, in with the cuts'
Leicester: Build a united campaign for community resources
---
London teachers call for strike action against Performance Related Pay
Victory at Runcorn Thermal Power Station
Bolton hospital - fighting mass redundancies
PO Box 24697, London, E11 1YD
020 8988 8777
editors@socialistparty.org.uk

Link to this page: http://www.socialistparty.org.uk/issue/749/16021
Home | The Socialist 23 January 2013 | Join the Socialist Party
Subscribe | Donate | PDF | ebook
Building an anti-cuts voice in council elections
Lambeth
New Labour-led Lambeth council called the Brixton Hill byelection for 17 January, minimising scrutiny of their cuts programme with a short election campaign period.
In near zero temperatures, the Trade Unionist and Socialist Coalition campaign - supported by the local anti-cuts movement - was enormously positive.
Despite the short campaign, the whole ward was leafleted with two-thirds canvassed. Unlike many elections, TUSC received coverage in the local press and 80 people heard our candidate speak at a hustings meeting organised by the Brixton Bugle.
A complication was that the purely propagandist Socialist Party of Great Britain also stood. However the combined TUSC and SPGB vote was 4.2 %.
The campaign raised TUSC's standing. We finished above Ukip, despite that group's continual media coverage.
Crucially the campaign has given TUSC authority to call a meeting to coordinate an anti-cuts challenge across Lambeth in the full council elections in 2014.
David Maples
---
>
Brixton Hill
Labour 1593 62.6%
Green 344 13.5%
Lib Dems 274 10.8%
Tories 164 6.4%
TUSC 72 2.8%
Ukip 63 2.5%
SPGB 34 1.3%
Turnout 22.8%
---
>
Wirral
In December a local campaigner presented a petition of 8,000 names against the cuts to Wirral council.
Addressing the Labour council, he said "they're laughing at you," referring to a Tory motion accusing the Labour council of cutting too far, too fast.
It seems the local Tories oppose every specific cut proposed, but support cutting £109 million from a £287 million budget.
Wirral held two byelections on 17 January - called with a week's notice, nominations closed on 20 December. This cynical move limited campaigning against the cuts.
But Labour still took a kicking - they lost Leasowe and Moreton East despite a 'local celebrity' candidate, with their share of the vote falling from 51% to 42%. In the safe Tory seat of Heswall, Labour's vote fell from 18% to 13%.
The Trade Unionist and Socialist Coalition (TUSC) stood in both seats, with two young workers, Socialist Party members Mark Halligan and Greg North as candidates.
The timing of the elections meant we had limited campaigning time in seats we had never stood in before.
We achieved 31 votes in Leasow and Moreton East beating the Lib Dems and Greens, and 19 votes in Heswall.
Labour councillors continue to bleat about illegal budgets and district commissioners (regardless of the truth) while slashing jobs and services; we continue to build an anti-cuts movement.
Jeff Dale
---
>
Leasowe and Moreton East
Tory 1,620 50.5%
Labour 1,355 42.2%
Ukip 148 4.6%
TUSC 31 1.0%
Green 28 0.9%
Lib Dems 28 0.9%
Turnout 30.5%
Heswall
Tory 1,254 58.8%
Ukip 460 21.6%
Labour 289 13.6%
Green 110 5.3%
TUSC 19 0.9%
Turnout 19.7%
---
In this issue
---
Socialist Party news and analysis

Action can stop cuts

London copter crash 'accident waiting to happen'

Changes to ESA: more attacks on disabled people

Fight the unfair bedroom tax!

Them ... & Us
---
Socialist Party reviews

Book review: Planning for the Planet

Film review: Les Miserables
---
International socialist news and analysis

USA - Workers start to demand change

Sahel: No to the war in Mali
---
Socialist Party reports and campaigns

Ystrad Mynach: Give us back our A&E!

'You won't see an investment banker with a hose'

Save London's fire service

Southampton: Give youth a future!

Building an anti-cuts voice in council elections

East London school rejects 'academisation'

Campaigning against the cuts

Manchester: fightback needed in city of extreme poverty

Bristol mayor says 'out with the new, in with the cuts'

Leicester: Build a united campaign for community resources
---
Socialist Party workplace news

London teachers call for strike action against Performance Related Pay

Victory at Runcorn Thermal Power Station

Bolton hospital - fighting mass redundancies

Workplace In Brief
---
Home | The Socialist 23 January 2013 | Join the Socialist Party