The Socialist 15 October 2014
829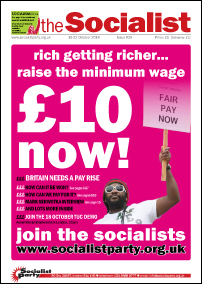 ---
Fight for mass action to end cuts and low pay
Mark Serwotka: Building a strong, fighting union
---
How a mass campaign stopped the cuts
Challenging the austerity parties
Barking and Dagenham council at a crossroads
---
Tories and Labour in crisis after Ukip win
---
Ireland: Stunning byelection victory for Socialist Party
Obama's strategy to beat IS lies in tatters
---
First NHS pay strike for 30 years
Local government pay: reject offer, reinstate action!
Care UK workers mark 81st strike day
600 St Mungo's housing workers to strike for a week
Recycling workers strike over pay and conditions
Severfields engineers strike against bonus cut
---
Young workers say: decent jobs now
---
'Political awakening' continues in Scotland
---
We need YOU to join the Socialists!
PO Box 24697, London, E11 1YD
020 8988 8777
editors@socialistparty.org.uk

Link to this page: http://www.socialistparty.org.uk/issue/829/19512
Home | The Socialist 15 October 2014 | Join the Socialist Party
Subscribe | Donate | Audio | PDF | ebook
Interview with Mark Serwotka, PCS general secretary
Building a strong, fighting, socialist-led union
The socialist-led Public and Commercial Services civil servants' union is due to have an election for the post of general secretary. Bob Severn spoke to the current general secretary, Mark Serwotka, who is standing for re-election.
What has changed in the PCS since you were first elected general secretary in 2000?
I would say the union is unrecognisable from the one that existed when I became general secretary.
It's now a union that respects its activists as its lifeblood rather than an inconvenience. It has democratised massively in terms of electing its senior full time officers, of giving much more power to the groups, the branches and the regions, where decisions can be made at a level nearer the grassroots.
It's a union that supports disputes, always. It will always put members first and is never shy in not just supporting strikes, but arguing for strike action. And it's a union that when I took over hadn't had a national strike in a generation. We have now had numerous national strikes and group disputes.
But the other big change is that the union is stable. The relationship between the elected officers, myself as general secretary for example and the national executive, particularly with Janice Godrich as president for 13 years, means that there's a stability in the union from top to bottom.
We're now one that recognises what matters, fights back when it needs to and is one that I think people are proud to be part of.
The government says the cuts have to be made. What's the PCS's alternative?
We start by saying that analysis is a deliberate lie, pedalled by the mainstream parties. They want people to think that they shouldn't fight, so allow them to dismantle much of what we have fought for in this country for years, in terms of the welfare state, decent education, decent pay and conditions, a decent social security system.
We say not only is it not inevitable, there's a much better alternative. That's based on growing the economy by putting people back into work with decent pay rises.
But we also say - apart from putting people back to work who can contribute to tax - there's an inequality that needs to be addressed. The rich get richer, the poor get poorer, and therefore there needs to be a real crackdown. The richest should pay much higher levels of tax.
We need to clampdown on all the evasion and avoidance of not just rich individuals but multinational companies. The tax gap is currently £123 billion unpaid or uncollected under the tax system now. Imagine if we got some of that in, plus we were also taxing people at more appropriate levels higher up the scale. We would have billions of pounds that we could be spend on improving society.
So how can the cuts be stopped?
The PCS analysis is the cuts can be stopped. To do that we need to mobilise millions of people in Britain. The best way of mobilising them is first of all recognising the importance of strikes.
It's obvious the more people that strike together the stronger we are. We will continue to put the maximum case forward for coordinated industrial action between public sector unions definitely, but also private sector unions where that can be achieved.
In the week that will see the TUC demonstration, we thought at one stage there were potentially millions of people going on strike across most parts of the public sector and indeed the tube drivers in London. Now we have a health strike on, we have PCS members out on strike on Wednesday. It's not as big as we were hoping, but it is still significant.
We need to see more industrial action properly coordinated, so the government takes us seriously rather than think that every now and again there might be a bit of a protest and nothing more.
We need to supplement those strikes with demonstrations. We've recently seen occupations by single mothers in East London to highlight the housing crisis. We've seen extended strikes like the Doncaster care workers. Our job has to be to unite all of these actions, whether it's direct action, demonstrations, or whether it's campaigning in the community, but it has to be headed by industrial action.
While all of that could transform things, we also need clearly to recognise that as long as we've just got the established political parties, the choice before the electorate is invariably just austerity or a worse form of austerity.
Therefore we need to supplement direct industrial action with building a real mass movement that can actually provide a real alternative to argue for a fairer society.
So the PCS has debated the question of political representation - where is that process at now?
After four years of debate we balloted members and they voted in favour of a political strategy that says in exceptional circumstances we would field or support candidates in national elections.
But I think that's a small part to what is really needed. I think it's not just a coming together of those who believe an alternative is required, but it is ensuring that that idea is backed up by as big organisations as we can get. The root to success is more trade unions recognising the need for an alternative.
Attempts by some civil service departments have been made to end check-off membership subs collection. How is the PCS responding?
A system that means our finances are dependent on the employers collecting, leaves us vulnerable. The government recognised that and decided to attack us, in a very petty and vindictive act.
It doesn't cost them any money. It's been in place for over 50 years and it is common practice throughout public and private sectors.
Our response is to defend check-off, to politically campaign to get these decisions overturned. But all the time being prepared to try to get to move people from check-off on to Direct Debit. Where we've got that right, where there's been a lot of activity, not only are people signing up but new people are joining the union.
Why should PCS members vote for you as general secretary in the upcoming election?
If there's a choice in the election it will be between a collegiate leadership that works well together, that is a left, socialist leadership, that believes that defending members must come first, second and third.
The alternative to that would be to fall for the right-wing lies that we've seen put forward in other unions - that strikes don't work, that better relationships mean all our problems will go away.
It's a very fundamental choice really: a union that is strong enough to defend ourselves and go on the offensive when the time is right, against those who want to fly the flag of surrender and just accept that nothing can be done.
In my view, I hope and believe that members will recognise when times are as difficult as this, you need the strongest union possible, not one that is weak at the top.
---
>
►The deadline for PCS branch nominations for general secretary is 23 October. If there is more than one candidate, the election ballot will take place from 20 November to 11 December.
---
In this issue
---
£££ Britain needs a pay rise

Fight for mass action to end cuts and low pay

A socialist world is possible

Mark Serwotka: Building a strong, fighting union
---
Fight the cuts!

Workers need a new party

How a mass campaign stopped the cuts

Challenging the austerity parties

Barking and Dagenham council at a crossroads
---
Socialist Party news and analysis

Tories and Labour in crisis after Ukip win

Them & Us
---
International socialist news and analysis

Ireland: Stunning byelection victory for Socialist Party

Obama's strategy to beat IS lies in tatters
---
Socialist Party workplace news

First NHS pay strike for 30 years

Local government pay: reject offer, reinstate action!

Care UK workers mark 81st strike day

600 St Mungo's housing workers to strike for a week

Recycling workers strike over pay and conditions

Severfields engineers strike against bonus cut
---
Youth Fight for Jobs

Young workers say: decent jobs now

The myth of 'self-employment'
---
Socialist Party reports and campaigns

'Political awakening' continues in Scotland

On the road to higher wages

Coventry fans stung by Wasps

Johnson's housing crime scene
---
Building the Socialist Party

We need YOU to join the Socialists!

Help us fund the fightback

Subscribe to the Socialist!
---
Home | The Socialist 15 October 2014 | Join the Socialist Party