The Socialist 15 March 2017
NHS: strikes and protests can stop cuts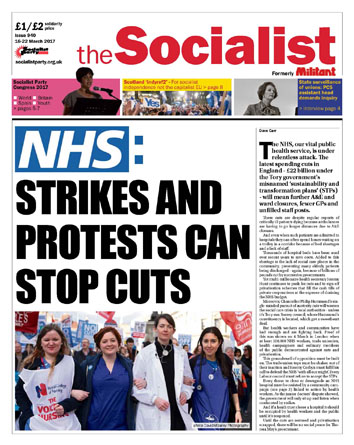 ---
Scotland 'indyref2' for socialist independence not the capitalist EU
State surveillance of unions: PCS assistant head demands inquiry
TUSC: SWP suspends participation in England/Wales
---
NHS: strikes and protests can stop cuts
Glenfield heart unit: "Children will die" angry parents tell NHS England
---
Socialist Party Congress 2017 reports
---
2,000 workers on three rail networks strike against driver-only operated trains
Derby teaching assistants' all-out strike against Labour council
Unison HE conference: Delegates give the bureaucracy a lesson in democracy
---
---
International Women's Day: taking action against capitalist oppression
---
Disabled workers deserve a living wage
'Nurses are angry and we are ready for action'
Women's struggles reduced to perfume sales and career ladder
PO Box 24697, London, E11 1YD
020 8988 8777
editors@socialistparty.org.uk

Link to this page: http://www.socialistparty.org.uk/issue/940/25024
Home | The Socialist 15 March 2017 | Join the Socialist Party
Subscribe | Donate | Audio | PDF | ebook
2,000 workers on three rail networks strike against driver-only operated trains
Over 2,000 workers across three rail networks took strike action on 13 March against driver-only operated (DOO) trains. The long-running dispute against the removal of guards on Southern Rail has spread to Northern Rail and Merseyrail.
Martin Zee, a Merseyrail train guard, is currently in court on trumped up charges facing a possible prison sentence, provoking the action there. Merseyrail itself intends to switch to DOO, as does Northern Rail.
Socialist Party members visited picket lines at Victoria station in London (Southern Rail), Liverpool and across the Northern Rail network.
The Northern Rail strike at Newcastle station was strong and in excellent spirits, reports South Tyne and Wear Socialist Party member Mick Joyce, with 25 pickets there.
"Absolutely solid"
There was much public support from passers-by and a visit from television cameras. RMT Newcastle steward Mick Robinson said the strike was "absolutely solid" in the North East with no evidence of scabbing. Mick went on to add that the strike was "about placing the safety of the public before profit".
The police had earlier "visited the line in an effort to apply the new legislation following the Tories' (anti) trade union bill", however the strike committee was well prepared as all steps had been taken.
Three bought copies of the Socialist and offered solidarity to the Socialist Party and to members Mick represents in the lift and escalator industry.
Greg Price visited the Manchester Piccadilly picket line to show solidarity. A group of 15 to 20 strikers handed out leaflets telling it as it is.
Northern Rail wants to boost profits and compromise passenger safety by ending the guarantee of a guard on every train. The majority of the rail customers were sympathetic and took leaflets and asked questions.
"Fight back"
One striker said: "If we don't fight back the company will get rid of hundreds of guards and walk all over the remaining employees! We say no to DOO!"
In Leeds about 25 pickets covered the two entrances at Leeds Station, handing out thousands of leaflets to passengers, explaining why, on safety grounds, they had taken strike action.
Many members of the public stopped to offer support. Two national TV channels were there and union officials took the opportunity to explain how dangerous DOO trains are without the guards, who are trained in 35 different areas of safety competency.
Socialist Party member Kevin Pattison offered support from the National Shop Stewards Network and an invitation to address Leeds Trade Union Council.
---
In this issue
---
Socialist Party news and analysis

Scotland 'indyref2' for socialist independence not the capitalist EU

State surveillance of unions: PCS assistant head demands inquiry

TUSC: SWP suspends participation in England/Wales
---
Save our NHS!

NHS: strikes and protests can stop cuts

Glenfield heart unit: "Children will die" angry parents tell NHS England
---
Socialist Party congress 2017

Socialist Party Congress 2017 reports
---
Socialist Party workplace news

2,000 workers on three rail networks strike against driver-only operated trains

Derby teaching assistants' all-out strike against Labour council

Unison HE conference: Delegates give the bureaucracy a lesson in democracy
---
Fighting racism

Fight racism and austerity
---
International Women's Day

International Women's Day: taking action against capitalist oppression
---
Socialist Party comments and reviews

Disabled workers deserve a living wage

'Nurses are angry and we are ready for action'

Women's struggles reduced to perfume sales and career ladder
---
Home | The Socialist 15 March 2017 | Join the Socialist Party
Related links:

Strike action against driver-only operated trains continues

Transport strategy: London's mayor is no visionary

Support the Merseyrail strikes against DOO

Third strike against driver-only operated trains suspended but dispute continues

Transport union protests against driver-only operation outside parliament

10% pay increase accompanied by cuts and job losses

Bron Afon workers fight £3,000 pay cut

Bin workers step up action

Mears workers escalate action to all-out strike

The Socialist inbox

Solid strike across the rail network against unsafe driver-only operation

The Socialist Inbox

Support the Bart's strikers

Low-paid cabin crew protest in middle of 16-day stoppage

West London Socialist Party: Jobstown victory - protest is not a crime!

Support Barts NHS striking cleaners and porters!

Walkout on three rail networks against driver-only operated trains

Leeds campaigns to save NHS on its 69th birthday

Newcastle tenants demand answers

"What do we want? Pay parity.

The left unions and the Labour Party affiliation debate

Six charged due to determination of justice campaign