The Socialist 15 March 2017
NHS: strikes and protests can stop cuts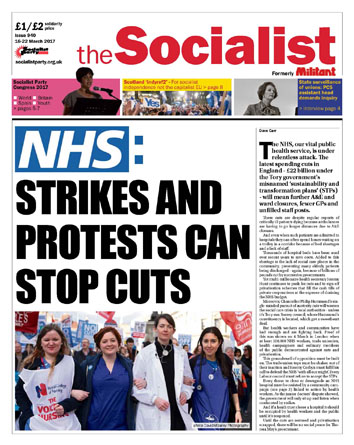 ---
Scotland 'indyref2' for socialist independence not the capitalist EU
State surveillance of unions: PCS assistant head demands inquiry
TUSC: SWP suspends participation in England/Wales
---
NHS: strikes and protests can stop cuts
Glenfield heart unit: "Children will die" angry parents tell NHS England
---
Socialist Party Congress 2017 reports
---
2,000 workers on three rail networks strike against driver-only operated trains
Derby teaching assistants' all-out strike against Labour council
Unison HE conference: Delegates give the bureaucracy a lesson in democracy
---
---
International Women's Day: taking action against capitalist oppression
---
Disabled workers deserve a living wage
'Nurses are angry and we are ready for action'
Women's struggles reduced to perfume sales and career ladder
PO Box 24697, London, E11 1YD
020 8988 8777
editors@socialistparty.org.uk

Link to this page: http://www.socialistparty.org.uk/issue/940/25028
Home | The Socialist 15 March 2017 | Join the Socialist Party
Subscribe | Donate | Audio | PDF | ebook
Scotland 'indyref2' for socialist independence not the capitalist EU
Philip Stott, Socialist Party Scotland
The Scottish parliament will vote next week in favour of triggering a second independence referendum. With a pro-independence majority in the parliament, the vote itself is a formality.
The exact timing of a referendum is not clear. First Minister Nicola Sturgeon has said that a new 'indyref' should take place either in autumn 2018 or spring 2019.
However, a legally binding referendum cannot take place without an agreement from Westminster. Tory prime minister Theresa May therefore has three options in front of her.
The first is an outright refusal to grant the referendum. The second is to agree, but seek to delay the timing until after the Brexit negotiations have concluded. The third option is to accept the timeframe as outlined by the Scottish National Party (SNP) leadership.
The nuclear option for the Tory leadership would be to refuse a second indyref altogether. This would massively inflame national tensions and drive up support for independence, introducing a new explosive element of instability into an already volatile political situation.
The SNP delayed calling a referendum following the Brexit vote. In large part this is because of the static polling that, even now, still has the No side ahead by 52% to 48%.
At present it is most likely that a second indyref will go ahead. Socialist Party Scotland will give critical support to a vote in favour of independence, as we did in the 2014 referendum.
Our criticisms are squarely aimed at the SNP leadership, which promotes and defends big business interests while carrying out cuts across Scotland. Their vision of an independent capitalist Scotland is one that would do nothing to tackle the horrific levels of low pay, inequality and poverty that are rooted in the profit system.
In contrast to a Scotland for the super-rich 1%, we stand for an independent socialist Scotland. For public ownership, wealth redistribution, and an end to privatisation. A living wage of £10 an hour without exemptions, and a massive programme of investment in public services to reverse the impact of austerity.
Socialist
That is only possible with socialist policies, and the building of a new mass working class party to fight for them.
Meanwhile, in Northern Ireland - where, like Scotland, a majority voted to remain in the EU - Sinn Fein has ratcheted up its demands for a 'border poll' on the unification of Ireland.
Such a referendum in the North would quickly become a naked sectarian conflict. For that reason, our sister party in Ireland does not support such a demand as representing any way forward in uniting the working class - Catholic and Protestant, and North and South.
The timing of Sturgeon's announcement was deliberately chosen to trump May's plan to trigger Article 50, the beginning of the formal talks with the EU over Brexit. This is now likely to take place at the end of March.
In part, the calling of a new referendum is a continuation of the SNP's strategy to win concessions from May over access to the single market. This is very much in line with the overall interests of British capitalism - which, ironically, Sturgeon is reflecting more consistently on this issue than the traditional party of British big business, the Tories.
An estimated 400,000 people who backed independence in 2014 voted to leave the EU. Because a second indyref would have the bosses' EU as a central issue - alongside the SNP's role in carrying out Tory austerity - a big space to the left of the nationalists will open up.
Socialist Party Scotland is for leaving the EU with policies that advance working class interests. For example, the renationalisation of all privatised transport services, and utilities like gas and electricity, the post and all water services. In contrast, the EU treaties champion privatisation and neoliberal policies.
---
In this issue
---
Socialist Party news and analysis

Scotland 'indyref2' for socialist independence not the capitalist EU

State surveillance of unions: PCS assistant head demands inquiry

TUSC: SWP suspends participation in England/Wales
---
Save our NHS!

NHS: strikes and protests can stop cuts

Glenfield heart unit: "Children will die" angry parents tell NHS England
---
Socialist Party congress 2017

Socialist Party Congress 2017 reports
---
Socialist Party workplace news

2,000 workers on three rail networks strike against driver-only operated trains

Derby teaching assistants' all-out strike against Labour council

Unison HE conference: Delegates give the bureaucracy a lesson in democracy
---
Fighting racism

Fight racism and austerity
---
International Women's Day

International Women's Day: taking action against capitalist oppression
---
Socialist Party comments and reviews

Disabled workers deserve a living wage

'Nurses are angry and we are ready for action'

Women's struggles reduced to perfume sales and career ladder
---
Home | The Socialist 15 March 2017 | Join the Socialist Party