The Socialist 29 March 2017
NHS: protest, strike, occupy to win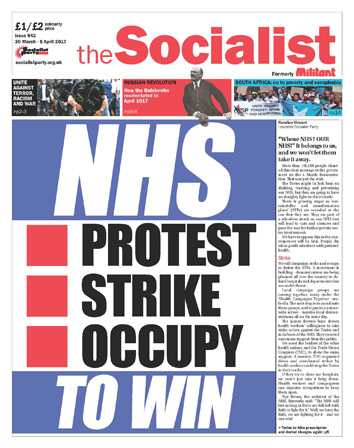 ---
Unite against terror, racism and war
---
NHS: protest, strike, occupy to win!
No to racist scapegoating: oppose the far right
Top banks post 67% of profits in tax havens - nationalise the banks!
Prescription and dental charges to rise again - fight for a free NHS!
Homelessness agencies accused of being complicit in coercive deportations
Leeds Labour councillors resign over cuts
Times makes call for Tory entryism
Martin McGuinness: from IRA leader to Stormont minister
---
April 1917: how the Bolsheviks reorientated
---
Doncaster: snap strike by posties pushes bully bosses back
Over a thousand march with Durham TAs against 23% pay cut
Join the 31 March PCS pay protest
Bridgend Ford overtime stoppage in sourcing dispute
Forest Hill school in Lewisham fights back
Dispute against backdoor privatisation of mental health services
Ballot papers go out in Unite elections
Fujitsu strikes: Manchester and Warrington
TUSC backs RMT struggle against Merseyrail
---
Universal Credit is making the housing crisis worse
Save Cardiff's live music venues
Women need secure jobs and equal pay, not patronising 'returnships'
Why I Joined: "I joined Socialist Party to campaign to save the NHS"
---
South Africa: Unity against poverty, crime and xenophobia
Belarus: movement developing against regime
---
Jobstown Not Guilty: defend the right to protest
Angry march against Bradford council-approved incinerator
GMB union should support anti-fracking campaigners in Fylde
"Save our Nurseries", Tower Hamlets campaigners tell the council
South Yorkshire Freedom Riders celebrate three years of fighting
Memorial meeting remembers Bernard Roome
May Day greetings in the Socialist
PO Box 24697, London, E11 1YD
020 8988 8777
editors@socialistparty.org.uk
Russian revolution 1917-2017
Socialist readers' comments and reviews




LATEST POSTS

WHAT'S ON

CONTACT US
Locate your nearest Socialist Party branch Text your name and postcode to 07761 818 206
Regional Socialist Party organisers:
Eastern: 0798 202 1969
East Mids: 0773 797 8057
London: 020 8988 8786
North East: 0191 421 6230
North West 07769 611 320
South East: 020 8988 8777
South West: 07759 796 478
Southern: 07833 681910
Wales: 07935 391 947
West Mids: 02476 555 620
Yorkshire: 0114 264 6551

ABOUT US

ARCHIVE
---

2017

2016

2015

2014

2013

2012

2011

2010

2009

2008

2007

2006

2005

2004

2003

2002

2001

2000

1999