The Socialist 17 May 2017
Kick out the Tories! For a Corbyn-led government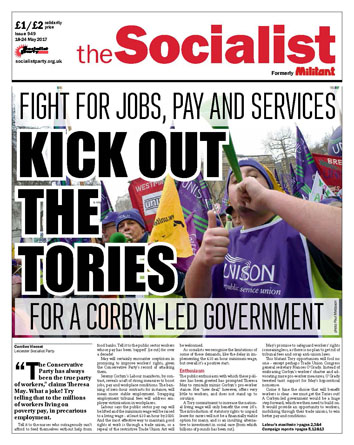 ---
Kick out the Tories: For a Corbyn-led government
Tories out! Corbyn can win with socialist policies
Corbyn's manifesto: An important step in the right direction
TUSC confirms no candidates in June
Suprise rally with Jeremy Corbyn in Morley
Corbyn's alternative for young people
Corbyn could re-win Scotland with a socialist approach to independence
---
One in three borrow for rent, Corbyn pledges housing revolution
Tories escape election fraud charges
NHS cyberattack: budget cuts and spy agency to blame
31,000 more kids at risk of abuse or neglect
---
PCS election: Increased majority for Democracy Alliance
Support Corbyn's call to renationalise Royal Mail
CWU walkout wins large concessions
Blackpool deserves better - anti-austerity rally
Unison must back Corbyn's pledge to abolish zero-hour contracts with action
---
Socialist ideas are energising young people
Fund the fight against the Tories
Packed meeting sets out socialist policies needed to defeat the Tories
---
Palestinian prisoners on mass hunger strike protest
Brazil: General strike against Temer regime
---
Barcelona May Days 1937 - a civil war within a civil war
Hull workers who fought in the Spanish Civil War
PO Box 24697, London, E11 1YD
020 8988 8777
editors@socialistparty.org.uk

Link to this page: http://www.socialistparty.org.uk/issue/949/25492
Home | The Socialist 17 May 2017 | Join the Socialist Party
Subscribe | Donate | Audio | PDF | ebook
Unison must back Corbyn's pledge to abolish zero-hour contracts with action
William Jarrett, Unison member (personal capacity)
Jeremy Corbyn has pledged to abolish zero-hour contracts if elected on 8 June. And last year, Unison northern region co-convenor Nicky Ramanandi joined in the condemnations of Blairite North East Labour local authorities' use of casual labour.
But in contradictory fashion, Unison's machinery has continued providing unswerving political cover and support for these right-wing and anti-Corbyn Labour groups which permit zero-hours exploitation. This puts the Unison leadership at odds with the Labour leader and Unison members who support him.
In a Unison press release in March, general secretary Dave Prentis said: "Councils must stop ignoring the use of zero-hours." Many councils deny using them altogether, citing their use of 'casual' contracts - the only difference being that staff are not forced to take shifts.
All the most contentious elements of zero-hours work remain. One North East council is even using a 'Task Rabbit'-style system, sending email alerts of work available over a period of whole weeks, available on a first-come, first-serve basis.
Contrast Unison's soft-spoken and 'words of advice' to Labour councils with Unite's long public campaign against zero-hour contracts and casual work, which I and other Unison members have proudly collaborated on.
As Unison conference approaches, and in the wake of TUC figures confirming over one million people are now employed in these awful circumstances, Unison must get tough. Talk is cheap and completely inadequate, especially now that zero-hours council staff are being frozen out of the local government pension scheme.
---
In this issue
---
Kick out the Tories! Corbyn can win

Kick out the Tories: For a Corbyn-led government

Tories out! Corbyn can win with socialist policies

Corbyn's manifesto: An important step in the right direction

TUSC confirms no candidates in June

Suprise rally with Jeremy Corbyn in Morley

Corbyn's alternative for young people

Corbyn could re-win Scotland with a socialist approach to independence
---
Socialist Party news and analysis

One in three borrow for rent, Corbyn pledges housing revolution

Tories escape election fraud charges

NHS cyberattack: budget cuts and spy agency to blame

31,000 more kids at risk of abuse or neglect
---
Socialist Party workplace news

PCS election: Increased majority for Democracy Alliance

Support Corbyn's call to renationalise Royal Mail

CWU walkout wins large concessions

Blackpool deserves better - anti-austerity rally

Unison must back Corbyn's pledge to abolish zero-hour contracts with action

Workplace news in brief
---
Socialist Party reports and campaigns

Socialist ideas are energising young people

Fund the fight against the Tories

Packed meeting sets out socialist policies needed to defeat the Tories
---
International socialist news and analysis

Palestinian prisoners on mass hunger strike protest

Brazil: General strike against Temer regime
---
Socialist Party comments and reviews

Barcelona May Days 1937 - a civil war within a civil war

Hull workers who fought in the Spanish Civil War

The Socialist inbox
---
Home | The Socialist 17 May 2017 | Join the Socialist Party
Related links:

Tories weak: time for the TUC to act

Glasgow jannies win famous victory against council cutters

Glasgow janitors win famous victory

Government's tribunal fees defeat

Education cuts forced back

McStrike against low pay

Young people...fight for a future, fight for socialist policies

Support the Bart's strikers

Bully bosses' zero-hour backdown

Ledbury tenants fight for decent homes

Labour conference: Corbyn's support must be used to defeat Blairites

Protest to pressure Labour to scrap Haringey redevelopment plans

Bin workers vote to continue action following rally

Back the Brum bin strikers!

The left unions and the Labour Party affiliation debate

Why do young people need socialism?