The Socialist 1 November 2017
Robber bosses own $6trn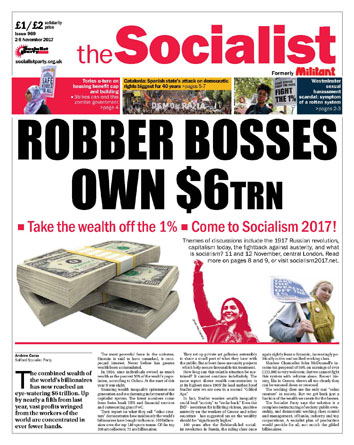 ---
Westminster sexual harassment scandal: symptom of a rotten system
---
Catalonia: Rajoy's furious response to proclamation of Republic
---
Socialism 2017: ideas to change the world
---
Fight for free education: join the budget day protests!
Tories u-turn on social housing benefit cap and borrowing to build
Unions must fight workplace mental health crisis
No to 'Carebnb' privatisation of hospital beds
---
Coordinated strike action on five rail networks against driver-only operation
Arriva bus workers' dispute continues
PCS pay cap ballot closes soon
North east England blacklisting conference success
---
Teachers, students and parents demand an end to the schools funding crisis
The "club no-one wants to be part of" - march by families of those killed in police custody
Derby: expenses for councillors, cuts for everyone else
Health campaign groups come together in Barnsley to protest closures and downgrades in the NHS
Anger over plan to build housing on Yorkshire flood plain
---
New play celebrates Grunwick strike
Skipton show proves draw of socialist art
PO Box 24697, London, E11 1YD
020 8988 8777
editors@socialistparty.org.uk

Link to this page: http://www.socialistparty.org.uk/issue/969/26381
Home | The Socialist 1 November 2017 | Join the Socialist Party
Subscribe | Donate | Audio | PDF | ebook
Robber bosses own $6trn
Take the wealth off the 1%
Come to Socialism 2017!
Andrew Carss, Salford Socialist Party
The combined wealth of the world's billionaires has now reached an eye-watering $6 trillion. Up by nearly a fifth from last year, vast profits wringed from the workers of the world are concentrated in ever fewer hands.
The most powerful force in the universe, Einstein is said to have remarked, is compound interest. Never before has greater wealth been accumulated.
In 2016, nine individuals owned as much wealth as the poorest 50% of the world's population, according to Oxfam. At the start of this year it was eight.
Stunning wealth inequality epitomises our generation and is a damning indictment of the capitalist system. The latest numbers come from Swiss bank UBS and financial services and outsourcing giant PwC.
Their report on what they call "value creators" demonstrates how insidiously the world's billionaires have bought influence. 109 billionaires own the top 140 sports teams. Of the top 200 art collectors, 72 are billionaires.
They set up private art galleries, ostensibly to share a small part of what they have with the public. But at best these are vanity projects - which help secure favourable tax treatment.
How long can this volatile situation be sustained? It cannot continue indefinitely. The same report shows wealth concentration is at its highest since 1905! Its lead author Josef Stadler says we are now in a second "Gilded Age."
In fact, Stadler worries wealth inequality could lead "society" to "strike back." Even the IMF - notorious for inflicting vicious, punitive austerity on the workers of Greece and other countries - has suggested tax on the wealthy should be "significantly higher."
100 years after the Bolshevik-led socialist revolution in Russia, the ruling class once again rightly fears a dynamic, increasingly politically active and unified working class.
Shadow Chancellor John McDonnell's income tax proposal of 50% on earnings of over £123,000 is very welcome. But we cannot fight this system with reforms alone. Recent history, like in Greece, shows all too clearly they can be watered down or reversed.
The working class are the only real "value creators" in society. But we get back just a fraction of the wealth we create for the bosses.
The Socialist Party says the solution is a complete restructuring of society: public ownership, and democratic working class control and management, of banks, industry and top corporations. A socialist plan of production would provide for all, not enrich the gilded billionaires.
Socialism 2017 (11 and 12 November, central London)
Themes of discussions include the 1917 Russian revolution, capitalism today, the fightback against austerity, and what is socialism?
---
In this issue
---
What we think

Westminster sexual harassment scandal: symptom of a rotten system
---
International socialist news and analysis

Catalonia: Rajoy's furious response to proclamation of Republic
---
Socialism 2017

Socialism 2017: ideas to change the world
---
Socialist Party news and analysis

Robber bosses own $6trn

Fight for free education: join the budget day protests!

Tories u-turn on social housing benefit cap and borrowing to build

Unions must fight workplace mental health crisis

No to 'Carebnb' privatisation of hospital beds

Them and us

What we saw
---
Workplace news and analysis

Coordinated strike action on five rail networks against driver-only operation

Arriva bus workers' dispute continues

PCS pay cap ballot closes soon

North east England blacklisting conference success
---
Socialist Party reports and campaigns

Teachers, students and parents demand an end to the schools funding crisis

The "club no-one wants to be part of" - march by families of those killed in police custody

Derby: expenses for councillors, cuts for everyone else

Health campaign groups come together in Barnsley to protest closures and downgrades in the NHS

Anger over plan to build housing on Yorkshire flood plain
---
Socialist readers' comments and reviews

New play celebrates Grunwick strike

Skipton show proves draw of socialist art

The Socialist inbox
---
Home | The Socialist 1 November 2017 | Join the Socialist Party