The Socialist 1 November 2017
Robber bosses own $6trn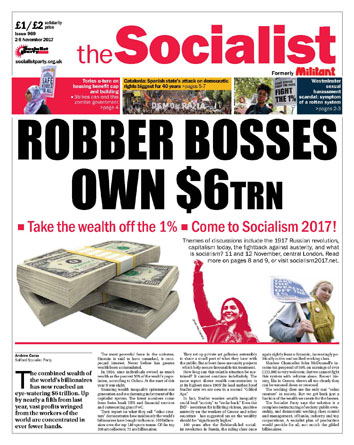 ---
Westminster sexual harassment scandal: symptom of a rotten system
---
Catalonia: Rajoy's furious response to proclamation of Republic
---
Socialism 2017: ideas to change the world
---
Fight for free education: join the budget day protests!
Tories u-turn on social housing benefit cap and borrowing to build
Unions must fight workplace mental health crisis
No to 'Carebnb' privatisation of hospital beds
---
Coordinated strike action on five rail networks against driver-only operation
Arriva bus workers' dispute continues
PCS pay cap ballot closes soon
North east England blacklisting conference success
---
Teachers, students and parents demand an end to the schools funding crisis
The "club no-one wants to be part of" - march by families of those killed in police custody
Derby: expenses for councillors, cuts for everyone else
Health campaign groups come together in Barnsley to protest closures and downgrades in the NHS
Anger over plan to build housing on Yorkshire flood plain
---
New play celebrates Grunwick strike
Skipton show proves draw of socialist art
PO Box 24697, London, E11 1YD
020 8988 8777
editors@socialistparty.org.uk

Link to this page: http://www.socialistparty.org.uk/issue/969/26393
Home | The Socialist 1 November 2017 | Join the Socialist Party
Subscribe | Donate | Audio | PDF | ebook
Derby: expenses for councillors, cuts for everyone else
Ian Hunter, Derby Socialist Party
The recent publication of the allowances and expenses of Derby city councillors for 2016-17 should cause more than a few raised eyebrows. At a time when the Labour-led council continues to make severe cuts to local jobs and services, the total of £812,749.45 will seem excessive to many in more straitened circumstances.
The figures show that the total each councillor receives consists of a basic allowance of £10,076 a year plus certain allowances such as a special responsibility allowance, travel, subsistence, and carer's allowances. Over half a million pounds is spent on councillor's basic allowances.
In the last four years the council has made cuts of £116 million and intends to make further cuts of £45 million by 2019. Planned cuts for 2017-18 will be £15 million.
The council continues to meekly and slavishly follow the Tory government's austerity policies even though this always affects the most vulnerable in society as local services have been axed and working people's wages have consistently fallen in real terms for over a decade. Simply to say you are anti-austerity is not enough, action is required.
A no-cuts budget could be prepared using council reserves and by borrowing money to restore essential and key services.
Services the council is legally obliged to fund like education support services, libraries and so on, have been cut to the bone.
A range of discretionary services, which carry no legal obligation but have traditionally been funded, include leisure, entertainment, grants to local organisations. These have either been severely reduced or cut altogether.
As an example, Derby Women's Centre, which for years has provided valuable assistance and support for victims of domestic abuse and violence, and is now no longer funded by the council. The support is required as much as ever but the centre and its supporters have to scuttle around constantly trying to raise funds wherever they can in order to maintain some semblance of vital support.
The current Tory government is weak and divided as the recent general election and support for Jeremy Corbyn's manifesto showed. It is time for Labour councils like Derby to be bold and determined to make a real difference and offer hope for the future by ending the programme of cuts.
Socialism 2017 (11 and 12 November, central London)
Discussions include: local government - the next scene of the anti-austerity battle?
---
In this issue
---
What we think

Westminster sexual harassment scandal: symptom of a rotten system
---
International socialist news and analysis

Catalonia: Rajoy's furious response to proclamation of Republic
---
Socialism 2017

Socialism 2017: ideas to change the world
---
Socialist Party news and analysis

Robber bosses own $6trn

Fight for free education: join the budget day protests!

Tories u-turn on social housing benefit cap and borrowing to build

Unions must fight workplace mental health crisis

No to 'Carebnb' privatisation of hospital beds

Them and us

What we saw
---
Workplace news and analysis

Coordinated strike action on five rail networks against driver-only operation

Arriva bus workers' dispute continues

PCS pay cap ballot closes soon

North east England blacklisting conference success
---
Socialist Party reports and campaigns

Teachers, students and parents demand an end to the schools funding crisis

The "club no-one wants to be part of" - march by families of those killed in police custody

Derby: expenses for councillors, cuts for everyone else

Health campaign groups come together in Barnsley to protest closures and downgrades in the NHS

Anger over plan to build housing on Yorkshire flood plain
---
Socialist readers' comments and reviews

New play celebrates Grunwick strike

Skipton show proves draw of socialist art

The Socialist inbox
---
Home | The Socialist 1 November 2017 | Join the Socialist Party