The Socialist 1 November 2017
Robber bosses own $6trn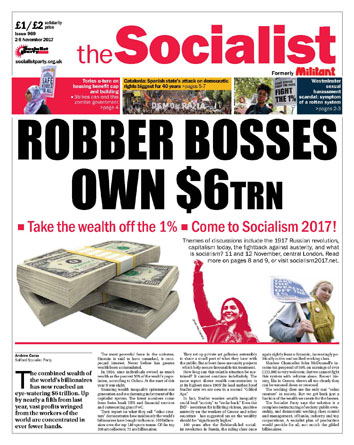 ---
Westminster sexual harassment scandal: symptom of a rotten system
---
Catalonia: Rajoy's furious response to proclamation of Republic
---
Socialism 2017: ideas to change the world
---
Fight for free education: join the budget day protests!
Tories u-turn on social housing benefit cap and borrowing to build
Unions must fight workplace mental health crisis
No to 'Carebnb' privatisation of hospital beds
---
Coordinated strike action on five rail networks against driver-only operation
Arriva bus workers' dispute continues
PCS pay cap ballot closes soon
North east England blacklisting conference success
---
Teachers, students and parents demand an end to the schools funding crisis
The "club no-one wants to be part of" - march by families of those killed in police custody
Derby: expenses for councillors, cuts for everyone else
Health campaign groups come together in Barnsley to protest closures and downgrades in the NHS
Anger over plan to build housing on Yorkshire flood plain
---
New play celebrates Grunwick strike
Skipton show proves draw of socialist art
PO Box 24697, London, E11 1YD
020 8988 8777
editors@socialistparty.org.uk

Link to this page: http://www.socialistparty.org.uk/issue/969/26398
Home | The Socialist 1 November 2017 | Join the Socialist Party
Subscribe | Donate | Audio | PDF | ebook
Fight for free education: join the budget day protests!
Iain Dalton, Yorkshire Socialist Students organiser
Ever since June's snap general election, the Tories have been running from one crisis to another, after Jeremy Corbyn's radical manifesto proved far more popular than their brutal austerity policies. Key in this was Corbyn's pledge to end tuition fees from September 2017 if Labour won, winning the support of many young people who face a lifetime of debt.
Socialist Students has met thousands of students over the course of this year's freshers events interested in making that pledge and others in the manifesto a reality.
That's why Socialist Students has written to Labour's shadow education secretary Angela Rayner calling for them to put a free education amendment to the Tory budget. And we're also organising for direct action to take place across the country on budget day, 22 November, in support of this demand.
Maddy Steeds from Leeds University Socialist Students said: "We believe education is a right not a privilege. Increasing tuition fees are pricing people out of education and saddling students with tens of thousands of pounds of debt. This, paired with the cuts to all sectors, means university graduates are increasingly sucked into a debt trap. We need change now."
On 22 November, we'll be marching in Leeds for free education. In the meantime we're lobbying our local Labour MPs to get them to back a free education amendment, with an online petition and campaign stalls on campus.
But we also see the need to link up with others fighting the Tories' austerity - which is why we're linking our demonstration with the fight to smash the pay cap, including with unions in the education sector. A defeat on any of these issues has the potential to bring May's rotten government down - let's fight to make 22 November the end of austerity.
Socialism 2017 (11 and 12 November, central London)
Discussions include: can Corbyn's promise of free education be realised?
---
In this issue
---
What we think

Westminster sexual harassment scandal: symptom of a rotten system
---
International socialist news and analysis

Catalonia: Rajoy's furious response to proclamation of Republic
---
Socialism 2017

Socialism 2017: ideas to change the world
---
Socialist Party news and analysis

Robber bosses own $6trn

Fight for free education: join the budget day protests!

Tories u-turn on social housing benefit cap and borrowing to build

Unions must fight workplace mental health crisis

No to 'Carebnb' privatisation of hospital beds

Them and us

What we saw
---
Workplace news and analysis

Coordinated strike action on five rail networks against driver-only operation

Arriva bus workers' dispute continues

PCS pay cap ballot closes soon

North east England blacklisting conference success
---
Socialist Party reports and campaigns

Teachers, students and parents demand an end to the schools funding crisis

The "club no-one wants to be part of" - march by families of those killed in police custody

Derby: expenses for councillors, cuts for everyone else

Health campaign groups come together in Barnsley to protest closures and downgrades in the NHS

Anger over plan to build housing on Yorkshire flood plain
---
Socialist readers' comments and reviews

New play celebrates Grunwick strike

Skipton show proves draw of socialist art

The Socialist inbox
---
Home | The Socialist 1 November 2017 | Join the Socialist Party