The Socialist 17 January 2018
Cuts cause NHS crisis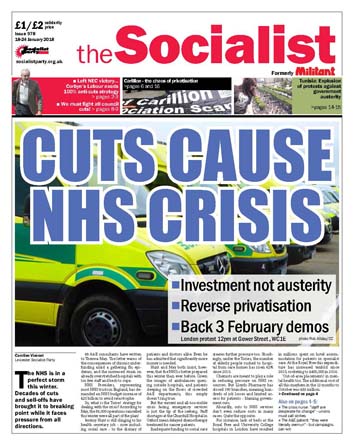 ---
Carillion crisis: demand action to save jobs and services
NHS crisis: under pressure from all angles - end cuts and sell-offs!
Victory! Trump's UK visit cancelled by fear of protests
---
Corbyn's Labour needs 100% anti-cuts strategy and fight for democracy
---
Tunisia: explosion of protests against government austerity
Stop repression in Hong Kong and China
---
RMT strikes against driver-only operation continue
Mini-strike wave continues and intensifies
Hackney school cleaners strike
PCS union 2018 elections - nominate the left slate for a continued fighting leadership
---
We must fight all council cuts!
No to the Woolwich monster block
Undercover policing legal challenge
Heating scandal on east London estate
Lobby pushes Liverpool council to oppose privatisation
Packed Newham meeting against academies
Socialist Party women's meeting brings together members to share experiences
Southern Socialist Party conference
---
Opinion: foster care is work - carers deserve workers' rights
Opinion: British imperialism can take no credit in fight against Isis
Theatre: 'Young Marx' shows growth in great platform for his ideas
PO Box 24697, London, E11 1YD
020 8988 8777
editors@socialistparty.org.uk




LATEST POSTS

WHAT'S ON

CONTACT US
Locate your nearest Socialist Party branch Text your name and postcode to 07761 818 206
Regional Socialist Party organisers:
Eastern: 0798 202 1969
East Mids: 0773 797 8057
London: 020 8988 8786
North East: 0191 421 6230
North West 07769 611 320
South East: 020 8988 8777
South West: 07759 796 478
Southern: 07833 681910
Wales: 07935 391 947
West Mids: 02476 555 620
Yorkshire: 0114 264 6551

ABOUT US

ARCHIVE
---

2017

2016

2015

2014

2013

2012

2011

2010

2009

2008

2007

2006

2005

2004

2003

2002

2001

2000

1999