The Socialist 16 May 2018
Middle East in crisis - no to war!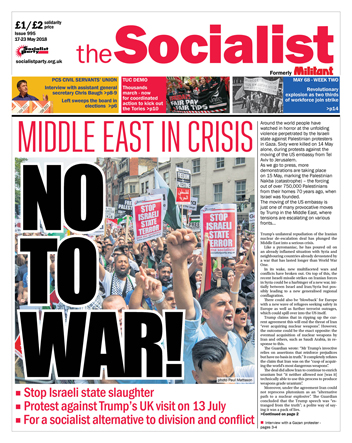 ---
Exclusive interview with Gazan activist: "The more they kill us, the more the anger increases"
---
May 1968: Revolutionary explosion as two thirds of workforce join strike
---
PCS conference 2018: building on the union's militant record
PCS elections - Left sweeps the board
---
Tories' continuing EU quagmire is Corbyn's opportunity
Royal wedding opulence... during longest pay squeeze in 200 years
Richest worth £724bn... as 100,000 kids fall into poverty
---
Strike at Tesco Dagenham for better pay
Lively Hull demo against college cuts
Harrogate College strike against cuts
Leeds Acas conciliators walkout
---
'When we fight, we can win' - campaign halts hospital closure
Chesterfield May Day: march turnout great
Save Our Square takes fight to developers
Save Southall Town Hall legal hearing success
---
Ronan Point disaster 50 years on
---
Spain: Student general strike against sexist, capitalist 'justice' system
Sweden: Socialist elected leader of 77,000-strong tenants' union
---
PO Box 24697, London, E11 1YD
020 8988 8777
editors@socialistparty.org.uk

Link to this page: http://www.socialistparty.org.uk/issue/995/27363
Home | The Socialist 16 May 2018 | Join the Socialist Party
Subscribe | Donate | Audio | PDF | ebook
'When we fight, we can win' - campaign halts hospital closure
Mike Forster, Hands Off HRI campaign chair
Local campaigners fighting to save hospital services in Huddersfield have won an important victory. We were delighted and surprised by an announcement by Health Secretary Jeremy Hunt on 11 May.
He said of the NHS bosses' proposals for Huddersfield Royal Infirmary (HRI)that there are a variety of failings in their case. The proposals lack consistency, there is widespread scepticism, there is no evidence of adequate out-of-hospital care, the loss of beds is unjustifiable and there is no evidence of capital finance being available.
Hunt correctly concludes that the proposal to downgrade HRI is "not in the best interests of the people" of Kirklees and Calderdale. He has ordered the clinical commissioning group (CCG) to develop new proposals which take into account these misgivings. Their initial plan is dead in the water.
This outcome has completely vindicated the long and relentless campaign waged by Hands Off HRI over the last two and a half years. We've had mass demonstrations, lobbies in London, local organising groups and a huge fundraising effort.
It also supports the findings of the courts that ordered a full judicial review, which is currently scheduled to go ahead in June. There is little doubt that that decision to allow a legal challenge to the proposals has concentrated minds.
The judge identified five counts of public law which could be tested. Hands Off HRI commissioned three professional clinical, financial and building experts to scrutinise the proposal in preparation for the court hearing. Their findings completely bear out Hunt's observations.
Where does this leave the future of HRI? While delighted with this decision, Hands Off HRI recognises that this is not the end of the proposal to shut our hospital. It is the same CCG which is being asked to think again.
Hunt has ordered the relevant authorities to develop a new plan over the next three months. Hands Off HRI will be engaging with this process by submitting further evidence.
However momentum is now with our campaign and the whole town is lifted by the decision. There is renewed confidence that we can see this through to the end.
If you stand up and fight, you can win. It's only a done deal if you do nowt.
---
In this issue
---
Middle East

Middle East in crisis

Exclusive interview with Gazan activist: "The more they kill us, the more the anger increases"
---
France '68

May 1968: Revolutionary explosion as two thirds of workforce join strike
---
PCS

PCS conference 2018: building on the union's militant record

PCS elections - Left sweeps the board
---
Socialist Party news and analysis

Tories' continuing EU quagmire is Corbyn's opportunity

Royal wedding opulence... during longest pay squeeze in 200 years

Richest worth £724bn... as 100,000 kids fall into poverty
---
Socialist Party workplace news

Strike at Tesco Dagenham for better pay

Belgium Lidl strike victory

Lively Hull demo against college cuts

Harrogate College strike against cuts

Leeds Acas conciliators walkout

Workplace news in brief
---
Socialist Party reports and campaigns

Thousands march on TUC demo

'When we fight, we can win' - campaign halts hospital closure

Chesterfield May Day: march turnout great

Save Our Square takes fight to developers

Save Southall Town Hall legal hearing success
---
Ronan Point

Ronan Point disaster 50 years on
---
International socialist news and analysis

Spain: Student general strike against sexist, capitalist 'justice' system

Sweden: Socialist elected leader of 77,000-strong tenants' union
---
Opinion

The Socialist Inbox
---
Home | The Socialist 16 May 2018 | Join the Socialist Party