Reports and Campaigns
---

About the Socialist Party

Anti-capitalism

Anti-privatisation

Anti-war

Election campaigns

Environment

Health

Socialist women

Workplace

Youth and Students
---
The state tags:
---
Reports and campaigns:
Stop the slaughter of Tamils (55)
Workplace and TU campaigns (5133)
Related websites
Trade Unionist and Socialist Coalition
National Shop Stewards Network
---
8 August 2011

Tottenham riots: Fatal police shooting sparks eruption of protest & anger
Mark Duggan's death in Tottenham is the latest shocking death at the hands of the police, mostly of young black men. But the highly combustible material that led to the riots was also crippling poverty, frustrated ambitions and alienation
10 December 2008

Greece in widespread revolt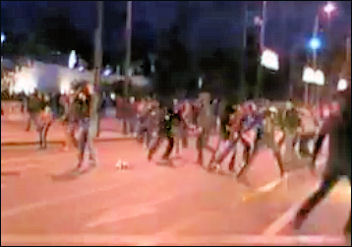 Protesters in Greece, photo Xekinima
THERE HAS been an explosion of anger across Greece following the fatal shooting of a 15 year-old in Athens by police.The killing has acted as a lightning rod for the pent-up anger among the youth and the working class at a government hit by corruption scandals and rocked by economic crisis. Andros Payiatsos of Xekinima (CWI in Greece) reports on this revolt from below.
9 August 2007

Jean Charles de Menezes: Security forces not held to account
AN INVESTIGATION by the Independent Police Complaints Commission (IPCC) into the fatal shooting of Brazilian migrant worker, Jean Charles de Menezes, in Stockwell tube station by police in July 2005 has concluded that the counter-terrorism chief Andy Hayman 'misled the public'... By Dave Carr
26 April 2007

US mass shooting horror
THE SHOOTING at Virginia Tech, the worst mass shooting in modern US history, shocked people in the US and around the world...
25 August 2005

No more police cover-ups
Jean Charles de Menezes: THE RECENT leaked report on the killing of Jean Charles de Menezes clearly shows what many local activists already suspected, that this was the murder of an innocent Brazilian man...