Rob Williams
---
Prepare for the battles ahead
Come to the NSSN conference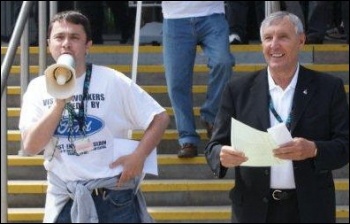 Socialist Party member Rob Williams and Tony Woodley, Unite joint general secretary, speak at a rally for Viseton workers at Unite conference 2010, photo Mike Gard
The fourth annual conference of the National Shop Stewards Network (NSSN) takes place in London on Saturday 26 June. The network was set up in 2006 after an initiative by the rail union RMT. Many rank and file stewards had become frustrated by the conservative approach of many trade union leaders, some of whom had been dubbed the 'awkward squad' in the early part of the decade when they had been elected to replace right-wing union leaders.
Rob Williams, Unite convenor, Linamar Swansea, personal capacity
When it was established, the NSSN was operating in a period where there was a low level of strikes. We were preparing for an upsurge of struggle. That new period is fast emerging as workers reel from the effect of the recession and the looming public sector cuts.
Last year's conference celebrated the victories in key private sector disputes with speakers from Lindsey, Linamar and Visteon. This year, the emphasis is very much on the public sector as these workers, along with communities, prepare for the Con-Dem cuts.
As well as the main conference, there will be up to ten workshops, giving delegates the chance to discuss many issues that face them at work and in the labour movement generally.
The final session is an international rally, with speakers from Spanish and Greek trade unions who will be reporting from their general strikes. This crisis is global and our response must be as well.
Cameron reckons that Britain will never be the same after the cuts. He means that everything that workers have taken for granted in terms of jobs, public services, terms and conditions and pensions are under threat.
This conference is a vital event for stewards and rank and file trade unionists to take stock, learn from each other and prepare to fight back.
Build the trade union fightback - come to the National Shop Stewards Network 2010 conference
Saturday 26 June, 11am-4.30pm.
South Camden Community School, Charrington Street, London NW1 1RG (near Kings Cross/St Pancras)
To register send £5 to NSSN, PO Box 58262, London N1P 1ET, with your details, including workplace and trade union.
Encourage your trade union branch or workplace to sponsor the conference - suggested minimum £20.
For more details see www.shopstewards.net or email info@shopstewards.net
---