Link to this page: https://www.socialistparty.org.uk/issue/638/10227
From The Socialist newspaper, 15 September 2010
Hull park rangers protest
ON 13 September, about 50 park rangers, members of the GMB union in Hull, marched to the city's BBC buildings. They were protesting against the cuts which would mean halving the park rangers service in Hull, with the loss of over 20 jobs.
The cuts would represent the death knell of the park rangers service in Hull, depicted by the coffin carried on the demonstration. The park rangers are responsible for maintaining security and general well-being in the city's many parks. Hull Youth Fight for Jobs supported the demonstration, and were well received by the park rangers.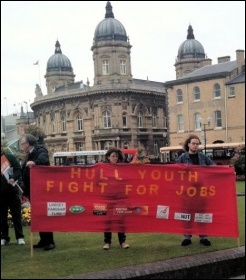 Hull Youth Fight for Jobs supporting the Park rangers protest, photo Hull Socialist Party (Click to enlarge)
At the rally outside the BBC buildings, Les Dobbs (GMB full-timer) outlined the park rangers' case. Mike Whale (Hull NUT secretary) brought greetings from the wider trade union movement in the city, and got a warm round of applause, when he called for a return to old-fashioned trade union solidarity and a socialist alternative to the Con-Dem cuts.
Alex Humphreys, Hull Socialist Party
Why not click here to join the Socialist Party, or click here to donate to the Socialist Party.
---
In The Socialist 15 September 2010:

Join the fight against cuts
---
Socialist Party editorial

Decisive action can defeat this government
---
TUC congress

TUC backs youth jobs demo

TUC told to name the day

TUC: Build for action against cuts
---
Socialist Party youth and students

Stop the 'slippery slope' to two-tier education

How will the Browne Review into university funding affect you?

Student strikes can win results
---
Feature: Socialist Party women

Women and the struggle against oppression
---
Socialist Party news and analysis

Royal Mail: Con-Demned to history?

Privatisation's giant wrecking ball

Fight the jobs cuts massacre

Middlesborough local union-led public services alliance set up

Fast news

General strike in France

Osborne targets the needy

Labour councillors challenged in Hastings

Shropshire: showing socialist alternative gets results
---
Socialist Party workplace news

London Underground: Action biting against job cuts

UCU executive pulls out of strike ballot

Fight for jobs at GSK

Workplace news in brief
---
Anti-cuts campaign

Mood of defiance in Huddersfield

Hull park rangers protest

How do we vote to stop the cuts?

Nottinghamshire: Campaign saves vital service

Lobbies warn councils of workers' action
---
Socialism 2010

Socialism 2010: How can we save the environment?
---
International socialist news and analysis

All-India general strike: Eyewitness report from Chennai

Fighting oppression in Kazakhstan
---
Socialist Party review

The Third Man
---
Home | The Socialist 15 September 2010 | Join the Socialist Party
---