Link to this page: https://www.socialistparty.org.uk/issue/639/10285
From The Socialist newspaper, 22 September 2010
Coventry 'one-stop' protest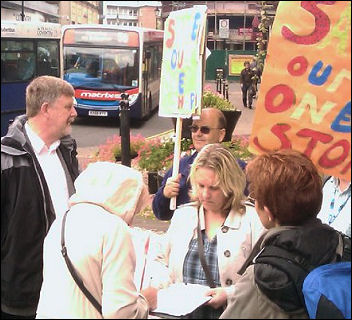 Socialist Pary councillor Dave Neillist joins Stoke Aldermoor residents to lobby Coventry council to save their local council neighbourhood management one stop service office., photo Coventry Socialist Party
A 30-strong crowd of determined residents from the Stoke Aldermoor estate in Coventry lobbied the city council meeting on Tuesday 14 September to save their local council neighbourhood management 'one stop' service office. It is one of five around the city that are in for the chop, that provide vital advice, support and services.
One resident, waving a placard made by teenagers at the youth centre on the estate, that is also under threat from cuts, said: "The area is becoming like an isolated island, everything keeps disappearing."
The small 'desert' that surrounds the estate, a former car factory, is a sad symbol of the years of clobbering done to Coventry's manufacturing base by the Tories, Labour and big business.
Coventry Against the Cuts public meeting, Tuesday 28 September, 7.30pm, Methodist Central Hall, Coventry. Speakers include Socialist Party councillor Dave Nellist and FBU general secretary Matt Wrack.
Lenny Shail, Coventry West Socialist Party
Why not click here to join the Socialist Party, or click here to donate to the Socialist Party.
---
In The Socialist 22 September 2010:

Brutal bosses? Time to fight back!

Birmingham: Solidarity with council workers
---
Socialist Party youth and students

Stop the higher education lock out!

The Student Socialist:: Issue 8 £1.50
---
International socialist news and analysis

For a 24-hour all-Europe general strike

Spain: class struggle the biggest show in town

Kashmir: An eyewitness to oppression in the valley

'Death of democracy' in Sri Lanka
---
Socialism 2010

Socialism 2010 - a weekend of discussion and debate
---
Socialist Party news and analysis

Countering the Con-Dem government's offensive

Stroud says no to BNP media centre

Bosses want workers' pensions axed

Trade unionists challenge Lib-Dems

Fast news

CNWP extended steering committee meeting
---
Socialist Party workplace news and analysis

The sorry saga of Corus steel

Ex-Jarvis workers face more attacks

Tyneside Safety Glass: Stop the decline to the minimum wage!

Workplace news in brief

Fight every Con-Dem cut

Hastings demo against attacks on union officials
---
Organising to save jobs and services

Determined, widespread union action needed

Why London firefighters oppose 'reforms'

23 October march against cuts: RMT calls London demo
---
Socialist Party feature

The beauty industry: out of control?

Diminished responsibility
---
Socialist Party campaigns

Coventry 'one-stop' protest

Building the anti-cuts fightback: Local campaign launches

Save Southampton Libraries
---
Home | The Socialist 22 September 2010 | Join the Socialist Party
---