Link to this page: https://www.socialistparty.org.uk/articles/10693
Posted on 1 December 2010 at 11:43 GMT
Hundreds occupy Nottingham University
University of Nottingham students held a protest on 30th November against cuts in education and the proposed increase in tuition fees.
Becci Heagney, Nottingham Socialist Party
It began with a rally where students spoke of their opposition to being forced to pay for the banking crisis and lecturers gave their support.
The protest then had a short march to the Vice Chancellor Professor Greenaway's office which had security outside it.
The students chanted outside, "Greedy Greenaway, don't make the students pay!"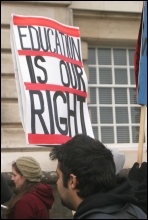 University of Nottingham students occupy
There were then around 150 students who went into the Great Hall to occupy the building. They announced that the area would be a safe area occupied by them to show that education belongs to the students and lecturers of the university and not to the management and the government.
Quickly, demands were drawn up and sent to the Vice Chancellor calling for the university to publicly oppose cuts and fees, not to make any redundancies and for no students or staff involved in the occupation to be victimised.
The occupation received support from UCU and the Student Union and was also joined in solidarity by students from Nottingham Trent and from local Further Education colleges.
One lecturer brought her class to the room and held a French lecture in the occupation!
Sofia Mason, a PhD student, said, "If the 80% cuts to the higher education teaching budget go through, I will not get a job.
"My whole career will go down the pan. All I've ever wanted to do is teach! The fact is, banks have reported record profits this year, they got us into this mess and they can pay for it.
"We are committed to occupying the university because we believe that the time has come to stand up against the utterly unfair assault on higher education being perpetrated by the coalition government."
Messages of support and solidarity to Helen Pattison nsafac@gmail.com.
Why not click here to join the Socialist Party, or click here to donate to the Socialist Party.
---