Link to this page: https://www.socialistparty.org.uk/issue/652/10864
From The Socialist newspaper, 5 January 2011
NSSN anti-cuts conference: Trade unionists to debate the way forward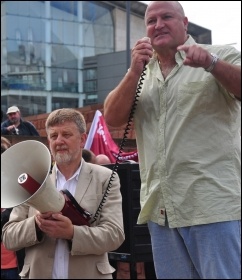 Bob Crow, Railway workers union general secretary, RMT and Dave Nellist at NSSN lobby of 2010 TUC congress in Manchester, photo by Suleyman Civi (Click to enlarge)
In the last days of 2010 Vince Cable cavorted on the dance floor, George Osborne gambolled on the ski slopes and other MPs sipped champagne while working class lives burned.
Sarah Sachs-Eldridge, Socialist Party Executive Committee
By Christmas Eve 87,374 workers at 107 UK councils had been informed that their jobs were under threat. Many councils delayed sending out their notices until later. The GMB union listed social workers, school dinner ladies, meals on wheels providers, refuse collectors, youth workers, and home helps among those under threat.
The latest jobless figures showed that official unemployment reached 2.5 million in the three months to October with this increase almost entirely down to public sector job losses.
Students had a few weeks off to contemplate their futures - what options remain after millionaire MPs voted for a trebling of university fees, an extinguishing of the Education Maintenance Allowance and the jobs market shrinks further.
Public services face annihilation. Mark Thomas tweeted that "there are more UK libraries closing than there are days in the year". Hospital services are being picked off. Benefits are on the chopping board.
But this is a weak coalition. Education minister Michael Gove was forced to execute a u-turn over plans to end a book service for children after complaints flooded in. Imagine how these Con-Dem bully-boys and girls will respond when they feel the hot breath of the organised working class on their backs!
And the holiday period also showed that the cuts will not be meekly accepted. Bin workers are fighting back in Birmingham. Over 3,000 marched against the threatened sell-off of the Forest of Dean on 3 January.
Call for unions to link up with students
The new leader of Unite, Britain's biggest union, Len McCluskey, has called for the unions to link up with the students and the anti-cuts campaigns across the country. Unlike the leadership of unions such as public sector union Unison, it is McCluskey and the leaders of the RMT, PCS and POA who are "cutting with the grain of the real new politics" as Seumas Milne put it in the Guardian.
These unions have also lent their support to the National Shop Stewards Network (NSSN), the union rank and file body founded by the RMT transport union in 2007. The NSSN is active locally, regionally and nationally, pulling together workers in struggle. It has organised annual national conferences involving hundreds of trade unionists.
The NSSN, a workplace-based organisation, says not one job or one service should be cut. Never has there been a greater need for coordinated action. As workers, students and campaigners contemplate the new year, thousands will have found themselves politicised by their experiences in 2010 and asking how can we beat this government.
On Saturday 22 January many of those along with hundreds of experienced activists will attend an extraordinary conference of the NSSN to debate the best way to build the anti-cuts movement and to defeat the coalition government.
All anti-cuts campaigns, trade union branches, trades councils and workplace organisations are invited to send delegates and visitors.
Linda Taaffe, NSSN secretary, says: "Let's make a start in thrashing out a real strategy for action in the struggle to create a force that can defeat this vicious, cobbled-together, millionaire government. If we defeated Margaret Thatcher, the iron lady, on the poll tax, we can do the same to Tory boot boys Cameron and Clegg!"
---
>
NSSN anti-cuts conference
Saturday 22 January 2011
11.30am - 3.30pm
South Camden Community School
Charrington Street, London NW1 1RG (by Euston Station)
Why not click here to join the Socialist Party, or click here to donate to the Socialist Party.
---
In The Socialist 5 January 2011:
---
National Shop Stewards Network

We'll resist Cameron's 'hard times'

NSSN anti-cuts conference: Trade unionists to debate the way forward

A real strategy to fight the cuts
---
Socialist Party youth and students

March together, win together: students and workers join the demonstration in Manchester on 29 January

29 January demonstration in Manchester: Students and young workers unite
---
Socialist Party feature

2011: a year of sharpening struggle
---
Socialist Party news and analysis

Rail operators profit from commuter misery

Northern Ireland water crisis: Privatisation agenda wrecks service utility

NHS cutbacks - health bosses and government to blame

Tommy Sheridan trial - guilty verdict is a sham

Private ownership, public pollution
---
Socialist Party workplace news and analysis

Fight the NHS pay freeze!

Heinz strike again

Birmingham bin workers fight back

More pay strikes at Newsquest papers

Trade Unionist and Socialist Coalition conference on 22 January 2011

Trade unions must fight for agency workers' rights
---
Obituaries

Tribute to John Macreadie, trade unionist and socialist fighter

Grunwick: leader of historic strike dies
---
Socialist Party review

Fela! the musical
---
Home | The Socialist 5 January 2011 | Join the Socialist Party
---