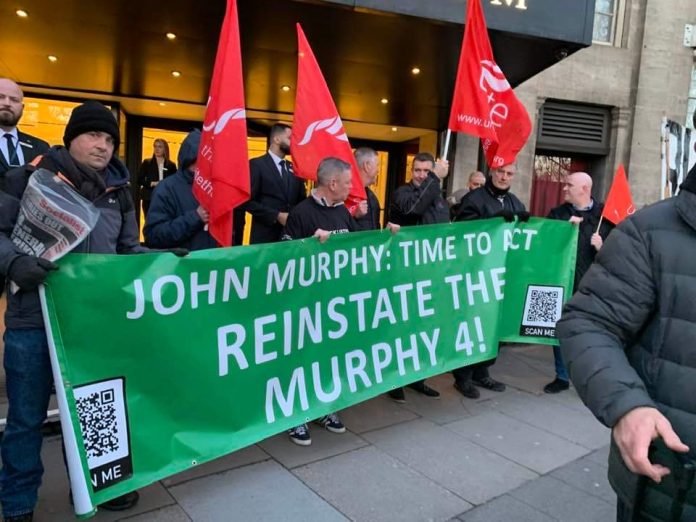 Rob Williams, National Shop Stewards Network chair
Lee Fowler, a Merseyside blacklisted construction worker and longstanding fighter against the victimisation of trade unionists in the construction industry and beyond, has himself been sacked by electrical contractor Bilfinger.
Before his dismissal, Lee had raised safety issues at the Cargill Refinery site in Merseyside. The job is next to the construction site of the new Everton FC football stadium. Lee commented after his dismissal: "I got four lads a 14% pay rise and raised health and safety concerns about the Cargill site. And for that I was sacked? I've fought for workers' health and safety for over 30 years. They won't silence me!"
Lee has a proud record of defending other workers from blacklisting, travelling all around the country. In the last few weeks, Lee came to London to support the 'Murphy 4' victimised Unite reps, and then again when Unite member Dan Collins, who was sacked on Crossrail, won a victory at the High Court.
Earlier this year, Lee was on the protest in Glasgow that helped force Scottish energy giant SSE to reinstate Greig McArthur, branch secretary of the biggest Unite construction branch in Scotland, and two of his colleagues.
This success, as with others going back to the reinstatement of Frank Morris on Crossrail a decade ago, is a warning to Bilfinger that the Blacklist Support Group, including the Unite Rank and File, will take the fight to the bosses, determined to force them back.
Unite the Union is representing Lee. Frank Morris and Tony Seaman, Unite Executive Council members for construction, have issued a joint statement:
"It is really disappointing that, in 2023, we continue to see workers who are prepared to raise genuine concerns about safety being targeted. Despite all that was promised by major contractors in the High Court in 2016, this issue continues to blight our members' lives.
"Blacklisting is one of the reasons that the construction sector has such a horrendous safety record. We cannot stand by and watch union members be repeatedly victimised. Unite will never stop fighting the harassment faced by workers who stand up for their rights. An injury to one is an injury to all".
The Blacklist Support Group has also issued a statement:
"Lee Fowler is a leading member of the Blacklist Support Group – having first been blacklisted after becoming an OILC safety rep in the North Sea in the early 90s.
"Construction workers who raise concerns about potential hazards that could affect people onsite and the surrounding community should be applauded. The industry has glossy posters that encourage workers to speak out. But time and again, workers who are conscientious about safety get sacked.
"Get your banners ready, another blacklisting dispute is about to kick off."
---
Protest against Lee's victimisation
Thursday 20th April 1pm
Cargill site The Dock Road Bootle L20 8DF