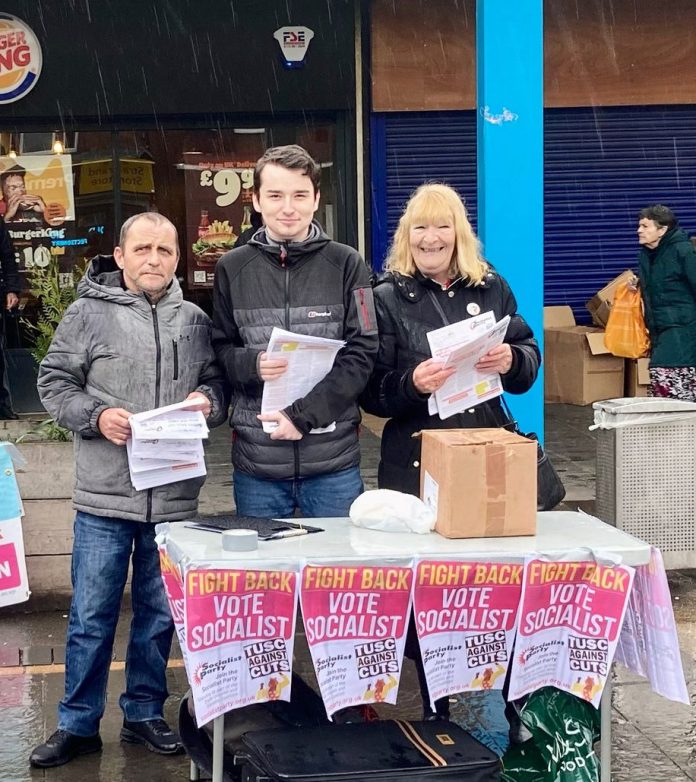 Brighton hustings – cuts councillors face consequences of their policies
Brighton Socialist Party member David Maples is standing for TUSC in Goldsmid ward
Many Trade Unionist and Socialist Coalition (TUSC) candidates have been excluded from hustings – the established forces in society are desperate to suppress our message. Fortunately, some organisations genuinely want to hear from different candidates.
I had the privilege of being invited to speak in Hove at the hustings organised by Grace Eyre. This is a charity which supports people with learning disabilities and autism.
Real world
The hustings was going so well for most of the wannabe councillors until the real world intervened. The first question was from a parent about adult social care charges.
Following the cut in the grants from central government, most local authorities now levy charges for adult social care. Some of these charges are punitive.
Haringey Labour council, which has been well and truly purged of Jeremy Corbyn supporters, leaves service users with £24.90 per week to live on, for example. Councillors aren't prepared to put up a fight for resources, and see service users as easy pickings.
Most of the candidates did not have a clue, and made promises that would have made Pinocchio proud. Flying completely in the face of what their councillors have voted for when the council had set its budget, they claimed they did not support charges.
No cuts
What a privilege to be able to explain TUSC's no-cuts position.
And so the hustings continued. Five candidates in favour of "difficult decisions", and one standing for TUSC.
I tried to take the other candidates seriously, until the Labour candidate explained how diverse their candidates are. I was conscious I was representing TUSC, and trying not to lose it. I had had enough.
I explained that the Corbyn supporters are being kicked out of Labour, and that all 54 Labour candidates in Brighton would all meekly, and in some cases enthusiastically, vote for cuts. Brighton Labour passed on Tory cuts for years when it controlled the council. That's not my idea of diversity, and most of the audience were in agreement.
---
Torbay – We shouldn't live like this in 2023
Socialist Party member Michelle Goodman is standing for TUSC in the Tormohun ward in Torbay
Like many seaside towns, Torquay, where I live, has its fair share of problems for people living and working here. More and more people are losing their homes, as incomes fall and the cost of living rises at a ridiculous speed.
This means more people are turning to support from local food banks, or sitting in closed shop doorways in the town on cardboard or wet blankets, gratefully receiving any coins people give. People should not be living like this in 2023!
I've been in a union all of my working life, starting with the Confederation of Health Service Employees, and then Unison. And I joined the Socialist Party many years ago. I felt it important to stand, under the banner of the Trade Unionist and Socialist Coalition (TUSC), to ensure residents have the opportunity to vote for a candidate who will help them live the better lives they deserve.
Vicious cuts
These vicious Tory cuts are hitting everyone.
Feed A Child Torbay is a charity that was founded as children of parents in work were going hungry when schools were closed, and free dinners not an option. Let's open those kitchens.
Retired people, those unable to work, and many others, are sat at home under blankets too scared to put heating on as energy costs soar. Let's nationalise the energy companies to reduce our bills.
People in Torbay are being told to vote Lib Dem to get the Tories out, but we deserve better. With Labour councils also passing on Tory cuts, we need a new mass party that will put forward immediate emergency measures to ensure no one is cold, hungry or homeless.
---
Labour and Tories fear record of Liverpool's socialist council
Oisin Duncan, North West Socialist Party
Merseyside Socialist Party members are standing as Trade Unionist and Socialist Coalition (TUSC) candidates in the local elections on 4 May in Liverpool, Sefton and Knowsley. We're putting anti-austerity, socialist policies on the ballot paper.
The establishment fears a resurgence of the fighting spirit typified by Liverpool's Labour council of the 1980s. Under the influence of the Militant, the Socialist Party's predecessor, the council refused to implement the cuts of Margaret Thatcher's Tory government. Instead, the council built thousands of homes, as well as leisure centres and libraries, and created thousands of jobs.
Today, Labour councils pass on Tory cuts. In fact, a Labour leaflet in Garston even tries to use the record of Liverpool's socialist council as a scare tactic.
This year, the anti-democratic decision has been made to elect all the councillors at once, instead of a third of the council elected at a time over a four-year cycle. This is a clear attempt to insulate the Labour council, and the commissioners sent in by the Tories, from popular opinion.
Left behind
Our TUSC candidates are trade unionists, student activists and community campaigners, representing lots of workers and youth left behind by vicious Tory and Labour cuts.
Roger Bannister, TUSC candidate in Kirkdale East in Liverpool, said: "One in four children in Liverpool City Region live in poverty – that's 80,000 kids!
"I have lived in Kirkdale for over 20 years. So I am well aware of the problems of the area, which are ignored by the council. I am appalled by the council's behaviour – the current scandal of Labour councillors making their own parking tickets 'disappear' is a prime example."
Our campaigning so far has been warmly received by residents who despair at the scandals in Liverpool, the poverty wrought by austerity passed on by Labour councils across Merseyside.
Bosses' profits
Neill Dunne, TUSC candidate in Cherryfield in Knowsley, said: "Labour councils are continuing Thatcherism, with privatisation of essential services like nurseries, health and social care. This gives the bosses a free ticket to take profits offshore and keep wages low."
Dean Young, TUSC candidate in Derby in Sefton, said: "Cuts are making people's lives miserable". This despair is reflected in all three Merseyside authorities that we're standing in. Dean also said: "Workers need their own party ready to fight back against Tories and Labour implementing cuts".
Liverpool councillors opposed to the council's cuts budgets have left the Labour Party, and nine of them are standing as 'Liverpool Community Independents'. TUSC and the Community Independents have agreed not to stand against each other.
Whatever our vote tally on the 4 May, we'll continue to fight against austerity.
Go to tusc.org.uk to find a full list of candidates standing for TUSC