Opposing all cuts
Thousands march across England and Wales
What we think
Cuts councillors must be challenged
Barclays Bank made £11.6 billion in profits in 2009, and paid just 1% of that – £113 million – in UK corporation tax. Like other big corporations, Barclays has a legion of tax lawyers whose job it is to make sure the company pays as little tax as possible.
In 2009 – if Barclays had just paid Britain's puny 28% rate of corporation tax – it would have put an extra £3 billion into the government's coffers. The taxes that should have been paid by Barclays, just one bank, are equal to a third of the huge cut being made by central government to annual local authority grants by 2015.
The Tory Party is inextricably linked to finance capital and its interests – it received over 50% of its funding from the City last year. No one should be surprised that the Con-Dem government is intent on making working class people pay for the crisis while facilitating the bankers gorging themselves in an orgy of profits.
New Labour, which also accepts the logic of the market – that is capitalism – only argues to trim the bankers' fingernails and that cuts to jobs and services should be made more slowly.
Up and down the country, Labour councils are dutifully implementing the government's programme by axing local services and jobs.
Growing opposition
Council workers and service users, however, are refusing to have their living conditions ground into the dirt. In February alone, many thousands of council workers and service users have taken to the streets in towns and neighbourhoods across Britain to say no to all cuts in jobs and services.
Communities are demonstrating against the Con-Dem cuts, but also against the councillors who are wielding the axe at local level.
In Islington the Labour council called the police and had local anti-cuts campaigners hauled from the public gallery. Unfortunately the leadership of the local anti-cuts campaign – Islington Hands Off Our Public Services (IHOOPS) – has previously allowed Labour councillors, who had said they would vote for cuts, to appear on platforms as part of the anti-cuts campaign.
Outrageously, campaigners were rewarded by being physically prevented from exercising their democratic right to protest by the same Labour councillors.
In Hackney over 800 demonstrators cheered one of the few Labour councillors who has actually committed to voting against all cuts. On other demonstrations Socialist Party speakers were applauded for demanding that Labour and Green councillors vote against the cuts and for saying that, if councillors ignored the demonstrations and wielded the Con-Dem axe, they were also responsible for the cuts.
In Liverpool the Labour council is making £91 million worth of cuts. At a Labour-led Liverpool demonstration on 20 February, the leader of the council, Joe Anderson, spoke to a crowd of over 2,000 people and attacked 'the Liverpool 47' – the Liverpool Labour council in 1983-87 in which Militant, now the Socialist Party, played a leading role.
The Liverpool 47, unlike the Labour councils today, refused to implement cuts. By having the courage to stand up to the Thatcher government, and by mobilising the population and workforce of Liverpool in their support, the Liverpool 47 won an extra £60 million from the government.
Not a single worker was made redundant. Six new sports centres, six new nurseries, five colleges and more than 5,000 council houses were built.
We can win
Labour councillors, nationwide and above all in Liverpool, are petrified of the example of the Liverpool 47, because it shows that it is possible to fight and to win.
It is therefore no surprise that Tony Mulhearn, a leader of the '47', was not allowed onto the official platform of the demonstration to reply to Joe Anderson's falsehoods.
Workers, however, are increasingly looking to the 47 for inspiration. When Tony and others spoke at the start of the demo and demanded that Labour today take the 'Liverpool Road' they were met with overwhelming support.
On 5 March the National Shop Stewards Network Anti-Cuts Campaign has called a march to the Labour local government conference. It will be demanding that Labour councils refuse to implement cuts.
The campaign will also be warning that, if Labour councillors continue to wield the axe, they will face a determined movement. Strike action will play a key role in that movement, alongside community campaigns.
The Socialist Party will also argue that, wherever councillors vote for cuts, anti-cuts campaigns should challenge them electorally in the May elections as part of the Trade Unionist and Socialist Coalition.
This would be a step towards the building of a mass party of working class people – politically armed with a socialist programme – a party that would stand up for the millions rather than the billionaires.
---
'Hackney job cuts? No way!'
"Hackney council hear us say: Job cuts? No way!" chanted 800 angry Hackney residents as we marched through the borough to the town hall on Saturday 19 February.
Along with opposing a list of other cuts and privatisations the council may make, protesters warned: "Hackney council hear us say: Re-election? No way!"
The council would do well to listen. Hackney has the highest rate of low-wage workers and benefits claimants in London, and the people who re-elected a Labour council did so in the hope that they would not just rubberstamp the cuts proposed by the Con-Dem government.
This was the biggest event the Hackney Alliance To Defend Public Services (HATDPS) has organised so far. The Socialist Party and other political groups, both local branches of the public sector union Unison, Turkish community organisations like Day-Mer and Gik-Der, were all represented, along with many more.
The march heard from some excellent speakers at both ends of the demonstration. These included Alex Gordon, president of the RMT transport union, Rob Williams, convenor of the National Shop Stewards Network (NSSN) anti-cuts campaign, Brian Debus, from Hackney trades council, Suzanne Beishon, London organiser of Youth Fight for Jobs, other local trade unionists, as well as speeches in Turkish.
Wednesday 2 March is the date when Hackney council will vote on the budget and HATDPS will lobby the town hall. Councillor Ian Rathbone is one of six Hackney Labour councillors who have called on Labour councils not to implement cuts and to produce 'needs' budgets.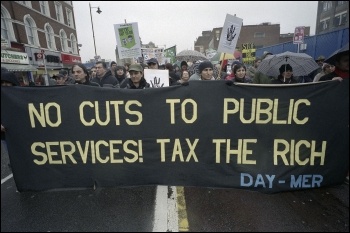 Anti-cuts [email protected] 800 angry Hackney residents as we marched through the borough to the town hall on Saturday 19 February, photo by Paul Mattsson (Click to enlarge: opens in new window)
But these six councillors have said they were undecided on whether to 'risk their positions' by voting against cuts, or to simply abstain. Councillor Rathbone was clearly influenced by the size and mood of the demo, as well as a 250-strong Hackney Unison meeting that voted overwhelmingly to demand Labour councillors set a needs budget.
Ian Rathbone announced that he would be voting against all cuts and called for the lobby of the council budget setting meeting to be so big that councillors would not be able to get into the council chamber to vote for cuts.
His position should also be adopted by the other five councillors, and the 45 Labour councillors who have so far remained silent. Any councillor who does take that position will have the complete support of the Socialist Party, HATDPS, and the general population of Hackney.
What a difference from Jules Pipe, Labour's Hackney mayor, who has been all over the national press attacking government cuts while pushing them through in his own borough!
Michael Wrack Hackney Socialist Party
---
2,000 march in Bristol
On 19 February over 2,000 people marched through the centre of Bristol in the second demonstration organised by the Bristol and District Anti-Cuts Alliance (BADACA).
The march took place ahead of the meeting when the Lib-Dem led Bristol council plans to vote for £28 million of cuts, 7% of the total budget. Speaking at the rally afterwards, Unite shop steward and council worker, Jane Taylor explained how the council cuts would mean hundreds of jobs lost and cuts to services that ordinary people rely on, with the most vulnerable being the worst affected.
School student Patrick McInally described how young people had faced down police intimidation to demonstrate against attacks on education at the end of last year.
He also talked about a demonstration that had taken place in the grounds of his school with students coming together with some staff to protect the job of a teacher.
Also on the platform was Socialist Party and Unison health executive member Roger Davey, speaking in a personal capacity. He explained how Tory plans for the NHS meant not another reorganisation but its "destruction, dismantling and eventual privatisation".
But, to loud agreement from the crowd, Roger said that the government, in its arrogance, had over-reached itself and a mass movement could bring it down.
Also greeted with cheers was his explanation that Labour councillors should be expected to oppose cuts and those that implemented them put themselves "in the enemy camp".
Tom Baldwin Bristol
---
Shropshire: 1,000 say 'no cuts'
Over 1,000 demonstrators marched through Shrewsbury on 19 February to demand 'no cuts' to public services.
Local trade unionists with longer memories couldn't recall a demonstration this large in the town since the early 1970s!
The march, called by Shropshire Against the Cuts, was swelled by the participation of local anti-cuts campaigns, such as those against the proposed closures of the Grange Day Care Centre for disabled adults, and the Wakeman secondary school.
In the weeks leading up to the protest, it was also announced that five Shropshire courts would close, village schools could be closed or merged, services at Royal Shrewsbury Hospital could be cut back, and Shropshire council would cut £30 million from capital spending projects.
The demonstration assembled outside the Shirehall offices of Shropshire council, where council leaders are threatening to attack workers' terms and conditions whilst creating four new senior posts with a combined pay of £370,000 per year! The march went past the Wakeman school, which the council wants closed by September 2013, and into the town centre where a rally was held.
Speakers included people representing local campaigns and trade unionists. Tony Mulhearn, one of the heroic Liverpool 47 councillors in the 1980s, recalled his experiences of defeating the Thatcher government's cuts which threatened to devastate the city.
Jake Moore Shropshire Socialist Party
---
Lewisham carnival against cuts
Nearly 1,000 people marched through Lewisham on 19 February as part of Lewisham Carnival Against the Cuts, an initiative launched by Lewisham People Before Profit and Lewisham Anti-Cuts Alliance with the Socialist Party playing a key role.
In the morning, at over 25 focus points, there were small demonstrations and stalls which linked up to march from Catford town hall against £87 million cuts over four years by Lewisham's Labour mayor, Steve Bullock.
Parents and children were out opposing the closure or privatisation of every children's centre in the borough and a rise in nursery charges by 43%. The march went past Lewisham Hospital where Keep Our NHS Public campaigners joined the demo.
A lively Youth Fight for Jobs (YFJ) contingent raised the issue of 38% youth unemployment in the borough, the highest in the UK. Tom Jousselin from YFJ announced a follow-up demo at Connexions youth advice service on 18 March.
The march went through the market where shoppers stopped to applaud. The end rally heard Leila Galloway report the victory of the campaign against Tidemill School, Deptford being turned into an academy.
Martin Powell-Davies, NUT branch secretary and Socialist Party member spoke on attacks to publicly funded 'early years' provision. Socialist Party former councillor Ian Page announced his candidature in the upcoming Bellingham by-election to offer a political alternative to the pro-cuts agenda of the Con-Dems and Lewisham Labour council.
James Kerr Lewisham
---
Hillingdon Tories given a shock
Tory councillors in Hillingdon didn't know what had hit them when hundreds of children, parents and music service workers descended on them on Thursday 17 February.
Hillingdon Music Service is under threat and the users and staff have mounted a big campaign to save it.
Under pressure, the council agreed to a special meeting – but didn't expect almost the entire music service to turn up, instruments and all!
Hillingdon council is planning £22 million cuts. Along with all the musicians, Hillingdon Against Cuts held a lobby of the cabinet, attended by members of Unite, Unison, FBU and CWU trade unions.
The numbers inside and outside the council building swelled to as many as 500, with music and singing as well as chants.
As Wally Kennedy, convenor of Hillingdon Against Cuts, explained when he addressed the crowd, this bringing together of users, parents, workers across the council unions and others marked a real step forward.
Hillingdon Against Cuts has held meetings in different areas around the borough in the last few months. This lobby shows that a massive campaign against all the cuts can be built in Hillingdon.
The council promised a review of the music service but this has not fooled anyone, and campaigners are expecting a larger lobby on Thursday 24 February.
The campaign will meet at 6pm at Uxbridge tube and march to the civic centre.
Paula Mitchell London Socialist Party
---
Fighting the Waltham Forest axe
300 people marched from Leyton to Walthamstow on 19 February, protesting against Waltham Forest council's £65 million cuts to services over the next four years.
Sheila Gladston, a wheelchair user from Walthamstow, was there protesting against a proposed £20,000 cut to the Shop Mobility scheme. "It will be gone in a few years if we don't stop these cuts" she said.
"They've already cut the wardens from the sheltered housing, the residents don't feel safe."
Whipps Cross Hospital trade union activist Len Hockey told the rally in Walthamstow town square that: "This is not Thatcherism revisited; this is a weak government which can be beaten."
Matt Wrack, Fire Brigades Union general secretary, addressed the end rally. His union members face huge attacks in London.
There were also speakers from the Unison and Unite unions, Youth Fight for Jobs, Right to Work, the Socialist Party and Keep our NHS Public.
Local teacher and National Shop Stewards Network secretary Linda Taaffe drew inspiration from events in the Middle East: "It took the Egyptians 18 days to get rid of a dictator. How long would it take to get rid of Cameron?"
Next, Waltham Forest Anti-Cuts Union plans to demonstrate outside the Waltham Forest council meeting on 8 March, which could vote through 600 job losses as well as planned cuts, including those to children's services.
"Let councillors who stood to do good for society refuse to carry out the cuts," said Linda Taaffe. "We will do whatever we can to stop the vote taking place.
If all councils refused to wield the axe, Cameron and Clegg would be faced with a massive problem."
Rachel Salmon Waltham Forest
STOP PRESS: On Tuesday 22 February, 50 children, parents and workers protested on Walthamstow town hall steps to defend Waltham Forest music services.
The children played, the adults sang, while a petition of over 4,000 signatures was handed in. The music service campaign will join with other council workers and service users to march on the 8 March full council meeting.
---
Rhondda Cynon Taff union demo
Over 400 trade unionists, community campaigners and young people marched through Pontypridd against cutbacks in Rhondda Cynon Taff (RCT) on a demonstration organised by Unison, with contingents from other trade unions.
Many council workers are angry at the Labour-run RCT council for threatening them with the sack unless they except worse pay and conditions. The anger of the workforce was noticeable at the ticket-only rally at the end of the march, where the leaders of Unison in Wales were forced to at least speak radically, even if up until now this has not been matched by their actions.
After the rally, 45 people attended a Socialist Party Wales public meeting. Several council workers expressed their anger towards the trade union branch leaderships, who they say had not properly informed the workforce about the demonstration.
A RCT Against the Cuts organiser spoke of the importance of building the anti-cuts alliance to communicate to all trade unionists and other campaigners in the area about the events coming up.
This could act as a lever on union leaders to represent their members' interests.
Glyn Matthews Caerphilly Socialist Party
Video of demo: