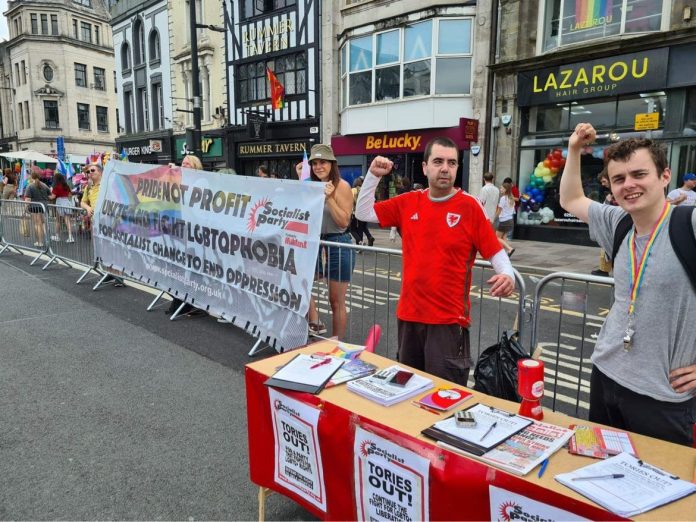 John Williams, Cardiff West Socialist Party
Thousands marched in the streets of Cardiff for Pride Cymru 2023. It was a vibrant, joyous event, where everyone could be themselves and celebrate the gains made for LGBTQ+ rights in previous years, but there's still work to be done.
With Rishi Sunak and government ministers talking about possible new anti-LGBTQ+ legislation, a further reliance on divisive rhetoric, and transphobic hate crimes on the rise, Pride needs to be an inclusive event which can act as a rallying point in the fight to defend our rights.
Many Pride events have been commercialised with strict ticketing systems. In Cardiff it was £15 for a standard ticket! With the cost-of-living crisis, many people would not have been able to afford to go on the event to celebrate their identity and get involved.
Various organisations, including private companies such as supermarkets, paid hundreds of pounds to go at the front of the march! This is in contrast to the first Pride Cymru event, then known as Cardiff Mardi Gras, in September 1999 as a response to an increase in hate crime in South Wales.
Socialist Party placards demanding equal access to public services for all, to stop the cuts and properly fund trans services, went down well. This shows the support for a political, fighting Pride.
We talked to people about the ongoing strike wave; if we strike and unite together to fight for pay rises and against oppression and discrimination, we can struggle for LGBTQ+ liberation.
Our placards with 'Tories out' were popular, and there were doubts that Stammer's Labour was going to stand shoulder-to-shoulder with trans people. Only 11 Labour MPs broke ranks and voted against the government blocking Scotland's gender reforms, defying Starmer's orders.
Despite anger that Pride is now seen as a money-making scheme for the bosses, many working-class campaigners and trade unionists participated. The Tory government and the right-wing media attempt to use divide and rule to cut across groups of workers fighting back. To cut across that, and fight for LGBTQ+ liberation, we need a mass movement to defend those rights. And a new party that stands in solidarity with all those fighting for LGBTQ+ rights and against capitalism around the world.