'Brilliant. And serious.' 'Exactly what's needed at this point in time – now we need to get out there!'
These words were echoed by many of the hundreds in attendance at the conference of the National Shop Stewards Network (NSSN) on Saturday 24 June.
Strikers from the national and local disputes that have shaken the government and bosses over the last year, in both public and private sectors. Elected trade union leaders at local and national levels, from workplace reps and branch secretaries, to executive members and general secretaries. Young workers just joining unions, bringing the energy of a new generation of workers getting organised; longstanding militants drawing on years of experience.
Serious issues were debated, and serious strategies put forward, in two main sessions: 'Building the strike wave' and 'fighting the Tory anti-union laws'.
Everyone went away armed, both with arguments – for escalation, coordination and a political strategy – and with concrete steps. A model motion was unanimously agreed on combating the minimum service levels (MSL) legislation. This should now be taken to every branch, regional and national body possible.
Flyers are now available for the NSSN rally and lobby of the conference of the Trades Union Congress (TUC) on 10 September.
---
A fight we can win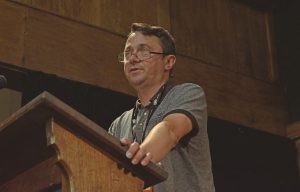 Extracts from NSSN national chair Rob Williams's opening speech
"We are in the midst of the biggest, broadest and most prolonged strike wave for a generation. An uprising of workers, with a new generation brought into action, fired by the most brutal cost-of-living squeeze in living memory.
"Sunak and co. will rue the day when they refused to talk to public sector workers, including nurses. We think more can be won, but whatever is won, hundreds of thousands of nurses on their first action will have learned a valuable truth that all workers are learning, that action works and gets results.
"Within weeks, the minimum service level bill could be law, unions could face fines, and workers could be sacked if they don't organise their own scabbing operations. This is class law, to protect bosses' profits by hamstringing unions. It gives a weapon to employers – but they have no legal obligation to use it.
"So we demand of Starmer, and where Labour is the employer, tell Sunak right now that you will not implement his law. And that in government, Labour will reinstate any worker sacked, or reimburse any union fined. Against this shambolic Tory government, it would make Sunak's law unworkable.
"Likewise, he should promise to implement the policy passed at last year's Labour conference to renationalise Royal Mail – what a support for the CWU that would be!
"But he is too interested in proving to big business that he is safe for them. He shouldn't go cap in hand to the banks, he should be promising to nationalise them! We want them taken into socialist public ownership under workers' control – then workers could have cheap mortgages.
"The Tories are rocking. Boris has gone … but don't kid yourself that Sunak is any less cruel. On the day that the Covid report into Johnson was published, Rishi was on an early anti-immigrant raid for the TV cameras. Just like his 'small boats' policy, this is crude racist scaremongering. It's not migrants who are responsible for spiralling inflation, and increasing rents and mortgage payments.
"Our answer to the Tories and their further attack on our right to strike, and their attempts at divide and rule, is 'Unity is Strength!' That's why we call on the TUC and the unions to come together to prepare for mass joint action to defeat this weak and divided Tory government. That's why we are again lobbying TUC Congress in September.
"We have no illusions in a Starmer government, only demands. And a promise that we'll strike back against any cuts from him as well. But if in the next weeks Sunak's Tories go for our movement, then this is a fight that we can't shy away from, but one that we can win."
---
Resistance to capitalist crisis
The top table speakers included representatives of some of the unions affiliated to the NSSN
Unite the Union national lead officer, Onay Kasab, gave apologies from general secretary Sharon Graham, as she was unable to attend. He reported that there have been over 600 disputes since Sharon was elected general secretary. 80% of them have won, with a £300 million transfer of wealth from employers' bank accounts to the pockets of workers. That includes bus drivers in Abellio in south London winning 18%, and between 15.5 and 17.5% for security staff at Heathrow. Unite is reballoting 26 NHS employers. Just one in four shifts in the NHS have the planned staffing levels. Kaz said "We want proper staffing levels every day!"
He demanded that every piece of anti-union legislation be repealed by Labour. And that Labour councils must not wait for a general election – Unite's policy is for needs-based, no-cuts council budgets.
Carmel Gates, Nipsa general secretary, gave greetings via video. For the first time in its history, Nipsa, the main public sector union in Northern Ireland, has all of its sections in dispute, including education, health, civil servants and local government.
A video message from Sarah Woolley, BFAWU bakers' union general secretary, told conference that she represents workers who "feed the nation but don't earn enough to survive". But in this strike wave, "workers are inspiring a generation".
Annoesjka Valent, national official of Napo, gave apologies from general secretary Ian Lawrence. Napo members hadn't been part of the strike wave so far, having accepted last year's pay offer, but the strike wave is giving confidence to members, who are going back into negotiations for a 12% pay rise for 2023-24 and a £2,500 one-off sum.
Conference was especially inspired to hear from Garfield Hylton, GMB rep at Amazon. To huge applause he explained how they have recruited on the picket line: going from 50 to 850 members! He reported Amazon's efforts to undermine the union's recognition claim by taking on 1,300 more workers, which is being met by more action, chipping away at the new hires, and taking the battle to warehouses around the country.
Jared Wood, RMT London Transport regional organiser, said that 2023 saw more days lost to strikes than any year since 1989, though no individual day has yet exceeded N30 – the 30 November 2011 public sector pension strike. The objective isn't to strike in itself, but to defend jobs, conditions, pensions and pay. "We don't want glorious defeats, we want victories." He said that means coordination, and a discussion about the best ways to escalate – to give the employers a problem they cannot get around. 
"The bosses know the working class is back and are becoming more combative against us. The dispute is about who will pay for the historic crisis of capitalism." He pointed out that this is the second time governments and the public sector have bailed out the capitalists, following £900 billion in quantitative easing after the 2007-8 crisis. "They bail out the capitalists with endless resources but we have to accept loss of wages and services… We need a generalised resistance to capitalist crisis, with a political as well as industrial alternative".
---
Building the strike wave
In the discussion about the strike wave we heard from a whole range of strikes and ballot campaigns. Many more spoke than can be reported here, including Surrey Unison members fighting a Tory county council for a pay rise, union reps of barristers and solicitors, young workers, '50's women' pension campaigners, and many more
St Mungo's strikers reported on the "cacophony of chaos" at the homelessness charity. As they embark on indefinite strike action, they know that "Mungo's will be a different workplace, for staff and the bosses".
Marion Lloyd, president of the BEIS (business) group in civil service union PCS, in a personal capacity, praised the new young workers in PCS on strike for the first time and stepping up as reps. The government is in a mess and this is the opportunity to drive home the advantage. But the leadership of PCS is ratcheting down the campaign. The rank-and-file socialist group in PCS, the Broad Left Network, of which Marion is the chair, is fighting for the campaign to continue. "It's the members that have pushed the action, and it's the members who decide if this dispute ends."
Dan Smart, striking social worker, spoke about the Unison adult social care strike in South Gloucestershire, the first strike of social workers in this strike wave, taking action against a Labour-Liberal Democrat council. Brian Debus, library worker sacked by the Labour council in Hackney, said: "This is an indication of what a Labour council is prepared to do on the Tories' behalf".
Over 200,000 teachers will be on strike again in July, reported Sean McCauley, NEC member in the National Education Union (NEU), in a personal capacity. He explained that strike action has forced the government to talk for the first time since the 'independent' pay review body was established in 1986. He argued: "We need escalation in the autumn, and coordination across the whole trade union movement. We want to get rid of the Tory government – but will still need to fight under a Starmer government."
Eve Miller, a Unison rep in health, spoke of her solidarity with her colleagues in the Royal College of Nursing and Unite in their reballots, and was disappointed Unison members would not be joining them. "We need socialist policies," she said. "£15-an-hour minimum wage. Abolition of tuition fees. Scrap outsourcing and PFI. Nationalise care services." And to achieve these demands: "We cannot rely on Labour. We need a new party."
Dave Nellist, chair of the Trade Unionist and Socialist Coalition (TUSC), took up this point: "We need something new". He explained TUSC's call for trade unions to initiate a workers' list in the general election, and the preparation for a 'Plan B' of socialists and trade unionists standing under the TUSC umbrella. He also pointed out TUSC's call on the Green Party not to stand against Jeremy Corbyn if he stands.
Lawanya from Tamil Solidarity, on the NSSN steering committee, argued that Tories use refugees and migrants to blame for a crisis which is caused by capitalism. It's not enough to say 'refugees are welcome' – we have to fight for jobs, homes and services for all. Arif, from Day-Mer Turkish and Kurdish community centre and the Unite migrant workers branch, pointed out, in reporting on developments in Turkey, that capitalist governments work together – so must workers!
---
Defeat the anti-union laws
Len Hockey, Unite branch secretary at Bart's Health Trust, moved the NSSN model motion on resisting the Tory Strikes (Minimum Service Levels) Bill. Workers will face this new demand after already jumping through the hoops of the most undemocratic union legislation in Europe. "They have the nerve to say it's about services. Strikers want well-resourced staffing levels every day – that's why they're striking in the first place."
Gary Harbord reported that the motion had been passed at his London Underground RMT branch and was going to the RMT Annual General Meeting (starting the next day). "If the TUC won't step up to the plate, we have to build a coalition of the willing." He drew on the example of the general strike action that grew from below in response to the jailing of dockers in 1972 (see '1972: Dockers face down the Tory government').
April Ashley, recently re-elected to Unison's national executive (NEC), reported in a personal capacity from Unison conference that Labour's Lisa Nandy had made it clear "Labour wouldn't be the cavalry coming over the hill to rescue local government". April said it was clear we cannot wait for a Labour government – we must demand now that Labour councils don't implement the MSL work notices. She pledged she will raise the motion at Unison's next NEC.
Mark Evans, on Unison's local government service group executive and from Carmarthenshire Unison, also in a personal capacity, reiterated the demand that the Labour Welsh government must refuse to use the MSL measures.
Lluis Bertolin, a UCU member at the University of Birmingham, described the university bosses' imposition of 'mitigations' relating to the marking and assessment boycott as "a rehearsal of the MSL". Judy Griffiths, CWU member, stressed: "All trade union laws are designed to protect the bosses' wealth. Union members are the ones who should decide on action."
The NSSN model motion can be found here: 'NSSN 2023 conference model motion'
The central demands are:
All unions and the TUC urgently call a national Saturday demonstration against the new law
Keir Starmer pledges an incoming Labour government to reverse fines and other measures taken against any union under the terms of the Strikes (Minimum Service Levels) Act
All employers refuse to use the provisions of the Strikes (Minimum Service Levels) Act and that a lead in such non-compliance be given by any government, council, fire authority or other employer led by the Labour Party
If any union is taken to court or worker threatened with dismissal, an emergency demonstration is called and an immediate meeting of the TUC General Council be convened to organise mass co-ordinated strike action, including a 24-hour general strike
The repeal of all anti-union legislation
We support the rally to be held at TUC Congress in Liverpool on Sunday 10 September lobbying for this programme of action
---
What participants said: 'A total breath of fresh air'
Attendees at the conference spoke to Oisin Duncan
"Having seen the leadership in Unison shockingly advise acceptance of a bad deal for their members, I want to see more unity in fighting for members' interests. Hopefully, this conference can help to build a united voice to fight for coordinated action for health workers' pay."
Neil, Unison Health
"I haven't been able to get to every picket line or every NSSN conference, but I'm glad I came this time. It really helps in building links across the unions. The speakers have been really inspirational, especially from the PCS on how they're fighting for a better leadership."
Jason, RMT, London Underground
"We need to unite and fight to get anything from this government. As weak as they are, we have to work together to achieve our demands. It's encouraging that potentially four education unions could be striking together. We need as much coordination as possible."
Dan, NEU
"It can be easy to feel isolated in your branch, without seeing first-hand the rest of the movement. Events like this are great because you get to see the solidarity across the whole trade union movement."
Louie, Leeds
"Coming to NSSN from watching my union's NEC decision is a total breath of fresh air!"
Michelle, PCS, Wigan