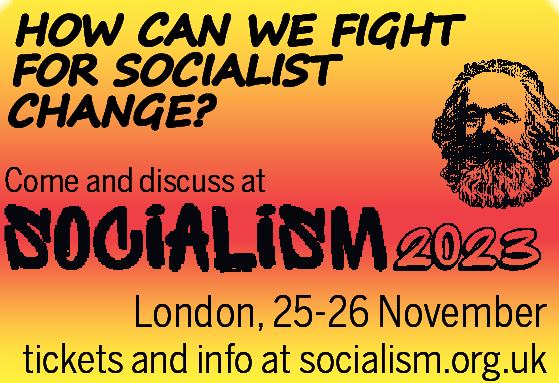 Eoin Williams, Camden and Haringey socialist party
If you've just purchased this paper from one of our members, you may have been invited to join us at Socialism 2023 or perhaps you're a member who regularly attends Socialist Party branch meetings and is frequently reminded to get your tickets.
Our party strives to unite the workers internationally to bring about a socialist world in which each individual has enough to eat, a secure home and a stable life. At Socialism 2023 we will discuss how to achieve this.
Socialism always has discussions on past revolutions (this year discussion will be on Germany in 1923, the 1970s revolution in Chile, as well as the Arab Spring) not only to introduce prospective members to such topics but to ensure that we learn from past struggles.
As well as past struggles we need to understand current political developments to adapt to the most pressing issue thrown up by capitalist crisis and to combat them. Perhaps most pressingly, the war in Gaza will be discussed. The wide variety of other topics includes how we can prepare for a Starmer government, what AI means for humanity, and there will also be discussions on big ideas, such as what communism actually is.
Socialism 2023 is a place for real discussion where all in attendance can contribute and ask any question they like.
On the Saturday evening of Socialism we hold a rally where all attendees stand united and are ready to take socialism forward. To me at least, this is what always sticks in my mind after leaving Socialism.