Link to this page: https://www.socialistparty.org.uk/issue/674/12192
From The Socialist newspaper, 8 June 2011
Film review
Sylvia Pankhurst: Everything is possible
Indianna Purcell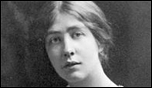 World write, an 'education charity committed to global equality', has produced a new documentary based on the work of the tireless, though unfortunately neglected in Britain, human rights campaigner Sylvia Pankhurst (1882-1960).
Over 100 volunteers produced, researched and made an informative, entertaining film:'Sylvia Pankhurst: Everything is Possible'.
It draws on exclusive interviews, including with Pankhurst's son Richard, authentic artefacts and parliamentary documents to trace this prominent socialist's inspiring life and work.
Sylvia Pankhurst devoted herself entirely to the women's movement, the rights of the working classes and later, the anti-fascist struggle. The Pankhurst family were well-known for their political activities.
Sylvia's parents Emmeline and Richard were militant members of the Independent Labour Party. Then in 1903, following her father's death, her mother and her sister Christabel famously founded the Women's Social and Political Union (WSPU) or Suffragettes, for which Sylvia worked full time.
However, as the film tells us, Pankhurst was someone "for whom politics meant social transformation."
She had disagreements with other Suffragettes in 1914 - notably with her own family who, according to the documentary, she saw as pandering to the ruling elite.
Frustrated with the political impotence of a group which broke away from the labour movement to concentrate explicitly on women's right to vote, Pankhurst founded the East London federation of Suffragettes.
Although the federation was initially a development from the WSPU, it was politically broader and even included male members.
Sylvia Pankhurst was fighting for more than women's right to vote. She was fighting in the struggle for working class women's rights and for working class citizens' right to live in an equal society.
This is shown in Sylvia's willingness to highlight working class struggles.
While her mother and sister attempted to build a national campaign for the Suffragettes, Sylvia poured her efforts into the women living in the slums of London's East End.
Here the group set up a chain of affordable restaurants, a free clinic and a nursery.
As Mary Davis, author of Sylvia Pankhurst: A Life in Radical Politics highlights, this was more effective than the "do-gooding" work of other women's organisations.
It was a real effort to provide for the poor and, more significantly, to get working class women involved in the political movements of the time. Fuelled by inspiration from the 1917 Bolshevik revolution in Russia - which Pankhurst passionately championed - the group began campaigning for wider issues.
Later they became known as the Workers' Suffrage Federation and then the Workers' Socialist Federation. Pankhurst's involvement in the three major political struggles of the time - the fight for socialism, the women's struggle and the Irish struggle for independence - brought her great notoriety among prominent 'politicos'.
Her attempt to build a mass movement of people fighting on behalf of - and more importantly with - the vulnerable, exploited and oppressed gave her a huge impact both nationally and internationally.
Another important aspect of Pankhurst's battles highlighted in the film is her vehement opposition to imperialism. While most of Britain - and significantly her mother and sister - threw themselves into supporting Britain's war efforts, Pankhurst strongly denounced the war.
She used her paper, the Workers' Dreadnought, to propagate an anti-war agenda.
Alongside this, Pankhurst used the paper to diligently support the workers' revolution in Russia, which she, as many contributors explain, hoped would eventually happen all over the world.
This well-researched documentary crams in a wealth of information in such a short space. It's about time that this fascinating woman's life was paid this small but significant tribute.
Details of the film's showings are on worldwrite.org.uk/sylviapankhurst
Why not click here to join the Socialist Party, or click here to donate to the Socialist Party.
---
In The Socialist 8 June 2011:
---
Socialist Party editorial

Economic crisis in 'them and us' Britain
---
Anti-cuts action

Cuts in jobs and services: We are fighting back!

Birmingham: city of a thousand cuts

Human rights service staff defend jobs
---
Socialist Party workplace news

CWU conference - unanimous call for 24-hour general strike

Strike action against pensions attack at Sheffield university

Mood for action among Unison members in Waltham Forest

Saltend dispute: lessons for future struggles
---
Socialist Party feature

Fighting the anti-strike legislation
---
Socialist Party women

'Slutwalk' protests

Sylvia Pankhurst: Everything is possible
---
International socialist news and analysis

'Butcher of Bosnia' faces trial

Tamil Solidarity: important resolution agreed at the European Parliament
---
Young people fighting back

Protests grow as young people say: 'We want a future!'
---
Socialist Party news and analysis

Southern Cross - Social care on the brink

Vulnerable patients abused at privately run Bristol hospital

End the 'insane' pursuit of oil profit

Fight Welsh universities' fees hike

NHS: Lansley must resign!

News in brief
---
Home | The Socialist 8 June 2011 | Join the Socialist Party
---