Link to this page: https://www.socialistparty.org.uk/issue/701/13513
From The Socialist newspaper, 18 January 2012
What we think
Pensions attacks can still be defeated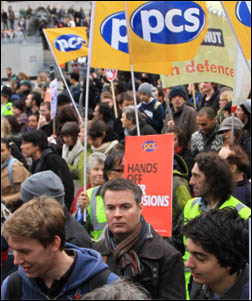 Strikers marching through London on the 30 November 2011 'N30' public sector strike, photo by Senan
The public sector pensions battle is at an important turning point. The decision of the Unison and GMB union leaderships, confirmed at the TUC Public Service Liaison Group (PSLG) on Thursday 12 January, to break up the united front of striking unions which saw up to two million workers taking action on 30 November (N30), is a setback and will inevitably lead to a sober reappraisal of tactics and strategy.
But over the next days and weeks, the left in the union movement can have a real effect in pushing back the right wing's attempts to sell out the dispute and derail the massive momentum created by N30.
The Unite and PCS unions, that did not sign the government's Heads of Agreement, have now been let back into the pension talks by cabinet secretary Francis Maude. This shows that it was not necessary for any union to sign this agreement, which accepts that public sector workers have to pay more, work longer and get less for their pensions.
In Unison in particular, the leadership conducted a desperate campaign to ensure that their signing of the agreement before Christmas was endorsed by their local government and health service group executives on 10 January. In many regional meetings, union officers faced an angry reaction from delegates.
But in many of the more heated meetings, members weren't allowed to vote. This will be met with absolute outrage by the best Unison activists and confusion by many members, who may not even realise the significance of this decision.
This was similar to what happened on 30 June, when Unison stood apart from the PCS, NUT, ATL and UCU union in that 750,000-strong strike, which had a strong bearing on ensuring that N30 happened.
Many Unison members thought that they were on strike on 30 June, particularly as Dave Prentis had made his now infamous speech at the union's conference the week before: "This won't be the miners' strike. We are going to win... one day of industrial action will not change anyone's mind in government... action would be needed over an indefinite period."
Yet now we have Christina McAnea, Unison's head of health, admitting "we always knew this would be a damage limitation exercise".
Struggle inside Unison
To many Unison activists, there will be a strong feeling of déjà vu. This cynical approach has been used many times over the last period, especially around conference time. Prentis delivers a militant speech but then seeks to undermine a dispute.
However, despite appearances this isn't an all-powerful bureaucracy. Their desperate machinations and manoeuvres reflect their fear of the anger and frustration of members. Also, this is a fundamentally different period from even that of the previous clash on pensions in 2005-06.
Unison members have faced a barrage of attacks on jobs, pay and terms and conditions. But because of the union's conscious policy of preventing ballots against this offensive in many councils - of all parties, including Labour - they have poured their anger into the pensions struggle, correctly recognising it as the best opportunity to strike back in a united way at the government. Therefore, all is still to play for in Unison.
Socialist Party members, along with others on the left, will be taking the struggle into the ranks of the union, including the demand for a recall conference in the local government sector. In many respects, the fact that the leadership had to settle for a holding position in health is a reflection of their weakness.
In health, Unison had to concede a full membership ballot. This gives the left an opportunity to conduct a real debate with members about whether the pension deal is acceptable and the need to continue with strikes. Of course, implicit in this is a campaign to remove this leadership and transform Unison into a fighting union.
Left activists and members wanting a fighting leadership in Unison should nominate and vote for service group executive (SGE) candidates prepared to oppose the Con-Dem rotten deals.
Defeating the right wing
Socialists are the memory of the working-class and trade union struggle. Therefore, we have to remind disbelieving Unison members that until over a decade ago, PCS was in the hands of an even more brutal right-wing leadership.
It was the patient and determined organising of the best activists around PCS Left Unity, with the Socialist Party playing a key role, that brought about the situation today in which PCS now acts as the 'spine' of the resistance to the government within the union movement.
The fantastic open conference on 7 January, called by PCS Left Unity, was a landmark event in uniting the left in the union movement and helping to stiffen up resistance in many of the unions, including Unite in local government in particular. This has to be maintained in these other unions after the TUC's Public Sector Liason Group meeting, even if they've refused to sign up to the government's deal.
The National Shop Stewards Network is calling on its supporters to keep up the pressure by moving model motions reflecting this position across the union movement.
The events of 10 and 12 January do not end the pension dispute, although at least in the short term they ensure that it will have to be coordinated outside of the TUC's Public Sector Liason Group.
We welcome PCS leader Mark Serwotka's invitation to all unions who have refused to sign up to the heads of agreement, to meet together as soon as possible to discuss the possibility of calling further coordinated strike action.
Bringing together the PCS, NUT, Unite, UCU and others, and linking up with the POA who are banned from striking, this reformed coalition could still number up to a million. As with 30 June, action even on a relatively smaller scale can act as a lever on Unison and the GMB by showing their members that the fight is still on.
The depth of the capitalist crisis puts all leaders to the test, both industrial and political. Miliband and Balls have once and for all tied their colours to the 'cuts are necessary' mast (see Labour leadership approves the Con-Dem cuts), just as Labour councils prepare the next round of spending reductions. Workers have to fight on every available front against the bosses' offensive.
The Socialist Party supports the creation of a new mass workers' party to give the anti-cuts political alternative.
Why not click here to join the Socialist Party, or click here to donate to the Socialist Party.
---
In The Socialist 18 January 2012:
---
Anti-cuts campaign

Stand up to Tory bullies

Pensions attacks can still be defeated

Labour leadership approves the Con-Dem cuts

Cameron's attack on Scottish independence referendum backfires

Welfare Reform Bill:- Lords compromise is no victory

Ofsted: "requires improvement"

John Lewis economy: another fantasy from Corporal Clegg

Them & Us
---
Socialist Party NHS campaign

Keep private vultures out of our NHS!
---
Youth fight for jobs

End the slave labour culture of workfare
---
Socialist Party workplace news

Electricians' national meeting plans next steps in battle against pay cut

Unilever workers say hands off our pensions

South Yorkshire Stagecoach bus drivers take eighth day of strike action

Jobs massacre at La Senza

Doctors support call for action
---
Obituary

Rob Windsor: socialist fighter and Coventry Socialist Party councillor 1964-2012
---
Socialist Party feature

1972 Derry - "this was murder"
---
Socialist Party campaigns

EDL intimidation fails in Barking

Save community schools - no to academies

Protect women's rights - oppose the abstinence bill
---
International socialist news and analysis

Greece: Non-payment movement against new housing tax

Irish 'poll tax' battle has begun

Nigeria: Fuel strike suspended
---
Home | The Socialist 18 January 2012 | Join the Socialist Party
---