Link to this page: https://www.socialistparty.org.uk/issue/707/14047
From The Socialist newspaper, 29 February 2012
We can save our public services!
Stop the Health Bill
National demo now!
A London hospital worker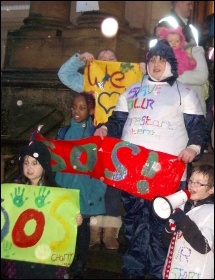 Kirklees Sure Start children centres lobby Kirklees council's budget meeting, photo by Huddersfield Socialist Party (Click to enlarge)
Tory Andrew Lansley's infamous Health and Social Care bill has been described as a "great mistake", "a mess", "unnecessary in many ways" and "setting the NHS back". Not the words of a militant trade unionist, but of Lord Crisp, the former chief executive of the NHS. But it is far from just Lords lining up in opposition to this hated bill.
After being heckled by health campaigners outside Downing Street, Lansley claimed the bill had the support of "doctors and nurses across the country". Surprising then that a poll has shown 92.5% of Royal College of Physicians members want the bill withdrawn. The RCP is holding an extraordinary general meeting to decide whether to ballot its members on outright rejection of the bill.
The Royal College of Paediatricians and Child Health balloted their members on the same question. 79% said the bill should be withdrawn in its entirety.
This result is particularly significant as the RCPCH was one of the few health professional bodies hand picked to attend the Downing Street meeting on the bill, which excluded known opponents including the British Medical Association, the Royal College of Nursing, and health unions Unison, Unite, and the GMB.
RCPCH president Professor Stephenson said the meeting included no real consultation as "the prime minister made it clear the government will press ahead with the bill" despite the "dissatisfaction amongst the people delivering theses changes on the ground".
An Observer feature on privatisation revealed why the Con-Dems are so determined to push the bill through; it showed that the "current value to the private sector" of health is "around £24.2 billion".
Big business is eying up the health service as a source of profit at a time when the crisis of capitalism means restricted opportunities to invest profitably elsewhere. This poses a major threat to health workers' pay and working conditions as well as to the service.
But the mass opposition by the public and health workers to the bill means there is a very real chance it can be defeated. Lansley is looking more desperate by the day, shown by his refusal to let the public see the results of a recent risk assessment on the bill.
We call on the health trade unions to take a lead on this oppostion. They must plan mass action, including balloting for strike action, and immediately call a national weekend demonstration to galvanise the huge public anger at the government's plans to dismantle our NHS.
Why not click here to join the Socialist Party, or click here to donate to the Socialist Party.
---
In The Socialist 29 February 2012:
---
Fighting workfare

We won't work for free!

Working class needs real political opposition to Con-Dem millionaires

A4e: workfare vultures in crisis

'We want jobs - not slave labour!'

Interview with a jobcentre worker
---
Socialist Party news and analysis

Stop the Health Bill

Solidarity with Occupy London protesters

Unison leadership found guilty of "unjustifiable discipline" against four Socialist Party activists

Sun launch can't hide corrupt practices

It's bonuses for bankers

Them & Us
---
Socialist Party reports and campaigns

Why I'm standing for the Trade Unionist and Socialist Coalition in the London Assembly election

Student walkout - build mass action

Kirklees Sure Start children centres

Voluntary sector cuts expose Big Society lies

Stop North East NHS childcare cuts

Sheffield housing - failed by privatisation

Campaign news in brief

The battle against internet censorship

May Day Greetings in the Socialist
---
International socialist news and analysis

Iran: Tensions with the US and its allies are ratcheted-up

Europe - Young people fight ACTA
---
Socialist Party workplace news

'Priceless victory' of sparks against the Dirty Seven

Continuing the pensions battle: PCS consultative ballot

Continuing the pensions battle - Universities

Three-year pay freeze hits hard

Workplace news in brief
---
Home | The Socialist 29 February 2012 | Join the Socialist Party
---