Link to this page: https://www.socialistparty.org.uk/issue/714/14339
From The Socialist newspaper, 18 April 2012
Strike on 10 May!
The civil service union PCS national executive has unanimously voted to call industrial action on pensions on 10 May, as part of a programme of action with other unions in the civil service, health and education sectors. The government plans to force public sector workers to pay more for their pensions, and work longer for less in retirement.
Further national action will be called in June and action will also take place in departmental groups. Regional protests and rallies will be organised.

This strike is a warning to the government. Rather than the battle on pensions being finished, it is gaining strength and momentum. Workers are outraged at an unjustified attack on their living standards.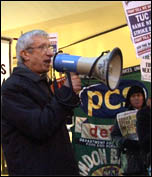 John McInally on lobby of TUC December 2011, photo Socialist Party
PCS, along with other unions, has built an alliance capable of winning concessions from a government which is completely out of touch with the lives that most people lead.

This is not a protest, it is part of a programme of action, including further national action in June, aimed at forcing the government around the negotiating table.
John McInally, national vice president of the PCS
---
>
See also Alex Gordon, RMT president:
and The Socialist Editorial:
Why not click here to join the Socialist Party, or click here to donate to the Socialist Party.
---
In The Socialist 18 April 2012:
---
Socialist Party news and analysis

Strike on 10 May! Vote TUSC on 3 May!

10 May strike will re-ignite pensions battle

Scrap the act! Unions must call national demo to save NHS

The revolting philanthropy of the filthy rich

Welsh government slashes student grants

NUS needs a fighting leadership

Clegg's text message plans make us LOL!

Them & Us
---
Trade Unionist and Socialist Coalition

On 3 May use your vote to: Shake up politics and fight all cuts!

Vote Trade Unionist and Socialist Coalition (TUSC) on 3 May

Come and hear TUSC candidates standing in your area
---
Socialist Party workplace news

Re-elect the PCS fighting leadership

Usdaw conference

Health service pensions - reject the deal - coordinated action needed

Changing the trade unions into combative organisations
---
Socialist history

1932 - mass trespass won the right to roam
---
Socialist Party reports and campaigns

Pro-choice action in Worthing

No to cuts: make the bosses pay!

Disabled people fighting back

Success at Varndean College, Brighton

Obituary: Arthur Deane
---
International socialist news and analysis

USA: An 'inspiring vibrant movement'

Tunisia: Brutal government crackdown on protesters will backfire
---
Reviews and Comment

Grim toll for hidden police racism

The Hunger Games
---
Home | The Socialist 18 April 2012 | Join the Socialist Party
---