Link to this page: https://www.socialistparty.org.uk/articles/14800
Posted on 4 July 2012 at 17:57 GMT
PCS votes to stand candidates in national elections
Historic vote will strengthen fight against austerity
John McInally, PCS national vice-president, personal capacity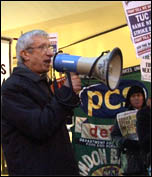 Public and Commercial Services union (PCS) members have created history by being the first trade union not previously affiliated to the Labour Party to vote to stand candidates in national elections.
Members voted by an overwhelming 78.9% to support the proposal that the union should have the authority to stand or support candidates in national elections when it would help to defend members' jobs, pay, pensions and public services.
Members also voted by 81% to endorse the union's political campaign strategy. The turnout was 20%, which is very good for such a ballot.
In 1927, after the defeat of the general strike, civil service trade unions were banned from funding "political activity" including being affiliated to the Labour Party, which some of PCS's predecessor clerical unions were, and from the TUC. This position existed until 1946.
In 2005 PCS members voted for a political fund. This was a massive step forward in allowing the union to extend its campaign work.
Defending the right to campaign
The establishment and right-wing trade union leaders have colluded historically in trying to conflate the fact that civil servants should do their work without fear, favour or prejudice - professionally and politically disinterested with being "non-political".
This is a contradiction in terms as every decision made about the working lives of civil servants is decided by politicians.
Every civil servant should do their job according to the rules and standards of behaviour expected of them - but have every right to campaign like any other citizen if the politicians decide to try and close that office.
Civil servants and other public sector workers do not live in isolation from the rest of their class: the current government's austerity programme is aimed at destroying the welfare state and civil servants have as much a stake as any other workers in defending the services they deliver into the communities in which they live and work.
The political fund allowed PCS for example to campaign against the far right. The union set up Parliamentary groups in Westminster and in the Scottish and Welsh devolved administrations.
This allowed the union to brief politicians and put our case directly to them. Along with campaigning and lobbying, this has had considerable benefits including saving jobs, preventing closures and preventing privatisations.
During the battle to defend the Civil Service Compensation Scheme PCS members and activists contacted every single MP in Parliament.
The union also set up the Make Your Vote Count (MYVC) campaign in 2007 in order to raise our concerns with politicians standing for election.
This was a very popular activity but had clear limitations. The brutal reality was that members' views could be safely ignored when the politician was elected.
Some politicians felt they had no obligation to anyone who might put unreasonable demands on them, i.e., not to support cuts.
Some actually refused to engage in MYVC meetings. This was most gallingly the case with some Labour politicians during the last government.
In endorsing the union's political strategy, members have voted for such activities to continue but to be built upon too.
This includes a role for a union constituency coordinator who will monitor and build political engagement and activity all the year round, not just at election time.
Activists and members saw that honest engagement with politicians did not lead to them 'seeing the light' and halting their cuts and privatisation programmes. They rightly asked what can we do in order to defend our jobs, pensions, pay and services?
Offensive consensus
Since the election of the coalition government, there has been an ideological offensive that sought to mould public opinion and crush any resistance to the austerity programme by drumming home the great lie - there is no alternative.
In effect there was no serious debate about the austerity programme as all the major parties agreed that there was no alternative.
PCS members and the rest of our class, in fact even including the middle class, were left with no politicians articulating their views, fears and aspirations.
It became increasingly clear to members and activists that fighting industrially and not politically meant doing so one hand tied behind their back.
Any concession won or even delayed must be underpinned within the political process or the employer will just bide their time to renew the assault.
There are many in the labour and trade union movement who, since the period of the last Labour government, have been in a state of wilful denial on the subject of political representation. These are mainly, but not exclusively, those in Labour-affiliated unions,
Under the Blair and Brown Labour governments all the foundations for the current government's shock and awe assault were prepared, especially for the looting of state assets through privatisation.
In PCS over the past four or five years, mature, open democratic debate on the subject of political representation and campaigning has taken place.
This debate has not been restricted to activists; it has included two union conferences and two major branch consultations.
In fact even some who do not agree with the proposal to stand candidates have openly agreed the process has been exemplary from the viewpoint of democracy.
What a contrast with those union leaders who effectively ban any real debate within their own unions on the issue, while making grandstanding speeches about how they will withhold money if the Labour leaders don't start to shape up?
There are important wider conclusions that can be drawn from this ballot. Firstly, workers are sick and tired of the political consensus that unites the Westminster establishment parties.
This says that workers must endure a race to the bottom to protect the interests of an obscenely wealthy, unaccountable, corporate elite.
The vilest example of this consensus is the government instigated hate campaign waged by the press and politicians against the most vulnerable in society, including the disabled, to justify benefit cuts in which Labour colludes as a "critical friend".
Secondly, there is an alternative - and if establishment politicians are not prepared to place the interests of working people before that of the big corporations and the banks then they will be challenged electorally as well as industrially.
PCS is political but not party political, its political fund forbids it from affiliating to any political party.
Neither is PCS a political party and in the debate on political campaigning some key points became clear.
What is the outcome?
PCS could not stand or support candidates in every constituency and in standing there must be a clear link to our campaign work.
To oppose a local office closure as part of standing a candidate is certainly looking for a local outcome but it is also part of a national campaign against cuts.
Finance for such campaigns will not come from increases in members' subscriptions but from the political fund, this in itself limits the range of electoral interventions.
PCS should only support candidates in "exceptional" circumstances. That is in by-elections where there is an on-going campaign to prevent job losses or the closure of an office where PCS members work or a local hospital and if an alliance of PCS members, other trade unions, anti-cuts activists and community groups come together to oppose these attacks.
If none of the politicians standing oppose the cuts, and if a local anti-cuts candidate decides to stand then, given the agreement of PCS members locally and the national union, we could support such a candidate.
PCS could also support a candidate in a general election in the constituency of a prominent cabinet minister responsible for cuts seeking re-election.
If all other candidates agree on cuts then, with the type of alliance outlined above, PCS could well stand or support a candidate in such circumstances.
PCS could also support a sitting MP who has opposed cuts and campaigned against to stop them.
Give the urgent need for effective political representation for working people the ballot may in some senses seem a small step forward.
But it is also a significant and historic development that will resonate way beyond PCS into the wider movement.
It is a major and historic contribution to the debate on effective political representation for working people and represents the arming of our union with a weapon that will be used in defending our members' jobs, conditions and the services we deliver to our fellow workers.
---
This version of this article was first posted on the Socialist Party website on 4 July 2012 and may vary slightly from the version subsequently printed in The Socialist.
Why not click here to join the Socialist Party, or click here to donate to the Socialist Party.
---