Link to this page: https://www.socialistparty.org.uk/issue/728/14945
From The Socialist newspaper, 25 July 2012
Virgin vultures swoop on vulnerable people's services
Jim Thomson, Chair of Exeter Anti-Cuts Alliance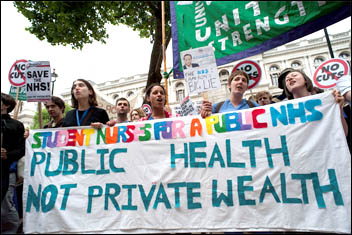 Public Health not private wealth - protest against privatisation in the NHS 2011, photo Paul Mattsson
Richard Branson's Virgin multinational won the bid to deliver NHS and social care services to young people in Devon. This profit-seeking company will run frontline services in a deal worth up to £130 million.
Private companies delivering care to vulnerable people is abhorrent, but this move could open the floodgates to the further slicing up of the NHS, with private companies able to pick and choose which service they want to run.
These companies could have little or no experience in healthcare. Privatisation simply transfers wealth from the state to big business, as has been shown by the G4S Olympic security scandal - with the taxpayer picking up the bill. So not only is privatisation of NHS services, like that in Devon, dangerous and disgusting, it is also ideological and unfair.
The situation is made even worse by the 19-trust pay cartel, South West Pay Consortium, which wants to drive down health wages across south-west England. The Consortium plans to smash nationally negotiated pay and conditions. Workers could face 15% pay cuts along with longer working hours and cuts to annual leave.
The coalition government is destroying all our public services and attacking the working class. We need to fight every cut, through community-based anti-cuts organisations, trade union industrial action and through a socialist, political alternative.
Why not click here to join the Socialist Party, or click here to donate to the Socialist Party.
---
In The Socialist 25 July 2012:
---
Socialist Party news and analysis

On your marks.... Get set.... Fight back!

Outsourcing fails again. For publicly owned and run services!

£13 trillion hidden from tax by super-rich

Not-guilty verdict in Ian Tomlinson case

Olympic Watch

Them & Us
---
International socialist news and analysis

Kazakhstan - Workers struggle against bloody, corrupt regime

Spain's austerity government is facing revolt from below

Miners light up Madrid and show the way to struggle!
---
Socialist history

1972: dockers face down the Tory government
---
Socialist Party reports and campaigns

Austerity Games highlights plight of young people

Save our jobs: We need a 24-hour general strike

Newcastle pride

Pre-emptive arrests: "straight out of 1984"
---
Stop NHS cuts & privatisation

Kick private profiteers out of the NHS

Virgin vultures swoop on vulnerable people's services

Leicester: Not one cut in the NHS

Kirkby campaigners get support

Olympic protest as South London Healthcare trust forced into administration
---
Socialist Party workplace news

Olympic victory for London bus workers

Solidarity with PCS members fighting to defend services

RMT demo in Portsmouth against Condor's 'sweatships'

Remploy strike a big success

Workplace news in brief
---
Socialist Party review

TV review: "What have the Olympics done for me?"
---
Socialist Party appeal & news

Save our server!

Summer printing schedule

Socialist Party Summer Camp
---
Home | The Socialist 25 July 2012 | Join the Socialist Party
---