Link to this page: https://www.socialistparty.org.uk/issue/737/15421
From The Socialist newspaper, 10 October 2012
A musical and political evening to remember
Ben Robinson
Campaign Kazakhstan hosted a very impressive event in London on Tuesday 2 October. Its aim was to raise awareness and financial support for those who resist the attacks of the regime in Kazakhstan. 120 people attended and around £900 was raised to aid the families of those killed and injured during the state massacre in Zhanaozen on 16 December last year.
'Cellorhythmics' - a non-classical group featuring cellos, percussion, guitar, violin, harmonica and more - played their music to great acclaim from the audience. They also donated their recent CDs.
Short films were shown of the events in Zhanaozen and a recorded greeting from Paul Murphy MEP.
Two poems by the imprisoned dissident writer Aron Atabek were performed in Russian and English. It was a great privilege to have Aron's son and wife, Askar and Zhainagul Aidarkhan at the concert reciting the poetry and giving short speeches to explain Aron's situation.
Aron Atabek was imprisoned for his role in the struggle in Shanrak - he was sentenced six years ago to 18 years.
Shanrak was an informal housing settlement built by poor migrant workers on the edge of Kazakhstan's de facto capital, Almaty.
The mayor at the time (2006) attempted to forcibly remove these homes with no provision of alternative accommodation - effectively making many families homeless.
Aron Atabek, alongside others including founding members of what is now the Socialist Movement Kazakhstan, helped organise the workers' resistance to this brutal demolition of housing.
Shortly after the victorious struggle, Aron was charged with 'inciting disorder'. He has remained in prison since with 12 years remaining to be served.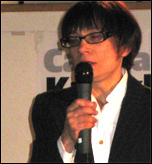 Alfia Nakipbekova of the Cellorhymics in concert at the Campaign Kazakhstan event, London 2 October 2012, photo Keith Dickinson
He has been kept in solitary confinement for the last two and a half years, been refused visits from Askar and Zhainagul and had his poetry stolen from him while in confinement.
Solitary confinement is defined as torture by the United Nations. The Kazakhstan regime has also threatened suffocation and rape to those workers charged with inciting events in Zhanaozen, a fact widely reported in the press.
Aron has refused to accept any talk of a pardon, as this is tantamount to an admission of guilt. He maintains his innocence.
Campaign Kazakhstan is calling for the stepping up of an international campaign for the release of Aron Atabek and the three other campaigners imprisoned alongside him on completely false charges.
Askar and Zhainagul along with Kazakh cellist, Alfia Nakipbekova, and Niall McDevitt of the International Times participated in a protest outside the Kazakhstan embassy on 5 October, to make clear that opposition will not go away.
We will pursue this issue until Aron and his co-defendants go free as well as the victimised oil workers of Zhanaozen and all political prisoners in Kazakhstan.
For videos of the concert and of the protest see
---
>
---
>
Special offer: Alfia Nakipbekova and Cellorhythmics CDs: "The Rise of the Celloretters" and "Heaven Eyes" £7 each or £10 for both albums. JS Bach: Six Cello Suites £10 or £15 for all three albums.
Proceeds to Campaign Kazakhstan!
Please add £1 p+p per CD. Make cheques and postal orders payable to Campaign Kazakhstan, PO Box 66682, London, E11 9ER and include a note with your address and which CDs you would like.
You can also pay online via paypal - use the donate facility on campaignkazakhstan.org website and email the details of your order to campaignkazakhstan@gmail.com
Why not click here to join the Socialist Party, or click here to donate to the Socialist Party.
---
In The Socialist 10 October 2012:
---
Socialist Party news and analysis

Tories promise more pain... Kick out the 'nasty party'!

Labour Party conference - not fighting austerity

Arguing the case for a 24-hour general strike

Birmingham Tory conference demo

'Millions crying out for leadership and for an alternative'

Anti-austerity candidates selected for November contests

No welfare cuts

Health workers must fight attacks on jobs and pay

Politicians line up to attack abortion rights

The hidden homeless - "Sofa surfing is my lot"

Them & Us
---
Transport feature

Send the transport privatisers packing
---
International socialist news and analysis

Venezuela presidential election

Greece: escalating the action against austerity

South Africa: 'What are we doing about this government that is killing us?'
---
Socialist Party reports and campaigns

Why we're marching on 20 October

More success for Socialist Students

Save East Midlands ambulances

Campaign Kazakhstan: A musical and political evening

Youth Fight for Jobs and Education fortnight of action 13-27 October

Dewsbury fights health service cuts

Waltham Forest: Parents and staff unite against school sell-off

Sunderland anti-fascists stand up against divisive EDL
---
Socialist Party workplace news

South Wales bus workers receive strong support for strike

Fighting the construction industry blacklist

Workplace nurseries saved in HMRC

Leeds solidarity with Crossrail battle

Mid Yorkshire Health admin staff ballot for strike

Bin workers' strike threat

Workplace news in brief
---
Marxism

TV review : Masters of Money - Karl Marx

Marx was right!
---
Home | The Socialist 10 October 2012 | Join the Socialist Party
---