Link to this page: https://www.socialistparty.org.uk/issue/749/16012
From The Socialist newspaper, 23 January 2013
Manchester: fightback needed in city of extreme poverty
John Booth, Manchester Socialist Party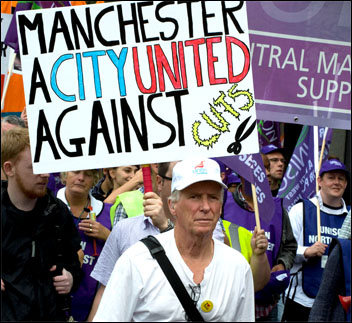 Demonstration at start of Tory Party conference, 2.10.11 , photo by Paul Mattsson
More than half of Greater Manchester's population - 1.6 million - could soon be struggling below the poverty line, according to the Greater Manchester Poverty Commission, with 600,000 people already living in "extreme poverty".
I have been working as a bricklayer since I was 15 years old. I was a shop steward at 18 and blacklisted during building strikes and the jailing of the Shrewsbury Two. But I have never witnessed such attacks on the working class as those happening today - even under Thatcher.
My concern is not for myself, but for the youth of this city and their chance of a job, a future, and a life. I do not in any way condone the 'Manchester riots', but I understand the frustration and anger behind them and I anticipate this action will be repeated - unless the trade union and socialist movement shows direction.
The housing stock of Manchester is a complete shambles. We see professional footballers living in multimillion-pound houses - the working class masses are forced to dwell in run-down, back-to-back terraced houses. It would be logical to renovate these and build new affordable housing, which would provide work for builders and give young people real apprenticeships as opposed to working for nothing for workfare in the likes of Tesco, stacking shelves.
On 16 August 1819, 80,000 Mancunians protested against unemployment and poverty and for democratic rights. 18 people were killed and 700 injured. Today, almost 200 years later, the people of Manchester must prepare themselves for a fight even bigger than the Battle of Peterloo to stop these savage cuts and fight for a political voice for working class people.
We need to show the capitalist system, a system of pure greed, that we do not accept cuts. We want a change of system, to one of fairness and equality. That system is socialism.
---
>
New Labour council continues Con-Dems' dirty work
Alex Davidson, Former Trade Unionist and Socialist Coalition candidate
On 16 January, Manchester council leader Richard Leese announced yet more cuts on top of the devastation already wrought. The proposals, to axe another £80 million on top of £170 million already being cut, include 830 job cuts and several library closures.
Leese claimed that they could not use the council's reserve funds to protect services. But the council's own figures show just over £21 million in unallocated reserves, on top of this £5 million is set aside to cover PFI debts. Total reserves stand at just over £238 million.
This money should be used to prevent any immediate cuts while fighting for more funding.
All Labour councils are carrying out huge cuts to services and jobs while trying to evade responsibility. It is of course true that the Tory-Lib Dem government is slashing the local authority budget, but some councils are often going further than even the Tories are asking for. Labour-run Knowsley council is planning to privatise or outsource all services.
So what should councillors from a party that is supposedly based on the working class and trade union movement be doing in this situation? There are examples of Labour councils that refused to pass on government cuts to provide inspiration for those looking to resist today. Poplar council in the 1920s, Clay Cross in the 1970s, Lambeth and Liverpool in the 1980s all refused to bow to pressure from central government and the Labour Party leadership.
If several local authorities defied the Con-Dems it would destabilise what is a very unpopular and weak government. But, if they also made a clear call for their stand to be linked with workers' struggle in the unions they could inspire millions of working class people.
Sadly it does not look like many Labour councillors will do so. In Southampton the two rebel, anti-cuts councillors have been expelled from the Labour Party, but they have huge local support and have been backed by Unite union leader Len McCluskey.
An alternative has to be found that will represent working class people and fight for our communities. That is why the Trade Unionist and Socialist Coalition was formed. TUSC intends to stand widely this year in the county council elections on a programme that rejects all cuts.
Why not click here to join the Socialist Party, or click here to donate to the Socialist Party.
---
In The Socialist 23 January 2013:
---
Socialist Party news and analysis

Action can stop cuts

London copter crash 'accident waiting to happen'

Changes to ESA: more attacks on disabled people

Fight the unfair bedroom tax!

Them ... & Us
---
Socialist Party reviews

Book review: Planning for the Planet

Film review: Les Miserables
---
International socialist news and analysis

USA - Workers start to demand change

Sahel: No to the war in Mali
---
Socialist Party reports and campaigns

Ystrad Mynach: Give us back our A&E!

'You won't see an investment banker with a hose'

Save London's fire service

Southampton: Give youth a future!

Building an anti-cuts voice in council elections

East London school rejects 'academisation'

Campaigning against the cuts

Manchester: fightback needed in city of extreme poverty

Bristol mayor says 'out with the new, in with the cuts'

Leicester: Build a united campaign for community resources
---
Socialist Party workplace news

London teachers call for strike action against Performance Related Pay

Victory at Runcorn Thermal Power Station

Bolton hospital - fighting mass redundancies

Workplace In Brief
---
Home | The Socialist 23 January 2013 | Join the Socialist Party
Subscribe | Donate | PDF | ebook
---