Link to this page: https://www.socialistparty.org.uk/issue/749/16019
From The Socialist newspaper, 23 January 2013
USA - the centre of global capitalism
Workers start to demand change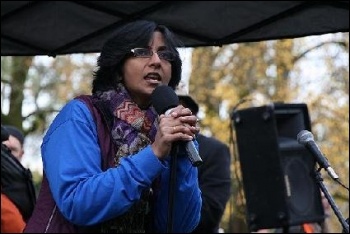 Kshama Sawant, photo Socialist Alternative
In November 2012 Kshama Sawant, a member of Socialist Alternative, the Socialist Party's counterpart in the USA, stood in Seattle in the election for a seat in the Washington state house. She stood against Frank Chopp, the speaker of the house and a leading Democrat. After a lively campaign which inspired workers and young people all over Seattle, she won a tremendous 29% of the vote - over 20,000 votes. One paper commented: "Sawant nearly topped the combined national votes of all the socialist candidates in a single district!... Make no mistake: Sawant and Socialist Alternative made history in Seattle." Kshama recently spoke to Paula Mitchell for the Socialist.
What were the highlights of the election campaign?
The way in which our election programme has been received. We ran openly as socialists and we had a very small budget compared to our Democratic Party opponent. We campaigned against the massive budget cuts that are going on in education and healthcare in the state, as they are in the rest of the country.
We argued for the full public funding of social services like health and education. And we said the way to start do that is to tax big corporations and the super wealthy.
Even the people who said 'I'm not going to vote for you' supported our programme. This confirmed that it was the right time to run. The door has been kicked open by this campaign. It shows that there is a huge opening for the left.
On election night a spontaneous rally broke out. It was mainly a celebration about the winning of the marriage equality initiative, which was a huge victory for the LGBT community.
These were mostly Democratic Party supporters. They played Obama's victory speech on the radio and the mood was euphoric. There were nationaistic chants of "USA! USA!" But when we spoke at the rally there was no hostility. Every time we said the word 'socialist' there were loud cheers from the crowd.
That confirmed our analysis that things are not straightforward. People may vote for Obama but at the same time be hungry for change.
What do you think your vote represents?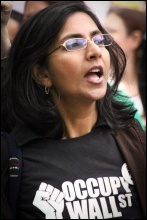 Kshama Sawant, photo Socialist Alternative
The fact that we are in a completely transformed period. People may not be ready to vote for a socialist candidate in the US, but they clearly want change. This is especially true in the aftermath of the Arab revolutions, the Wisconsin uprising and the Occupy movement.
Even a year and a half ago I don't remember people talking about class or poverty or inequality in a way that they're talking now. The word capitalism never used to be mentioned. Once people are open to naming the system that exists now, that opens the door to saying we need a different system.
People are looking for alternatives on the left. They are sick and tired of the attacks on their living standards by both the Democrat and Republican parties. They are extremely angry about the fact that politics in the US is completely dominated by big corporations and the 1%. The idea of a grassroots campaign succeeding in any way is really exciting for people.
What are your expectations for the future?
I think that Obama and the Democrats will at first make an appearance of fighting for the interests of their constituents. Rather than make an all-out attack on social security and Medicare and Medicaid in order to solve the so-called fiscal cliff, Obama might have a softer approach.
But he's not going to be able to go very far with that because ultimately it's the corporate agenda that he's there to fulfil.
If you look at the economic projections all over the world, the temporary boost that the US economy got is not going to last very long. The growth rate projections are bleak.
Inevitably the burden will be put on the working class. In a way people are going to be much clearer about this process under Obama than if Romney had won. That would have given an excuse for people to say it's a Republican agenda.
Obama has come back for four more years. Lots of people are saying: 'He needs time. He doesn't have to worry about re-election so he can show his true colours as a genuine radical.' But they will find this isn't happening and the larger attacks on living standards will continue. This will fuel protest. I think state level protests against budget cuts are definitely on the cards.
Fast food workers have had walkouts in New York City. They are demanding $15 an hour minimum wage and the right to unionise without retaliation.
These demands are far more than any trade union leadership would raise today. It shows a sign of the working class taking matters into its own hands. And we are going to see more of that.
How did you first get involved?
I was always looking for something. Growing up in India I saw poverty and misery around me. Yet I could see that there's more than enough resources to give a good minimum standard of living for everybody.
At the same time there are extremely wealthy people. That whole contradiction had been plaguing me.
You often run into liberal organisations or single issue organisations who don't really offer you an analysis of why that poverty exists.
Then when I moved to Seattle in 2008 during the presidential elections there was this whole furore about Obama - 'Obamamania'.
This was extremely troubling to me. If you look at the record of the Democratic party you can see where their allegiance lies - big corporations and the millionaires and the billionaires.
I was supporting Ralph Nader's campaign as an individual because I thought that made sense.
I went to a couple of rallies and I saw these dynamic speakers from another organisation called Socialist Alternative and I just realised that every single word they said made complete sense to me. So I approached them and that was it.
What are Socialist Alternative's current goals?
As a nationwide organisation we would like to take the implications of this result further. In Seattle we're planning to run one or maybe two candidates for the city council. We've invited the broader left in Seattle to join us in an electoral coalition.
We will work with people who want to run against the Democrats on a pro-worker, anti-budget cuts agenda.
In Minneapolis we've been doing some great work with a campaign called Occupy Homes. This fights against foreclosures [repossessions] of people's houses. It has had some successes even though it is still quite small. So we might run one of our members who has been involved in Occupy Homes as a candidate. We might stand in other cities as well.
2013 is likely to be a changed year of struggle. We are very likely to see social movements but with a strong class struggle element to them. Whatever election campaign we run we will orientate towards those struggles.
Are there differences between the US and Britain?
The United States has a different political consciousness than Europe.
Europeans will notice that the thinking may be somewhat conservative and less open to the idea of having social welfare programmes.
But if you look at opinion polls on things like the need for healthcare, publicly funded childcare and good quality education accessible to everyone. Also issues like whether society should be more equal, you will see that the American working class are well to the left of both the Democrat and Republican parties.
The views of ordinary people and their needs are not being represented in any way by the political parties that gain power.
I think that people everywhere in the world including your readers should notice that this phenomenal result in Seattle has happened in the centre of the global power of capitalism.
What's to stop it happening elsewhere? It should happen in a more striking form everywhere else in the world.
That's the wonderful thing about being connected internationally. That's the message of socialism, it's internationalism.
The interests of the working class in Britain are closely tied to those of the working class in the United States.
If we can get results like this, you can too, and probably even more.
Election night video
---
>
Forced to choose between a doctor and a shelter
11% of African-American and 17% of Latino households are at imminent risk of foreclosure.
Half of all home foreclosures are caused by medical expenses, forcing millions of families to choose between a doctor and shelter.
---
>
New York: Fast food workers rise up
Jesse Lessinger, New York City, Socialist Alternative
On 29 November 2012, workers at dozens of fast food restaurants in New York City walked off the job, formed pickets outside and raised demands for higher wages, better hours, and union rights.
It is a myth that fast food jobs are just for youth looking to make some extra cash. There are nearly 50,000 fast food workers in New York, and for many it's their only means of earning income for themselves and their families.
They work for minimum wage of $7.25, and many depend on food stamps and other government assistance. With so little weekly take-home pay some are forced to live in shelters. In fact, McDonald's is reported to have recruited workers at homeless shelters.
In Midtown Manhattan, where workers from Burger King, Wendy's, KFC, and other restaurants walked out, the super-exploitation of fast food workers stands side by side with all the glitz and glamour of New York City high-end commerce, shopping, and tourism.
But now these heroic workers are taking a stand and we as socialists give them our unconditional support. One of their demands is for $15 an hour. This is significant, as many low-wage battles have called for more modest pay increases.
$15 an hour in New York City is not enough to live on, especially for those with families, but it's an enormous step in that direction.
More workers in struggle
Fast food workers are not the only ones taking bold measures to fight for better conditions. There have been actions at upwards of 1,000 Walmarts across the country, with workers demanding union rights, no retaliation for speaking up, better hours, and $13 an hour in pay. These actions were not just one-off events, but are part of an ongoing campaign.
Fast food companies are expected to bring in $200 billion in revenue in 2012. Walmart's revenues in 2011 totalled $477 billion with $15.7 billion of that being pure profit. The Walmart family alone now owns as much wealth as the entire bottom 40% of families in the US. This obscene wealth is not created by smart business people making smart business decisions, it comes off the backs of their highly exploited workers, who are rewarded for their hard work with poverty wages.
In New York there have been a number of battles to organise low-wage workers, predominantly among immigrants. Six grocery stores have been organised in Brooklyn. There are now four recently unionised car washes as well. They are fighting for higher wages and back pay. Also, workers at a Hot & Crusty bakery staged an occupation and 55-day picket to win union recognition.
But fast food companies and Walmart are much bigger employers. They will continue to fight tooth and nail to prevent a union from forming. The actions received media attention all across the country and even forced McDonald's to issue a statement saying they were committed to a dialogue to be an "even better employer". Do they really expect us to believe that?
It will take more than just bad publicity. The Fast Food Forward campaign is a step in the right direction. Rather than organising a single restaurant or chain, the campaign is aiming to organise the entire industry in New York City.
We'll need strikes and walkouts at hundreds of fast food stores with visible pickets backed up by thousands of Occupy and trade union activists and other supporters. This will require preparation. Workers need to form their own workplace committees and link them together to develop a strategy and coordinate action.
The struggle at these massive companies should be linked to a broader struggle to mobilise millions for the rights of all workers.
Imagine if there were rolling walkouts at hundreds of restaurants, shops, groceries, and retail outlets all across the city demanding an across-the-board wage increase and union recognition for all!
We can also have no faith in Democrats, who like the Republicans are a party of Wall Street and big business. A way to take the struggle forward would be to run a slate of working class independent candidates for city council seats and mayor in 2013 on a platform of living-wage jobs and union rights for all.
Such a campaign could act as a collective voice for the struggle of low-wage workers in the election while striking a powerful blow against the corporate politicians that have stacked the deck against the 99%.
Despite the corporate character of the Democratic Party, the defeat of the right wing in the 2012 elections is likely to give workers confidence. None of the underlying problems that gave birth to the Occupy movement have been solved, and 2013 is likely to be a year of renewed and potentially explosive struggles in the US.
Why not click here to join the Socialist Party, or click here to donate to the Socialist Party.
---
In The Socialist 23 January 2013:
---
Socialist Party news and analysis

Action can stop cuts

London copter crash 'accident waiting to happen'

Changes to ESA: more attacks on disabled people

Fight the unfair bedroom tax!

Them ... & Us
---
Socialist Party reviews

Book review: Planning for the Planet

Film review: Les Miserables
---
International socialist news and analysis

USA - Workers start to demand change

Sahel: No to the war in Mali
---
Socialist Party reports and campaigns

Ystrad Mynach: Give us back our A&E!

'You won't see an investment banker with a hose'

Save London's fire service

Southampton: Give youth a future!

Building an anti-cuts voice in council elections

East London school rejects 'academisation'

Campaigning against the cuts

Manchester: fightback needed in city of extreme poverty

Bristol mayor says 'out with the new, in with the cuts'

Leicester: Build a united campaign for community resources
---
Socialist Party workplace news

London teachers call for strike action against Performance Related Pay

Victory at Runcorn Thermal Power Station

Bolton hospital - fighting mass redundancies

Workplace In Brief
---
Home | The Socialist 23 January 2013 | Join the Socialist Party
Subscribe | Donate | PDF | ebook
---