Link to this page: https://www.socialistparty.org.uk/issue/750/16046
From The Socialist newspaper, 30 January 2013
NHS workers resist cuts
Support strikers at Mid Yorks NHS
Con-Dem cuts and privatisation plans put the NHS's whole future in jeopardy. But there is a growing resistance to this onslaught on our right to decent healthcare. 25,000 people marched in Lewisham on 26 January against the threat of losing the A&E and other vital services - and the hospital itself (see article below). Key to the struggle to defend our NHS is the role of health workers.
Iain Dalton reports on the inspiring strike action by Unison members at the Mid Yorkshire NHS Trust.
On Monday 28 January, low-paid admin and clerical workers at the Mid Yorkshire NHS Trust began five days of strike action against down-banding (meaning thousands of pounds in pay cuts). This follows four days of strike action in late 2012.
120 strikers joined picket lines across the three sites. The determined mood was spurred on by the dismissal and re-engagement notices sent by the Trust in an attempt to bully workers.
During the last strike Trust chief executive Stephen Eames said that he would meet the strikers 'anywhere, anytime'. But he's not been in a single negotiation with representatives of the strike committee.
On 31 January the Trust board is due to meet, with Eames in attendance. The strikers asked for speaking rights but were told it wasn't 'appropriate' for workers to address the meeting. The strikers were furious. They intend to make their voices heard, lobbying the meeting at the Trust headquarters at Pinderfields at 8am.
If the Trust doesn't back down after this action, the Unison branch is discussing balloting the rest of the workforce, as it is clear that they will follow this up by down-banding them too.
More attacks are in the pipeline - admin and clerical workers face another 'review phase', ie cuts. The Trust is also severely cutting back on services at Dewsbury hospital, where Socialist Party members have also been leading a campaign.
Pay cuts, department closures and privatisations are taking place up and down the country. In the South West an employers' cartel has been formed in an attempt to drive down pay and conditions.
Clearly the action taken by the clerical staff in Mid Yorkshire is inspiring other workers - so far £23,000 has been donated to the strike fund, mostly by Unison branches. And it is showing what the union can do to defend workers when these attacks come - locally hundreds have joined since the start of the action.
As elsewhere in the public and private sector, the bosses at Mid Yorkshire Trust are saying workers must pay for the economic crisis. But there's plenty of money to avoid these and other NHS cuts - but private healthcare and big business are leeching it out of our health service.
For example, Mid Yorkshire Trust pays 'consultants' Ernst & Young £3 million a year, and £40 million a year goes on repayments for PFI privatisation contracts.
It is urgent that a mass movement is built, taking inspiration from the determination of the Mid Yorks workers, to kick the profiteers out of the NHS and defend all our jobs, pay and public services.
Please send messages of support to midyorksunison@aol.co.uk
---
>
25,000 march to save Lewisham hospital
On 26 January a massive mobilisation of 25,000 people marched against proposals to close the A&E and other major facilities at University College Hospital, Lewisham.
This was a real community demo. The scale of support for the campaign was shown by the presence of the local football team Millwall's bus at the closing rally.
Such was size of the march that it had to move off about half an hour early so that everyone could join.
Support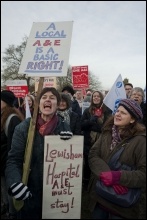 Despite it causing traffic to come to a standstill, many drivers tooted their support for the protest.
Among the many union banners were the National Shop Stewards Network and Trade Unionist and Socialist Coalition.
This was the second demo organised against recommendations in a paper authored by Special Administrator Matthew Kershaw who was commissioned by the Con-Dem government to do a hatchet job on NHS services in South London.
It was in anticipation of 1 February when Kershaw will submit his plans to Health Secretary Jeremy Hunt for rubber-stamping.
Petitions, letters and marches have been organised, but these alone will not save Lewisham Hospital.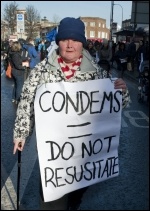 Marching to save Lewisham hospital, 26.1.13, photo Paul Mattsson
Socialist Party members on the demo raised the idea that our strategy must be based on the health trade unions and pressure on them to ballot their members for strike action to save the NHS, solidly backed by the community.
A workers' occupation of Lewisham Hospital could be organised to stop equipment being removed and facilities run down.
Over 2,500 Socialist Party leaflets calling for strike action to defend Lewisham A&E were taken by demonstrators.
This attempt to attack jobs and services at Lewisham Hospital is not the first. During 2006 the then Labour government proposed the closure of A&E, maternity and paediatric services.
Socialist Party former councillors Chris Flood and Ian Page launched a petition opposing the attacks to build up pressure on MPs and councillors.
Chris Flood proposed a motion to the council for 'referring back' Labour's outrageous plans. Although Labour and Lib Dem councillors opposed this, pressure eventually forced the government to back down and the hospital was saved then.
Labour
But this time round it is Labour councillors and MPs who are giving lip service to the campaign to oppose the closures, while at the same time pushing through £28 million of council cuts to jobs and services over the next three years. They are doing the Con-Dems' dirty work.
Recognising the links between all the cuts to jobs and public services, one street cleaner clearing up after the demo proudly displayed a Socialist Party Save our NHS placard in his cart.
At the end of the march, demonstrators were queuing up to sign the Socialist Party petition in defence of NHS services in south London.
They recognised that we need to save all NHS services and not allow the campaign to be just about defending Lewisham A&E at the expense of other NHS services in south London.
Susanna Farley and Chris Newby
---
>
The 82% publicly owned Royal Bank of Scotland, bailed out by the government in 2008 for £46 billion, is expected to pay £250 million worth of bonuses this year.
That adds up to the annual pay of around 8,300 nurses. There are 4,500 less qualified nurses, midwives and health visitors employed by the NHS than in 2010.
---
>
Needed: a strategy to stop the destruction of the NHS
A collection of articles from the Socialist
£2 including p&p, Available from Socialist Books
PO Box 24697, London E11 1YD
020 8988 8789 www.socialistbooks.org.uk
bookshop@socialistparty.org.uk
Please make cheques payable to Socialist Books
Why not click here to join the Socialist Party, or click here to donate to the Socialist Party.
---
In The Socialist 30 January 2013:
---
Socialist Party NHS news & campaigning

NHS workers resist cuts

Privatisation: Bleeding the NHS dry

Heatherwood hospital campaign shows determination

East Midlands: Campaign forces retreat on ambulance station closure

Life as an NHS worker: bullying and stress
---
Socialist Party news and analysis

Cameron takes a gamble by threatening EU referendum

Austerity's utter failure

Taxing words from Cameron?

Aaron Swartz: a fight to free information

Them & Us
---
Fighting the cuts

Southampton councillors have a choice ... Don't vote for cuts!

Hull councillors ready to vote No

Brighton's Greens vote for cuts in workers' allowances

Labour meltdown in Stoke-on-Trent continues; and Unison withholds funding

Stop Sheffield children's centre closures
---
Workplace news and events

Twelfth day of strike action by Tyne and Wear metro cleaners

DfE strike ballot

London teachers call for strike action against Performance Related Pay

Workplace news in brief
---
Socialist Party review

Fired up by Fire in the Blood - a story of big business cruelty and neglect
---
Socialist Party reports and campaigns

Jumping through hoops for a job

Shrewsbury 24: What is the government hiding?

Wales conference - confidence in socialist ideas

Server appeal: Members provide a huge boost to our resources

Socialist Party National Congress 2013
---
Home | The Socialist 30 January 2013 | Join the Socialist Party
Subscribe | Donate | PDF | ebook
---