Link to this page: https://www.socialistparty.org.uk/issue/751/16075
From The Socialist newspaper, 6 February 2013
Fight to save NHS
Trade unions must call national NHS demo now
A mass campaign including workers' strike action
'We are ready for a fight to save our NHS.' That's the message of the 25,000 who marched in Lewisham in January to save their A&E, maternity and other vital services. It's the message of the low-paid clerical and admin workers taking strike action against enormous pay cuts in the Mid-Yorkshire Trust hospitals. And it's the message of anti-cuts campaigners fighting to defend the NHS all across the country.
A serious fight is definitely needed if we are to save the National Health Service. It will require a major campaign that clearly says no to all cuts. A national trade union-led Saturday demonstration must be called as soon as it can be properly prepared - evidence from Lewisham and elsewhere shows that people would respond in their hundreds of thousands, even if called at short notice.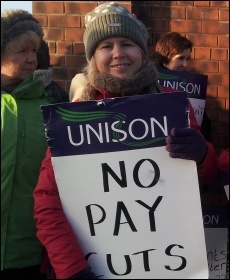 Unison NHS workers on strike against huge cuts in the Mid-Yorkshire Trust hospitals, photo Iain Dalton (Click to enlarge)
It will require the linking up of the community campaigns with the strength that health workers have in their unions, as well as stepping up the pressure on elected representatives to oppose every threat to the NHS by standing against them if they vote for cuts.
As usual the millionaire Con-Dem government is acting in the interests of their millionaire private healthcare pals. The Social Investigations website reports on the cosy friendship between MPs and their paymasters: "Over 200 parliamentarians have financial links to companies involved in healthcare and they were all allowed to vote on the Health and Social Care bill, turning it into an Act." That Act lays the basis for the end of the NHS.
But such warm relations are not extended inside the NHS. Last December official figures from the NHS Information Centre revealed that the NHS workforce in England alone has fallen by almost 21,000 since the Coalition government came to power. And 34 A&Es around the country face closure or downgrading.
So the fight to save our much-treasured NHS is urgent.
A strategy to save our NHS
Let's be clear, these ruthlessly pro-cuts, pro-privatisation Con-Dem politicians feel the pressure of the powerful mood to defend the NHS. Health campaigner Eoin Clarke has published video footage from a 2010 general election hustings where Jeremy Hunt "boasted that he has fought to defend local hospitals from closure and wards from closure and he gave the impression that he is opposed to local closures".
Chris Grayling, pushing through privatisation of the prisons, is involved in a campaign against the threat of closure of Epsom hospital, claiming outrage that decisions are being made by people based in London!
But can we trust him and other MPs who make local exception to the cuts plans?! The Guardian reported that following Hunt's appointment to health he "personally intervened to encourage the controversial takeover of NHS hospitals in his constituency by a private company, Virgin Care".
Con-Dem hypocrites act so brazenly partly because they feel confident they can repulse criticism from the Labour opposition. Labour MPs are associating themselves with local campaigns to defend local hospitals and services. But Hunt responded to Labour's support for the Lewisham campaign by pointing out that Labour closed or downgraded 12 A&Es when in office and downgraded nine maternity units.
Explaining why health campaigners have taken the step to set up a new political party the website of the National Health Action party says: "none of the main political parties can be trusted with the stewardship of the NHS, because they all believe in using the flawed market model to deliver healthcare."
Socialists agree with this and campaign for a new mass workers' party that can stand candidates who say no to all cuts - in the NHS and all our public services. We hope the NHA will coordinate with the Trade Unionist and Socialist Coalition to maximise opposition to the health attacks.
The Socialist has previously pointed out that Labour could have made the Health and Social Care Act redundant by announcing that a future Labour government would renationalise, without compensation, all areas of the NHS taken over by private companies under this Act but they have not pledged to reverse privatisation.
Instead it appears that Labour politicians, like the Tories, are content to merely put up a stand in their individual constituencies. But Socialist Party members in Wales and elsewhere are challenging this and winning support for the idea that the only effective way of fighting for decent local services is to fight for decent local services everywhere - ie to oppose all cuts and closures.
Community campaigns, including organisations such as Keep Our NHS Public, and fighting in the elections are important parts of the fight for our NHS. But key to the fight will be the participation of health workers taking strike action and using the unique power and position they have to challenge the Con-Dems and their private healthcare associates.
Workers' role
The admin and clerical workers in mid-Yorks have so far taken nine days of strike action against a vicious employer who is attempting to make them pay for the money lost to the Trust through PFI scams. Over 200 have joined the union in the course of this campaign, convinced by the experience that uniting and fighting is the best way to stand up to bully bosses and cuts.
Support from around the country is reflected in the more than £23,000 that has poured in to their strike fund account from trade unionists and campaigners. Even Unison general secretary Dave Prentice was encouraged to pay the picket line a visit. "The message today is that these wonderful Yorkshire lasses are staying strong and standing together - and by doing that, we can defeat these proposals," he declared.
But the Unison leadership has utterly failed to bring the membership together despite the immense attacks being rained down on health workers. In the South West of England, 20 NHS Trusts have formed a 'cartel' and plan to increase workers' weekly hours with no extra pay, cut shift payments and reduce sick pay and annual leave. One trust in Northern England has sacked 5,500 staff and re-engaged them on worse employment contracts.
Unison must urgently call a massive Saturday London demo against any attacks on the NHS, coordinating with other unions and health campaigns. It must support workers forced to ballot for strikes against intransigent employers. If health workers were to take national strike action, and make it clear to the public they were fighting to save the NHS, it would receive massive public support.
Stop the destruction of the NHS. Repeal the Health and Social Care Act
No cuts, closures or job losses in the NHS
End the postcode lottery. We call for a fully funded, high quality service in every area
Kick big business out of the NHS. Scrap the dodgy PFI deals and cancel the debts
For a national trade union-led weekend demonstration against attacks on our health service
For mass action to defend the NHS with trade union strike action at its heart
For a new mass workers' party to provide a fighting, political alternative to the pro-cuts parties
Why not click here to join the Socialist Party, or click here to donate to the Socialist Party.
---
In The Socialist 6 February 2013:
---
Socialist Party NHS campaigning

Fight to save NHS

Revolt against pay cuts strengthened at Mid-Yorkshire NHS

Lewisham hospital protests continue

Whipps Cross workers prepare for fight against jobs and pay cuts

Scrap PFI, not our hospitals
---
Socialist Party news and analysis

Cracks in the coalition - we must take advantage of the divided enemy

As Gove attacks teachers: NUT leaders - delay no longer

Childcare plans spell disaster

Them & Us
---
Socialist Party feature

Organised fightback needed to save council services
---
Socialist Party reviews and comments

Cut tax dodging not benefits

Film review: Steven Spielberg's Lincoln
---
Socialist Party reports and campaigns

Brutal cuts announced in Cardiff

Derby Labour councillors 'oppose' cuts - then vote for them

Tamil Solidarity looks at 65 years of 'independence' in Sri Lanka

Support the Socialist with a May Day greeting

Socialist Party regional conferences
---
Socialist Party workplace news

Workers tell Bromley council: We won't sign up to your plans

Labour cuts better than Tory ones?

Attempts to force Unison branches to affiliate to Labour

London mayor pressing ahead with fire service cuts

Workplace news in brief
---
International socialist news and analysis

South Africa: Battle for control of mining sector
---
Home | The Socialist 6 February 2013 | Join the Socialist Party
Subscribe | Donate | PDF | ebook
---