Link to this page: https://www.socialistparty.org.uk/issue/773/17092
From The Socialist newspaper, 10 July 2013
Trade Unionist and Socialist Coalition
Waltham Forest - Giving the working class a voice
Nancy Taaffe, Waltham Forest Socialist Party
Tea and sandwiches, pizza and specially baked fairy cakes with the letters "TUSC" iced on them were offered to people as they arrived for the Waltham Forest Trade Unionist and Socialist Coalition 2014 local election campaign press launch.
There were 40 people in attendance, many that had come straight from work, reflecting the many campaigns and concerns that are bubbling away in our area.
The meeting gave a platform to something that establishment politicians would prefer not to be heard - the voice of the working class in the east London borough.
The launch heard from catering workers who, after being threatened with the sack by the Labour council in 2012 and having new inferior contracts imposed on them, now face more pay cuts.
It heard of agency workers at the local hospital forced to stand in line on their zero-hour contracts who learn each day if they have work and if not, are told to go home; scenes reminiscent of the humiliation endured by workers in the 1930s.
A tube worker spoke about the cuts being imposed on London Underground workers who face intimidation and bullying from managers and transport bosses.
Waltham Forest TUSC pledged to give a platform to all those people who want to highlight their own issues in 2014 under the umbrella of TUSC.
Over 20 there indicated they would like to be considered as prospective candidates. All our candidates would vote against cuts in the council chamber.
Afterwards we showed the inspirational film, "Don't Mention the 47", a documentary about the Liverpool city council struggle of 1983-87.
This film shows what a socialist council looks and sounds like, it showed the houses, the parks and the jobs that were created in so-called "hard times" like ours. In this film we hear the voice of workers who struggled and won.
Waltham Forest TUSC has made a start. We intend to campaign for as big a list as we can possibly get to challenge the idea that we, the working class should pay for a crisis that we didn't cause, and to stand against all the councillors who voted for cuts.
Tulse Hill byelection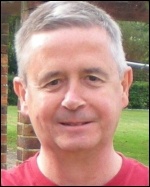 Steve Nally, photo Lambeth Socialist Party
Anti-poll tax campaigner Steve Nally is standing for TUSC in Tulse Hill, Lambeth, South London, on 25 July.
The old traditions of struggle are once again coming to the fore in Lambeth, which stood with Liverpool against Thatcher's cuts to local government.
Revisiting old supporters to get nominations to stand, Steve was rebuffed by just one, only to receive a call the following day to say that, angry with Labour's choice of candidate, he wanted to nominate Steve after all.
In January, as TUSC candidate in the neighbouring Brixton Hill byelection, Steve defeated the Ukip bandwagon.
This time we're unmasking Ukip leader Nigel Farage as a millionaire tax evader. Unite union members looking for a candidate who supports trade union rights are welcome to join us.
David Maples
Appeal broadsheet
A new A3 folded TUSC broadsheet is now available appealing for candidates to stand in next May's local elections (see picture inset above).
Elections are being held next year in 160 local councils in England, with nearly half of the councils affected under Labour control.
The recent TUSC national steering committee agreed to plan for our widest-ever challenge in these contests.
The new broadsheet includes the TUSC 'core policy platform' for council elections and a brief introduction to what TUSC is - ideal for distributing to trade unionists and anti-cuts campaigners looking for a chance to fight back.
Why not order some to circulate, perhaps with a covering letter advertising a local planning meeting for the elections?
Prices include £3 for 80 copies, £5 for 150 copies and £9 for 300 copies.
Cheques should be made payable to Trade Unionist and Socialist Coalition, and sent to TUSC, 17 Colebert House, Colebert Avenue, London E1 4JP.
Why not click here to join the Socialist Party, or click here to donate to the Socialist Party.
---
In The Socialist 10 July 2013:
---
Socialist Party news and analysis

Miliband dances to Tory tune

Unite meets roadblock in New Labour

Stop Gove's school profits plans

Them & Us
---
Socialist Party workplace news

Strong support for fighting socialist alternative in CWU

Lobby the TUC for 24-hour strike!

PCS Young Members Network forum

Werrington Royal Mail dispute

The costs of privatisation - to the workforce

Workplace news in brief
---
International socialist news and analysis

Egypt: Morsi removed - polarisation grows

Portugal's government on the ropes again
---
Socialist Party reports and campaigns

Are you sick of... Low pay?... Zero hour contracts?... Job insecurity?... bullying bosses?...

Lifting the lid on the bedroom tax horror

Birmingham Labour councillors' promises

Trade Unionist and Socialist Coalition

Rebel councillor faces further suspension

Fund the fight for a socialist alternative to capitalist austerity
---
Readers' comments

Privileged perks for Kate and Wills... Maternity cuts for us!

Unite and Labour - it's time for a rethink!

Inside the banking system
---
Socialist Party feature

Piper Alpha: The price of profit -167 workers' lives
---
Socialist Party review

Review - The Pitmen Painters
---
Home | The Socialist 10 July 2013 | Join the Socialist Party
Subscribe | Donate | PDF | ebook
---