Link to this page: https://www.socialistparty.org.uk/issue/798/18129
From The Socialist newspaper, 12 February 2014
Floods misery: Government cuts to blame
Dave Carr
While thousands of homes and shops are waist deep in toxic water, and flooding hits new areas, government ministers indulge in a blame game.
Stand-in environment minister Eric Pickles blamed the Environment Agency for not dredging rivers, while the department's incapacitated minister Owen Paterson was reportedly raging to Prime Minister David Cameron over Pickles' attacks.
In reality, the entire government is to blame for a lack of preparation and its outrageously inadequate response.
After all, climate change scientists have been warning for years about the expected increased frequency of extreme weather events - including unprecedented rainfall - caused by human induced global warming.
Moreover, instead of investing in measures that have enormous potential to defend people, land and property against flooding, the government has pursued a vicious austerity agenda of public spending cuts.
These cuts have been borne heavily by the Environment Agency, including its budget for flood prevention.
Incredibly, on top of previous cuts, some 1,500 agency jobs (15% of the workforce), including 550 jobs in flood prevention, are due to be axed by October.
Yet the cost to people's homes and the country's ruined infrastructure will run into hundreds of millions of pounds.
The floods have exposed how this government puts the interests of a rich elite above those of a long-suffering public.
It's high time that these 'Eton millionaires' are booted out and an environmentally sustainable plan of flood defences and infrastructure is put in place.
---
>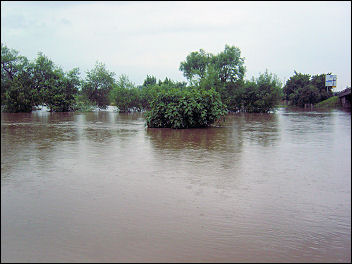 In July 2012 Guardian journalist Damian Carrington identified "294 shovel-ready flood defence schemes that had not proceeded because of cuts.
"Maintenance of existing defences was suffering too. The government was forced to throw another £130 million of emergency funding into the hole - yet that still left spending lower than in 2010".
Watching the interviews of the people affected by the floods, you can see and hear the mounting anger. There has been a change in outlook among thousands of people with growing anger towards the Con-Dems over this issue.
We have private water companies raking it in, while running a Victorian plumbing system nationwide which causes enormous problems and clearly needs replacing.
The floods show how applying the Tory outlook of 'doing more with less' to the Environment Agency by cutting their finance has affected many thousands of people.
Chris Fernandez
---
>
"The chain breaks at the weakest link. So it was in Dawlish, not two miles from my home town of Teignmouth, that a combination of high tides and winds broke the railway line that connects the south and west of Devon and Cornwall to the rest of the country.
Cutting off nearly a million people west of the river Exe, it has left Cornwall and major centres such as Plymouth and Torbay without rail connections.
The West has been battered by storms - the worst for many decades, with record levels of rainfall resulting in damage everywhere and the flooding of 60 square miles of the Somerset levels.
When this Coalition government was cobbled together in 2010, Cameron said he wanted it to be "the greenest government ever".
Since then they have done the reverse, seeking to undermine the science of climate change and cutting Environmental Agency funds by nearly 40%.
Like King Canute, the Con-Dems refuse to acknowledge that to turn the tide against global warming, there must be planning on a regional, national and international level - an impossible scenario given the 'values' that sustain their capitalist system."
Sean Brogan, Teignmouth
Why not click here to join the Socialist Party, or click here to donate to the Socialist Party.
---
In The Socialist 12 February 2014:
---
Socialist Party news and analysis

Floods misery: Government cuts to blame

What future for Labour and the unions?

Fast food workers want decent pay and conditions

NHS: Kick out big Pharma

Them & Us
---
Trade Unionist and Socialist Coalition

Sheffield kicks off election year with 7.6% vote

Standing up against cuts in Reading

Waltham Forest: Rally for rent control

Lewisham Labour no use in the Lions' Den
---
London Underground dispute

Tube strike first round: Trade Unions 1 - Johnson 0

London tube stoppages show workers can win

Effective action builds

State attacks trade union action
---
Socialist Party workplace news

Teachers call national strike

Posties vote yes - where now for postal workers?

Higher Education: Striking for an improved pay offer

Workplace news in brief
---
Reviews and readers' comments

The Square: bravery and disappointment in Egypt

Housing crisis hell: a worker's view

Don't trust Labour with our NHS

2004 Morecambe Bay tragedy: Has anything changed?

Tebay disaster: Workers' grievances can't be sidelined
---
Socialist Party reports and campaigns

Councils continue making Con-Dem cuts

Brighton solidarity with LGBTQ+ Russians

Leicester Socialist Student arrested in peaceful protest

WASP: South African elections announced

Building the Socialist Party
---
Home | The Socialist 12 February 2014 | Join the Socialist Party
Subscribe | Donate | PDF | ebook
---